News Items - December 2021
Hoffa: Don't blame workers for delivery delays this season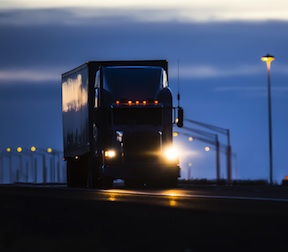 Dec. 1, 2021 | This holiday season, there are many things for which we should be grateful. But the state of the U.S. supply chain is not one of them…There is understandable frustration out there about where things stand. Policymakers, moved by the public's anger, are looking for solutions to the problem. Many have settled on a lack of truckers as the answer, but they are failing to see the forest through the trees. And that message is one the trucking industry is likely to continue to push in order to get what it wants – cheaper labor. First, let me just clear up this fallacy – there is no shortage of experienced truckers… Continued
Teamsters applauds confirmation of staff attorney to National Mediation Board
Dec. 8, 2021 | The Teamsters Union applauds today's confirmation of Deirdre Hamilton to serve as a member of the National Mediation Board (NMB) by the U.S. Senate. Hamilton has served as the staff attorney for the Teamsters Airline Division for the past six years and at the Association of Flight Attendants for the previous 12 years. "Thanks to today's confirmation, workers across the country in our rail and airline industries have a true champion serving on the board," said Teamsters General President Jim Hoffa... Teamsters
Teamsters sanitation workers in California strike over unfair labor practices

Dec. 10, 2021 | Yesterday more than 400 sanitation workers employed by Republic Services facilities in Anaheim and Huntington Beach — and members of Teamsters Local 396 — went on strike in response to the company's unfair labor practices committed during bargaining for a fair contract, including making unilateral changes without bargaining and threatening reprisals against employees who participate in union activity. Teamsters Local 396's contracts with Republic Services expired on September 30, 2021, and members voted to authorize a strike on November 23, 2021… Teamsters
Support Teamster Political Action: Order shirts today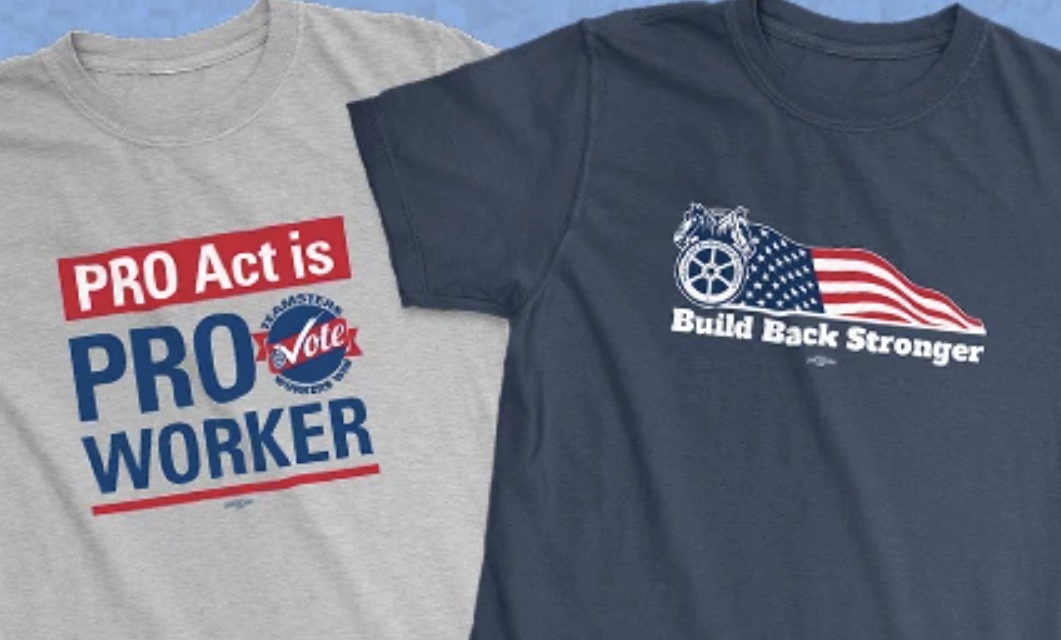 Dec. 13, 2021 | Today is your last chance to order Teamster gear that supports Teamster political action for delivery before Christmas! New PRO Act and Build Back Stronger shirts are now available. Order yours from www.TeamFundStore.com today!
James R. Hoffa Memorial Scholarship program now accepting applications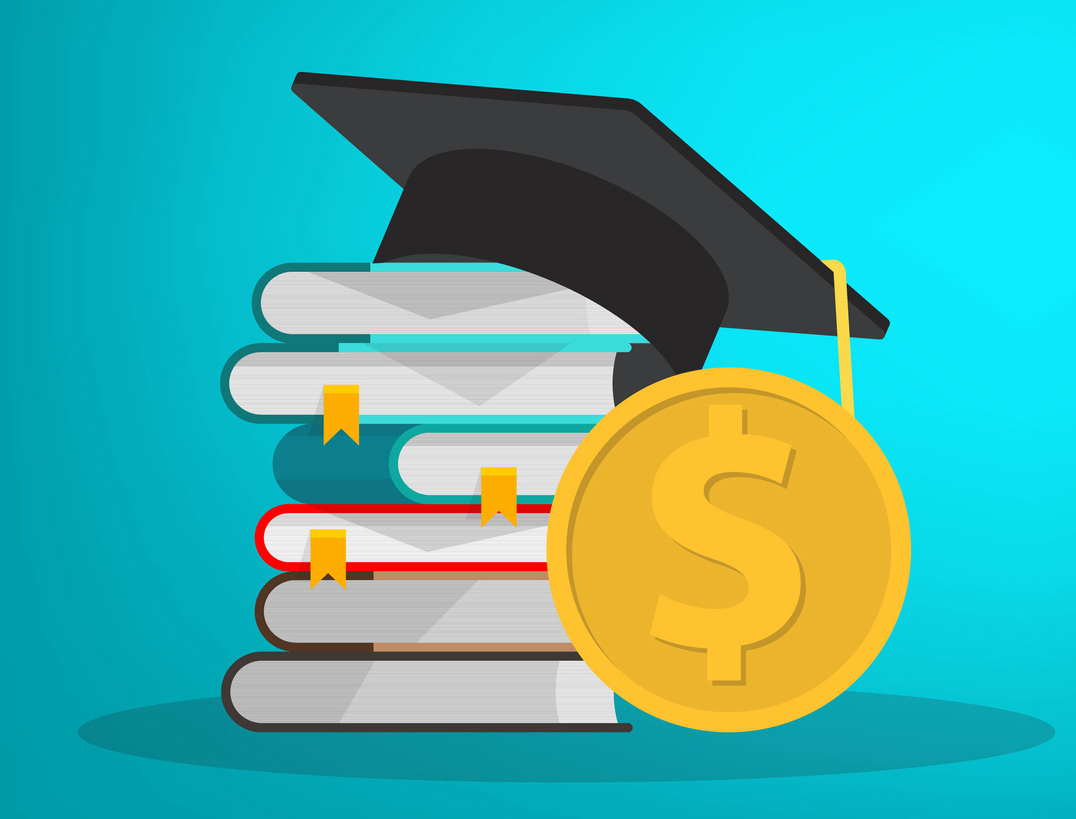 Dec. 14, 2021 | High school seniors who are the sons or daughters of Teamster members can now apply for a college or vocational/training program scholarship from the James R. Hoffa Memorial Scholarship Fund. Details on the application process can be found here.
Teamsters, Sierra Club, others, together push back against Amazon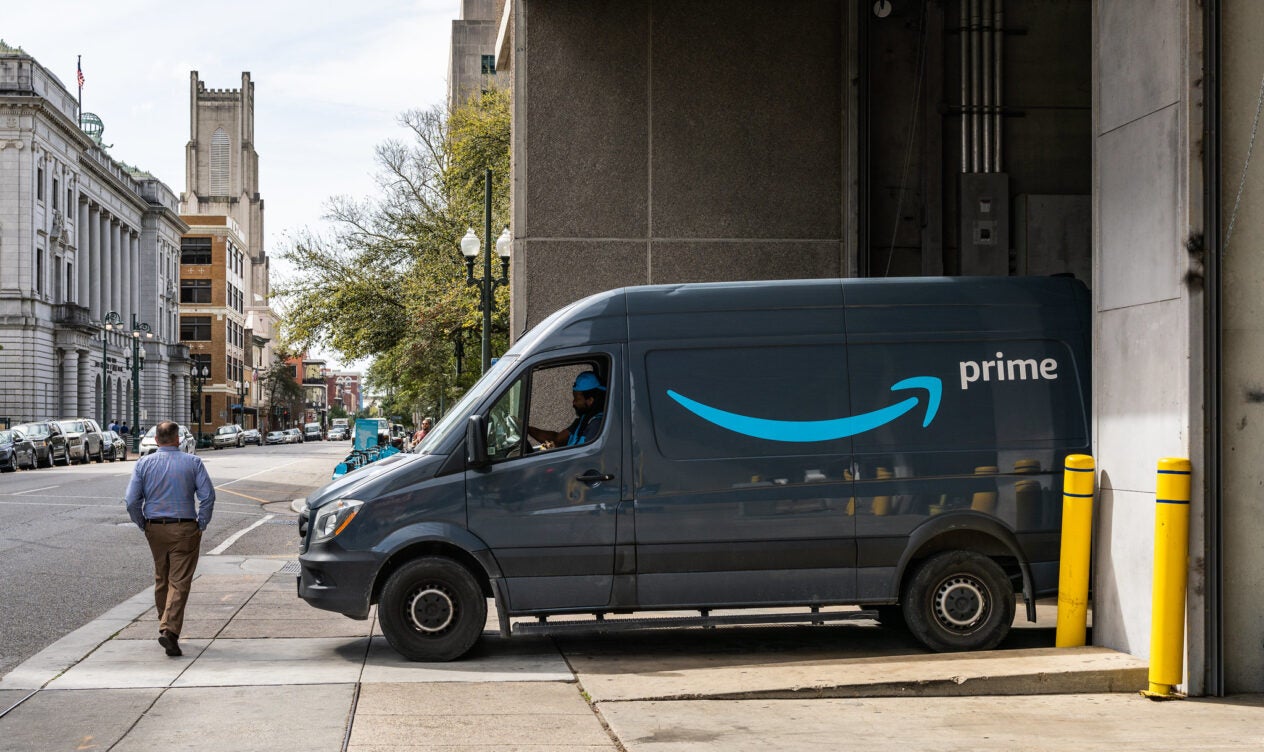 Dec. 15, 2021 | In recent months, members of the Teamsters, Sierra Club, community members and organizations in the Bay Area have ramped up efforts to push back against Amazon's destructive business practices. This coalition has attended multiple local meetings expressing their concerns, educating communities and … Teamsters
Hoffa: Apprenticeships play pivotal role in boosting U.S. trucking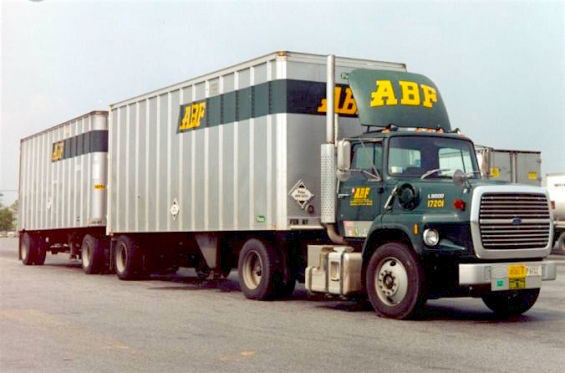 Dec. 17, 2021 | In a statement yesterday, President Hoffa responded to the Biden administration's new Trucking Action Plan: "For years, the Teamsters Union has been at the forefront of building a better trucking industry by working with ABF, UPS, and Yellow Trucking to train the next generation of qualified truck drivers needed to ship goods nationwide…" Teamsters Related: Trucker recruitment drive revs up Wall Street Journal
Four UPS drivers retire, ending long careers with the delivery company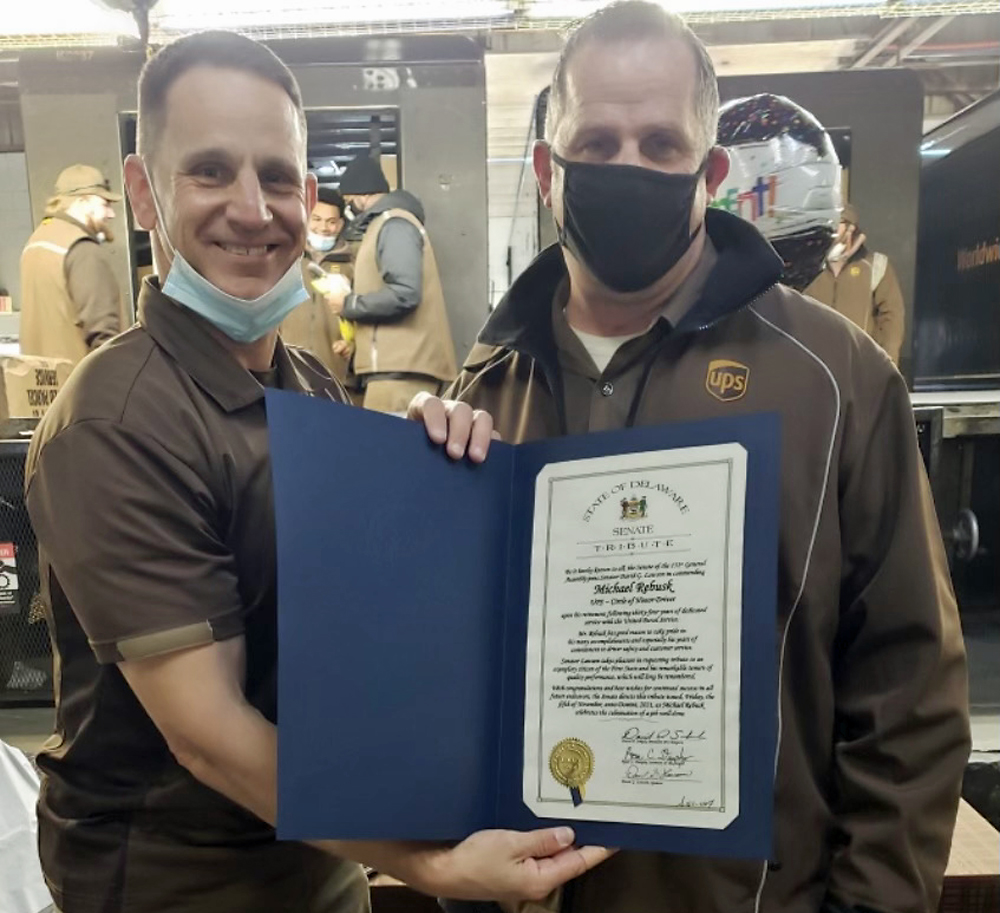 Dec. 22, 2021 | Congratulations to Harrington, Delaware package drivers who are celebrating the holidays with their well-deserved retirements: Robert Bogan, 36 years; Mike Rebuck, 34 years (pictured); Chad Tate, 33 years; and Kim Johnson, 20 years. The drivers were honored for their years of service at a celebration held earlier this month at the facility where, in addition to well wishes from coworkers, each was presented with a Proclamation of Recognition and Appreciation from the Senate of Delaware. May they enjoy good fortune and good health in all future endeavors. More photos by UPS driver/festivities coordinator Jim Statham here.
Baltimore UPS members help deliver Christmas joy to children in need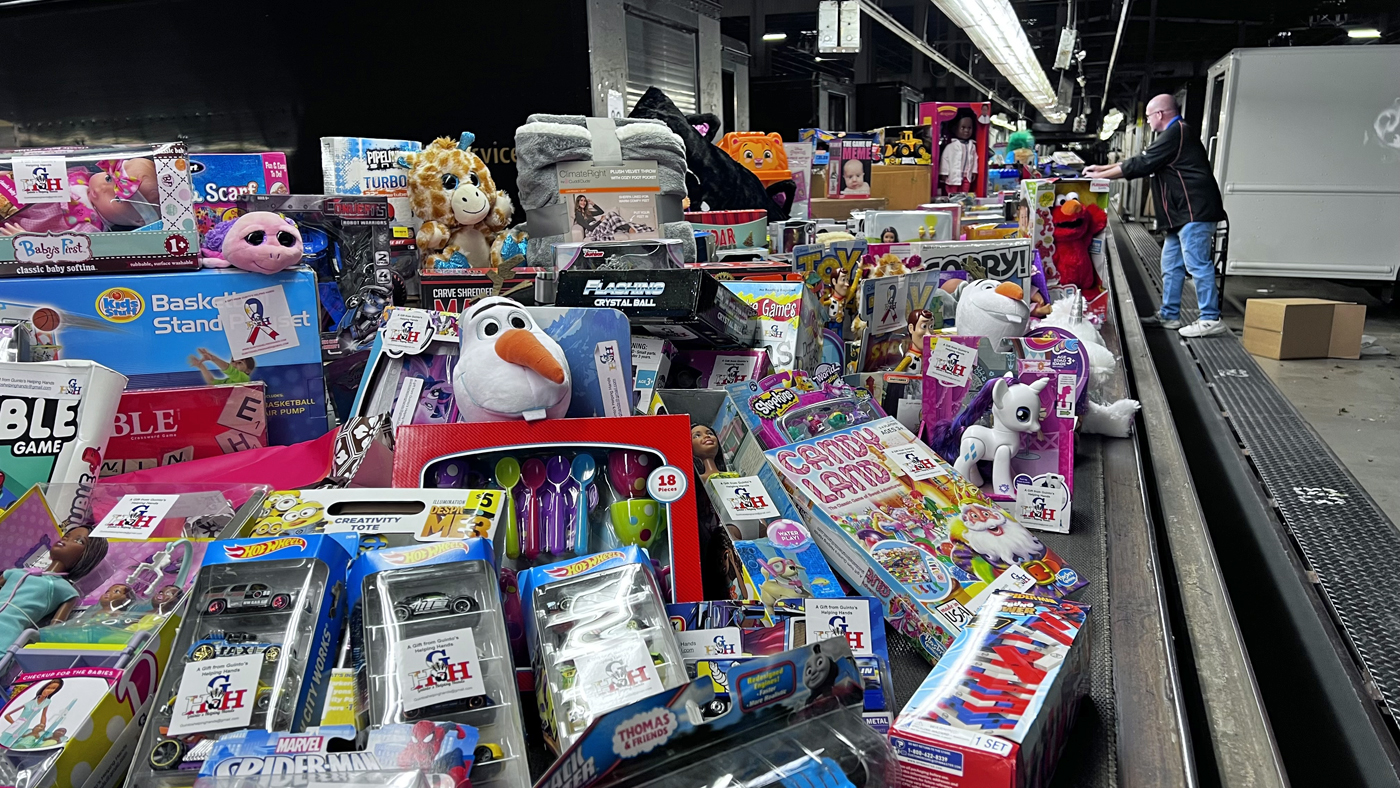 Dec. 23, 2021 | More than 8,500 toys were collected and donated to hospitalized and disadvantaged children by Guinto's Helping Hands, the charity organization founded by Local 355 UPS driver Felix Guinto. Deliveries were made to the Kennedy Krieger Institute, the Ronald McDonald House, and United Communities Against Poverty. Coworkers Dion Di Pasquale, Brandon Carter, Jeff Matin, Steve Kennedy, and Chris Serp helped Guinto organize and deliver this year's gifts. Throughout the year the charity receives support from toy collection, fundraising, and UPS coworkers who support the foundation... More at 355 News
Local 355 welcomes Anne Arundel County 911 operators
Dec. 29, 2021 | Fifteen emergency operators employed by Anne Arundel County unanimously voted to join the Teamsters earlier this month. Most important to the workers is having a voice at work, said Local 355 Business Agent Marcus Smith, who handles four union contracts with the County. "Their successful drive was fueled by the desire to obtain the security and structure a labor-management contract provides." Local 355 also represents Anne Arundel County correction program specialists, deputy sheriffs, fire battalion chiefs, and park rangers.