January/February 2015 Newsletter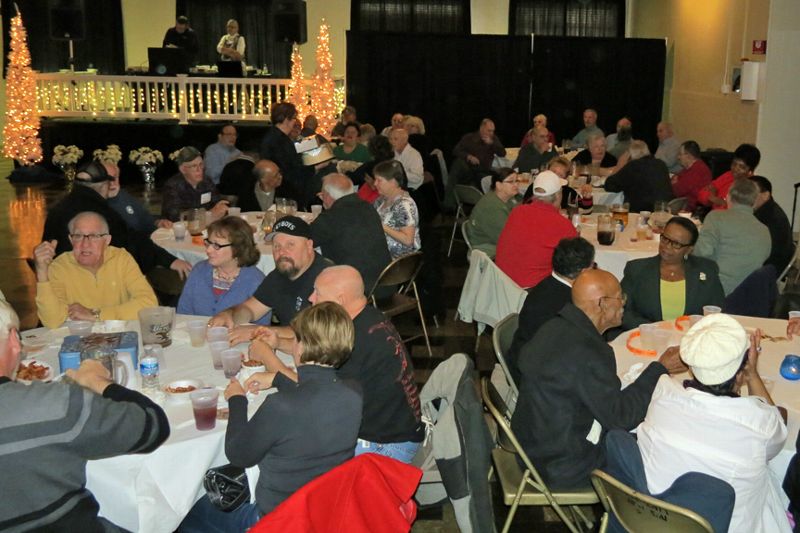 Lots more photos of the Christmas Party are in the Photo Gallery.
Brothers and Sisters:

First off, let me wish everyone a Happy New Year!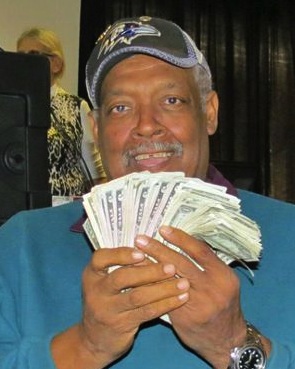 The Christmas party was a smash hit. We had a fantastic turnout of over 285 people. The food was awesome and the hall nicely decorated for the holidays. A special thanks to the executive committee for doing another spectacular job. A special thanks to Ronn and Lin Cain for again taking care of the basket of cheer this year. It was won by Lori Ratlief, pictured below left. Also, a special thanks to Cherry Brett and Ginger Townsley for selling the 50/50's. Donald Spencer, right, won the 50/50. Thanks to Mike Krainer and his crew who ran the money wheel. Thanks to Tommy Madkins for running the cake wheel. It takes a lot of time and volunteers to make these parties the success that they are. A big thanks to Charlie Long and his "Rubber Band" for putting on another good show. We also would like to thank our two guest band members, Suzanne Hollis and Erin Durange, who gave a great performance.
Congratulations to Triple Crown Winners: John Adkinson, Joe Reichert, and Calvin Duley. This drawing was held at the regular union meeting in December. We are going to sell the Triple Crown Tickets differently this year. The tickets will cost $5 apiece, but the prize money will be a lot more. It will be $1000, $500, and $250 instead of $300, $200, and $100.

Just a reminder on snow closings:
Bowling: If Anne Arundel County schools are closed because of weather, then there will be no bowling. If A.A. schools are delayed in opening 1 or 2 hours because of weather, then we will be bowling.
ARM Meetings: If Baltimore City schools are closed because of weather, then there will be no meeting. If Baltimore City schools are delayed 1 or 2 hours because of weather, then we will have our meeting.
Here's an easy recipe for these cold months:
Slow Cooker Chicken Philly Sandwiches
Makes 4-5 sandwiches
Ingredients
• 2 tablespoons butter
• 1 large sweet onion, sliced
• 2 green bell peppers, sliced
• 3 boneless, skinless chicken breasts, sliced
• 2 tablespoons Dale's Steak Seasoning (found in most supermarkets)
• sliced Mozzarella cheese
• hoagie rolls
Instructions
Spray a 3 - 4 quart slow cooker with non-stick cooking spray and turn to LOW heat.
Add butter, onions and green peppers.
Toss chicken with steak seasoning, salt and pepper, then add to slow cooker.
Cover and cook for 5 hours.
Serve on hoagies with a slice of cheese melted on top.
A special thanks to Attorney James E. Garland of the Peter G. Angelos Law Offices for his generous donation of Baltimore Orioles merchandise which will be raffled off at upcoming retirees' meetings.

New Members: Bill Williams (ABF), Jerry Northam (U.S. Foods), Cleveland Pendergrass (Smelkinson Bros.), and Ralph Bets Jr. (Denver Post & Sunpapers).
Sick Members: Ed Jackson, Milt Stapf, Bill Gibson and Francis Proctor.
Deceased Members: Bill Grossarth (UPS), Milt Marszalek (UPS), Walt Myers (Mountainside), Paul Anderson (Montgomery Wards) and Leroy Jones (Sunpapers).
Please keep these members and their families in your thoughts and prayers.
The next meetings will be on January 15 and February 19 in the Sullivan Hall at Teamsters Local 355, 1030 S. Dukeland Street, Baltimore, MD. Coffee and donuts are served at 9:30 a.m. The Executive Board meets at 10 a.m., and the general meeting begins at 11 a.m. A light lunch is served following the general meeting. Hope to see you there. Remember to bring another retiree with you.
And remember, we can always use new bowlers!

Fraternally,
Bob Eney,
President
Photos/Teamsters Joint Council 62