Union member killed defending women against hate attack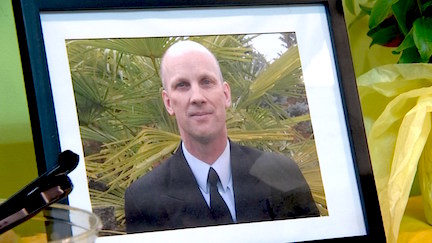 PORTLAND, Ore. (PAI)—A Portland, Ore., union member, Rick Best, was one of the two heroic men stabbed to death just before Memorial Day while successfully defending two young women – one wearing a hijab – against hate speech and a fatal attack.
"It is with great sadness that we share the news that Local 17 member, Rick Best -- a Technician in the Bureau of Development Services at the City of Portland -- was among one of the victims in the Portland stabbing on Friday, May 26," said his union, Professional and Technical Engineers Local 17.
"Best and two other heroes were defending two young women who were being harassed with hate speech on the Portland MAX train.
"Best was a retired Army veteran who began working for the city in 2015. He is survived by his wife, Myhanh Duong Best, and three sons and a daughter, Erik, Isaac, David, and Tramanh. Our hearts go out to Rick's family, friends, and colleagues as they grieve this senseless loss. A GoFundMe page has been set up to fund scholarships for Best's children if you would like to contribute."
Best and two other men were stabbed by self-proclaimed nihilist and ex-con Jeremy Christian. One of the two survived, as did the young women, who were unharmed.
The Northwest Labor Press reported Christian got on a westbound light rail train at 4:30 pm "and immediately targeted two African-American girls, one of them wearing a hijab, with a loud and frightening racist rant.
"Three men stepped forward to defend the girls and were stabbed in the neck by Christian. Micah David-Cole Fletcher survived. Taliesin Myrddin Namkai-Meche and Rick Best died of their wounds."
The local not only posted the tribute to Best on its website, along with the funding for the scholarships for his children, but it paid for COBRA coverage for the family for June. The Portland City Council is working on legislation for city-paid health care for the family for the next three years.
~ Press Associates, Inc.