Updated On: Dec 346, 2011
At the River I Stand (1994) The story of the bravery of the Memphis sanitation workers, all African-American, whose AFSCME strike brought Martin Luther King to the city to help mediate, with tragic consequences. (Order at www.newsreel.org or call 1-877-811-7495.)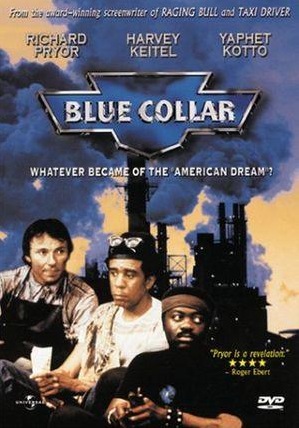 Blue Color (1978) Whatever became of the "American Dream"? Richard Pryor, Harvey Keitel and Yaphet Kotto star in the powerful, critically acclaimed drama Blue Collar. Three auto assembly line workers, fed up with union brass and tired of scraping by, hatch a plan to rob a safe at union headquarters. Disappointed with their measly bounty, they realize they've made off with something much more valuable than cash. Their unexpected swipe suddenly envelopes the three autoworkers in a desperate fight against corruption and organized crime.
Cradle Will Rock (2002) Hank Azaria, Ruben Blades, Joan Cusack, John Cusack, Cary Elwes, Philip Baker Hall, Cherry Jones, Angus MacFadyen, Bill Murray, Vanessa Redgrave, Susan Sarandon, Jamey Sheridan, John Turturro, Emily Watson. A kaleidoscopic look at the extraordinary events of 1930s America, from high society to life on the streets in Depression-era New York City. Based on the true story of Orson Welles' controversial musical about a steel strike that was closed down by government decree.
Car Wash (1976) George Carlin, Richard Pryor, Franklyn Ajaye, Professor Irwin Corey, Ivan Dixon, Antonio Fargas, Jack Kehoe, Clarence Muse, Lorraine Gary, the Pointer Sisters. An irreverent but affectionate look at a typical day in a Los Angeles car wash. But what a day! There's a would-be robbery and an assembly line of the weirdest, baddest characters you've ever met and lots of booty-bumping music to pass the hours.
The Devil and Miss Jones (1941) Jean Arthur, Robert Cummings, Charles Coburn, Edmund Gwenn, S. Z. Sakall, Spring Byington. J.P. Merric, the richest man in the world, a tyrannical department store tycoon, nicknamed "the devil" by his maltreated employees, meets Miss Jones and becomes a perfect angel. Hoping to root out labor discontent, J.P. goes underground posing as a shoe salesman in his own store.
The Devil Wears Prada (2006) Meryl Streep, Anne Hathaway, Stanley Tucci, Simon Baker, Emily Blunt, Adrian Grenier. Miranda, editor of "Runway" magazine, is a terror to everyone around her. Her first assistant strives to please her, but can't quite pull it off. Enter Andy, a young woman who knows nothing of the fashion industry and has never read the magazine. Nonetheless, Miranda, hires her as second assistant. When Miranda demands that she obtain the next unpublished Harry Potter manuscript, it forces Andy to dig it up in order to please her boss. With the help of one of the magazine's fashion editors, she gets a complete makeover and new security, and as she is whisked away to Paris with Miranda, Andy faces all of the glamor that could be hers and is forced to make the decision of where she wants to be in her life.
Disclosure (1994) Michael Douglas, Demi Moore, Donald Sutherland, Caroline Goodall, Roma Maffia, Dylan Baker. When an executive in a large company resists the advances of his new boss who is also a former love, she charges him with sexual harassment. Suddenly his marriage and his career are at risk, and his struggle to extricate himself leads to the exposure of an executive conspiracy.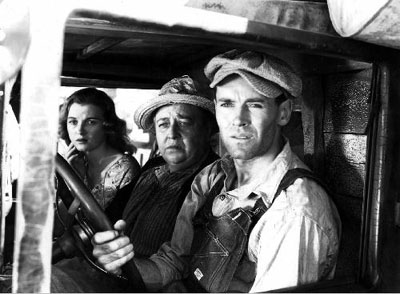 The Grapes of Wrath (1940) Henry Fonda, Jane Darwell, John Carradine, Charley Grapewin. The migration of the Joad family to California from their dust-bowl farm in Oklahoma during the Great Depression.
Hoffa (1992) Jack Nicholson, Danny DeVito, Armand Assante, J.T. Walsh, Robert Prosky. Traces Jimmy Hoffa's turbulent career from 1935, when he first solicits truck drivers to join the fledgling International Brotherhood of Teamsters, to his disappearance in 1975. The film traces Hoffa's passionate struggle to shape the nation's most influential labor union, his relationship with the mob, and his subsequent conviction and prison term at the hand of Robert Kennedy.
The Man in the Gray Flannel Suit (1956) Gregory Peck, Jennifer Jones, Fredric March, Gene Lockhart, Marisa Pavan, Lee J. Cobb, Ann Harding, Keenan Wynn. An veteran of World War II (still haunted by its memories) gets a job in a public relations firm. With added tension at work and increasing personal problems, the rising young executive must decide as his boss did--what is the most important thing in life, family or success? This exceptional drama, acclaimed for its extraordinary realism is a classic commentary on the American Dream.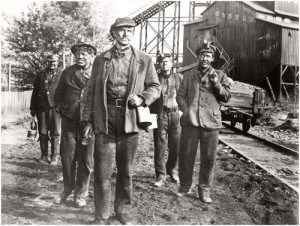 The Molly Maguires (1970) Richard Harris, Sean Connery, Samantha Eggar, Frank Finlay, Anthony Zerbe, Bethel Leslie, Art Lund. James McParlan is an operative working for the Pinkerton Detective Agency, who is hired by a major coal company to infiltrate and expose an underground terrorist organization, the "Molly Maguires". The Mollies operate within the improverished mining communities of Pennsylvania and are mostly Irish emigrants. McParlan is selected to infiltrate the organization to pose as a new member, but it quickly becomes apparent that the working conditions are truly wretched. The lawman's loyalties become divided between the law and his fellow countrymen.
9 to 5 (1980) Jane Fonda, Lily Tomlin, Dolly Parton, Dabney Coleman, Elizabeth Wilson, Sterling Hayden. Three female office workers combine forces to kidnap their deceitful, egotistical, and thoroughly chauvinistic boss and raise office efficiency to an all-time high during his absence.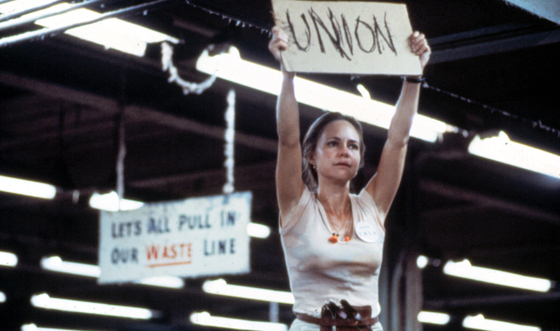 Norma Rae (1979) In an Oscar winning performance, Sally Field is unforgettable as Norma Rae, the Southern millworker who revolutionizes a small town and discovers a power in herself she never knew she had. Under the guidance of a New York unionizer and with increasing courage and determination, Norma Rae organizes her fellow factory workers to fight for better conditions and wages. Based on a true story, Norma Rae is the mesmerizing tale of a modern day heroine.
North Country (2005) Charlize Theron, Elle Peterson, Thomas Curtis, Frances McDormand, Sean Bean, Woody Harrelson, Jeremy Renner, Richard Jenkins, Sissy Spacek. Josey Aimes needs a job and goes to work at a Minnesota steel mine after splitting with her violent husband. But the job proves to be almost as harrowing as her marriage. The male miners are resentful of women taking their jobs, so the men verbally abuse and play humiliating pranks on the female miners. After being physically assaulted by a coworker, Josey tries to fight against the harassment, but none of the other women will join her case for fear that things will only get worse. A dramatization of the first major successful sexual harassment case in the U.S. - Jenson vs. Eveleth Mines, where a woman who endured a range of abuse while working as a miner filed and won a landmark 1984 lawsuit.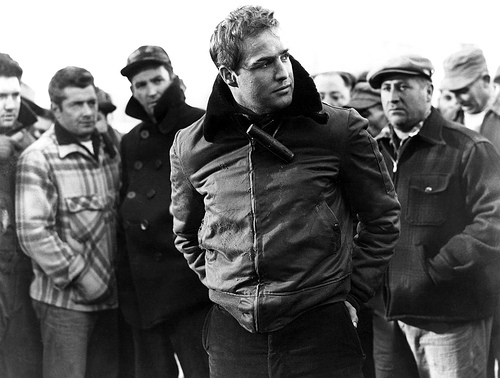 On the Waterfront (1954) Marlon Brando, Karl Malden, Lee J. Cobb, Rod Steiger, Pat Henning, Eva Marie Saint. Mob-connected union boss Johnny Friendly (Lee J. Cobb) rules the waterfront with an iron fist. The police know that he's been responsible for a number of murders, but witnesses play deaf and dumb ("plead D & D"). Washed-up boxer Terry Malloy (Marlon Brando) has had an errand-boy job because of the influence of his brother Charley, a crooked union lawyer (Rod Steiger). Witnessing one of Friendly's rub-outs, Terry is willing to keep his mouth shut until he meets the dead dockworker's sister Edie (Eva Marie Saint). "Waterfront priest" Father Barry (Karl Malden) tells Terry that Edie's brother was killed because he was going to testify against boss Friendly before the crime commission. Because he could have intervened, but didn't, Terry feels somewhat responsible for the death. When Father Barry receives a beating from Friendly's goons, Terry is persuaded to cooperate with the commission.
Salt of the Earth (1954) This emotionally-charged film was made at the height of the McCarthy era by a group of black-listed filmmakers. It tells the story of a zinc mine strike in Silver City, New Mexico, in 1950. Against a backdrop of social injustice, Ramon and Esperanza Quintero find their roles reversed when an injunction against the male strikers moves the women to take over the picket line. Most of the actors of this labor classic were actual participants in the strike. "Salt of the Earth" is frequently cited as the best American labor film ever made.
Silkwood (1983) Meryl Streep, Kurt Russell, Cher, Craig T. Nelson, Diana Scarwid, Fred Ward, Ron Silver. Based on a true story. When Karen Silkwood becomes contaminated with plutonium at her job and voices her protest at the indifference and denial of her company, she becomes a threat to the to the entire nuclear industry and the government agencies that monitor it.
Swimming with Sharks (1994) Kevin Spacey, Frank Whaley, Michelle Forbes. Kevin Spacey stars as Buddy Ackerman, "the boss from hell" who reigns over an entry-level corporate job anyone would kill for. The ambitious Guy (Frank Whaley), Buddy's personal assistant, finds himself ducking everthing from insults to paperweights as he tries to satisfy Buddy's needs. But when those "needs" involve Guy's girlfriend, he snaps. In a wicked twist of personnel payback, Guy takes Buddy as his "personal hostage" for a hilarious executive-suite revenge that is every abused employee's dream come true.
Take This Job and Shove It (1981) Robert Hays, Barbara Hershey, Art Carney, David Keith, Tim Thomerson. A man is sent to his home town to reorganize a failing brewery. His old buddies are reluctant to have him for their boss and he can't save them all from severe changes. When he does too good of a job at reorganizing, the owners decide to sell the brewery.
The Full Monty (1997) Six unemployed steelworkers with nothing to lose, except their clothes. This enthusiastic portrayal of real-life factory workers was a box office hit in England (where it takes place) and in North America. You might laugh at the choreography of this male dancing troupe, and why not? Even though their lives have been hardened by steel, the men who got up on stage to dance overcome their fears with a spunky attitude.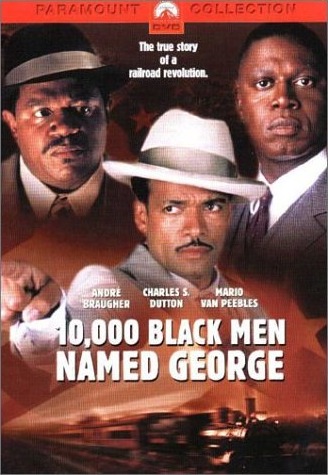 10,000 Black Men Named George (2002) Andre Braugher, Karen Eyo, Charles S. Dutton, Mario Van Peebles, Ardon Bess, Carla Brothers, Kedar Brown, Amanda Brugel, Joel Gordon. A dramatization of the true story of the formation of the first black-controlled union, the Brotherhood of Sleeping Car Porters. Asa Philip Randolph, a black journalist establishes a voice for the forgotten workers of the Pullman Rail Company, where all black porters were simply named "George", after George Pullman, the first person to employ emancipated slaves.
– Full list and credit information at UC Berkeley Media Resources Center