Annual party turns out record number of retired members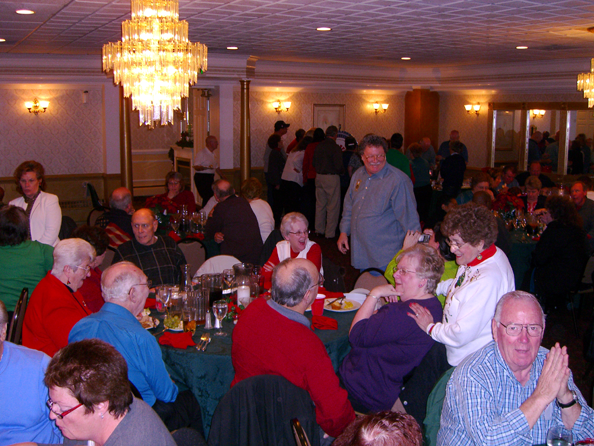 'Tis the season for gala parties complete with good food and good friends, but this year's annual event sponsored by the Association of Retired Members of Local 355 and held at the Town & Country Hall in Lansdowne, might also be one for the record books. "We have 220 members and guests," said ARM president Bob Eney, who seemed to be in a dozen places at once as he moved through the banquet rooms and lobby checking to be sure that all was running smoothly. "I think this is the largest turnout ever!"

Guests enjoyed an extensive menu that included raw and fried oysters, crab soup and clam chowder; tossed salad; an assortment of cheese, crackers and rolls; stuffed chicken breast with gravy, pit ham, carved turkey and roast beef; red-bliss mashed potatoes, green beans and corn.

Music was provided by Rod Clark, former high school teacher and currently a professor at Anne Arundel Community College, who enjoys DJ-ing for a hobby during academic breaks.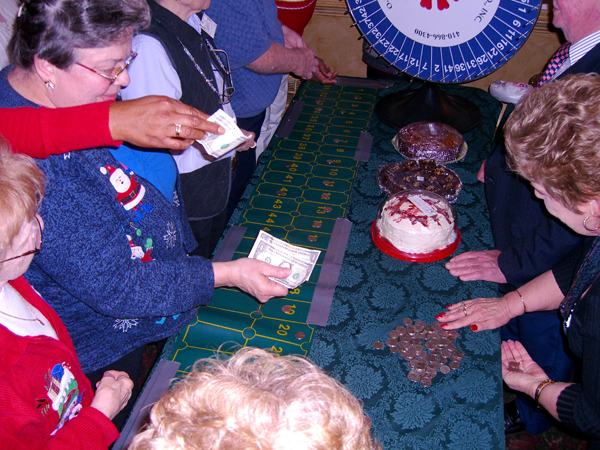 While some satiated their appetities, others played their luck (and their quarters) trying to win dessert: The Cake Wheel drew guests eager to take their chances to win one of the delightful and delicious-looking treats piled high nearby. All the baked goods and pastries wre donated by members, many of whom were vying for a cake win themselves.

All funds collected from the Cake Wheel, a 50-50 raffle and the Basket of Cheer raffle will replenish ARM's treasury.

The Christmas Party, a Local 355 retirees' event for over 25 years, is one of two annual parties sponsored by ARM. Don't miss their summer party. We'll post the date here as soon as it is set.
Photo gallery ...