Brothers and Sisters:
First off, let me wish everyone a Happy New Year!
Upcoming events in February:
The 2nd is Ground Hog Day. Let's hope he doesn't see his shadow!
The 3rd is Super Bowl. Go, Rams!
The 14th is Valentines Day. Don't forget your significant other!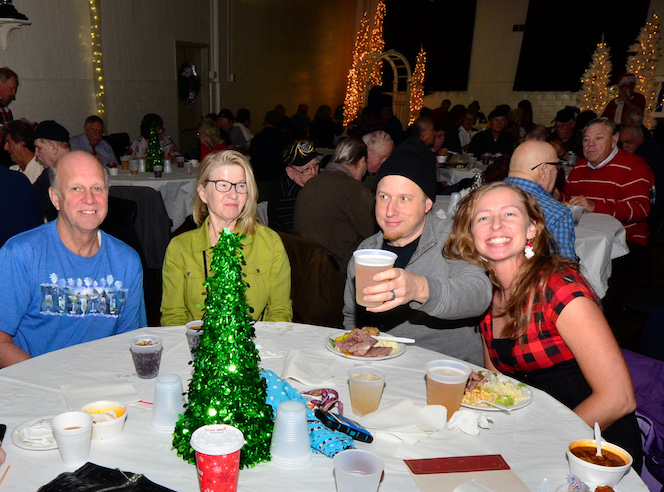 The Christmas Party was a smash hit. We had a fantastic turnout. The food was awesome and the hall nicely decorated for the holidays. A special thanks to the executive committee for doing another spectacular job. Special thanks to Ronn and Linda Cain for again taking care of the basket of cheer this year. It was won by John Hockaday. Also a special thanks to Cherry Brett and Ray Bularz for selling the 50/50's. Thanks to Mike Kranier who ran the money wheel. Thanks to Tommy Madkins, Jimmy Sank and Tom Bosley for taking care of the cake wheel. It takes a lot of time and volunteers to make these parties the success that they are. A big thanks to Charlie Long and his "Rubber Band" with lead guitarist Susanne Hollis for putting on another good show. A very special thanks to all of our members who donated the baked goods. (Check out photos in the Photo Gallery, linked here on the left column.)
Congratulations to Triple Crown Winners:
The big winner, Jimmy Deene, made a sizeable donation back to the club (thanks, Jim). Second Place was won by Bill Alexander, and Third Place was won by Brian Lee. This drawing was held at the regular union meeting in December.
Just a reminder on snow closings:
Bowling: If Anne Arundel County schools are closed because of weather, then there will be no bowling. If A.A. schools are delayed in opening 1 or 2 hours because of weather, then we will be bowling.
ARM Meetings: If Baltimore City schools are closed because of weather, then there will be no meeting. If Baltimore City schools are delayed 1 or 2 hours because of weather, then we will have our meeting. Remember, we always need bowlers!
As we still have many more cold days ahead, I would like to share a new soup recipe: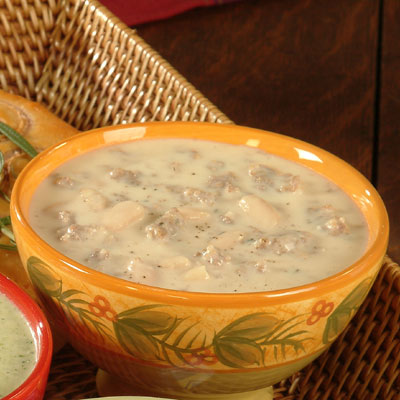 Tuscan Sausage and White Bean Soup
Ingredients:
1/4 cup butter
1/2 cup onion chopped
2 cloves garlic finely chopped
1/4 cup flour
1 12 oz. can evaporated milk
1 14.5 oz. can chicken broth
1/2 lb. ground pork sausage cooked and drained
1 15.5 oz. can undrained cannellini beans
Salt and Pepper
Directions:
1. Melt butter in medium saucepan.
2. Add onion and garlic; cook for 1 to 2 minutes while stirring occasionally or until onion is tender.
3. Stir in flour.
4. Slowly add the evaporated milk and chicken broth while stirring constantly.
5. Once the mixture comes to a complete boil, add sausage and beans. Heat through, and season with salt and pepper.
Enjoy with some fresh crusty bread, a salad, and maybe a glass of your favorite vino.
Did you know?
The plastic tags and twists on loaves of bread aren't just for looking pretty? They are coded to indicate what day the bread was baked on. The most commonly used codes for 5 days a week delivery is blue for Monday, green for Tuesday, red for Thursday, white for Friday, and yellow for Saturday. It's a nifty "and now you know" factoid.
New Members: Carolyn McGee
Sick Members: Tyrone Howard, Jesse R. Taylor, Perry Conway, George Booker Willie Webb, Ernie Shipley, Norman Scott and Ernest Boritz
Deceased Members: Patrick Snyder (Food Fair) and Bill Bennett (B. Green)
Please keep these members and their families in your thoughts and prayers.
Our Next Meetings
... will be on February 21 and March 21 in the Sullivan Hall at Teamsters Local 355, 1030 S. Dukeland Street, Baltimore, MD. Coffee and donuts are served at 9:30 a.m. The Executive Board meets at 10 a.m., and the general meeting begins at 11 a.m. A light lunch is served following the general meeting. Hope to see you there. Remember to bring another retiree with you.
Fraternally,
Bob Eney,
President