BOOM = Because Our Opinions Matter
Updated On: Oct 295, 2014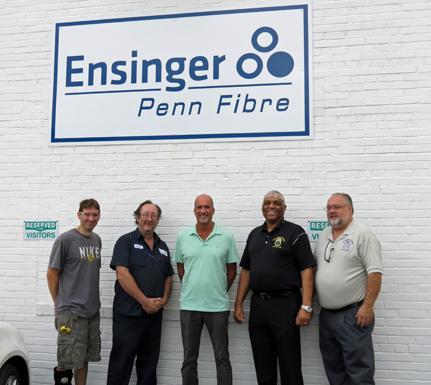 (L-R) Shop stewards Dave Beach and Bill Stramm, Operations Manager Mark Fischer, Local 355 Vice President Ervin Williams, and Business Agent John Caparatta.
Penn Fibre Teamsters participate in repair, revitalization of their workspace
Note: Local 355 has represented workers at thermoplastics manufacturer Ensinger/Penn Fibre for more than 40 years. Our members – many of whom are long-term employees – work in every department throughout the plant. The following is an update to an earlier story, "A Win-Win at Penn Fibre," reported in 2012.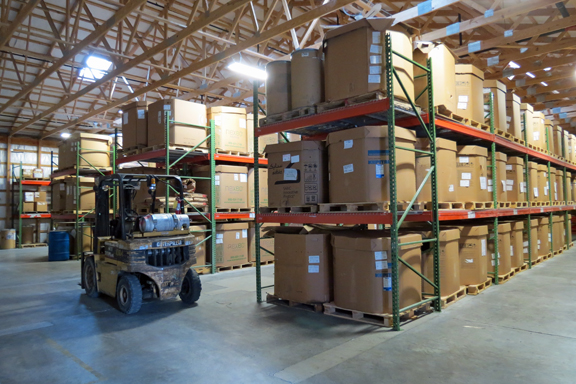 Greenwood, Del. — In September 2012, Penn Fibre began construction of a warehouse extension (right) to store the overflow of materials used in the production of high-performance engineering plastics, the company's signature product. The tight space and aging floors of the old warehouse raised concerns about worker safety. At the time, General Manager John Cowperthwait told his workers the company was committed to undertaking the necessary measures to avoid unnecessary accidents.
Penn Fiber's German parent company, Ensinger, launched BOOM — "Because Our Opinion Matters" — a bottoms-up initiative designed to teach its plant locations how to continuously improve and maintain their workspace. The BOOM program promotes a process by which employees – union and non-union alike – are encouraged to tell management what improvements are necessary to make the plant more efficient, productive and safe. It is the employees, working hands-on, day-to-day within their spaces, who know what is broken and in need of fixing, said Cowperthwait.
Workers began by surveying and analyzing their own departments, making lists of recommendations. The various departments then met to discuss and determine priorities. Almost all recommendations were approved.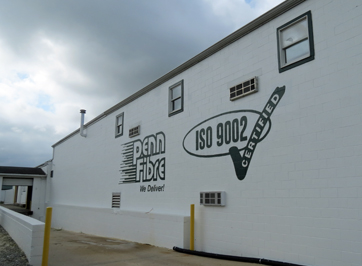 The first phase of BOOM completed, the company moved to the second phase in July with a one-week "maintenance shutdown," limited production schedule and, with "all hands on deck," assigned employees to cleaning, painting, organizing, repairing and sprucing up their workplaces, all according to the final recommendations and suggestions for change. Everyone was paid their regular weekly rate.
"Though we do a maintenance shutdown annually, this year we accomplished much, much more," said Mark Fischer, operations manager. "Historically, we change motors and pumps and do other busy work. This year was different, well beyond the norm. Teamwork was essential."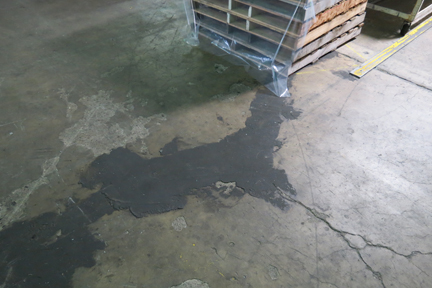 Work projects included sealing large floor cracks (right) thus eliminating tripping hazards and easing fork-lift vibration, often the cause of back injuries; re-configuring the old warehouse's aisles that were too close together with materials stacked too high making them hard to access; machines were cleaned — one was re-located to improve productivity and safety — and a new drive controller was installed to maintain consistent flow of the thin plastic sheets used to make product. Interior walls were reinforced and re-painted, building exteriors received a fresh coat of paint, the company's outdoors logo was hand-painted, and new gravel was distributed on walk and pathways.
"The program really upped the morale," said David Beach, a die shop employee and Teamster shop steward since 2014. "It makes us feel good to work in a clean environment."
Penn Fiber's newly hired maintenance manager is moving to address other areas where improvements were recommended by the employees, including the installation of better lighting.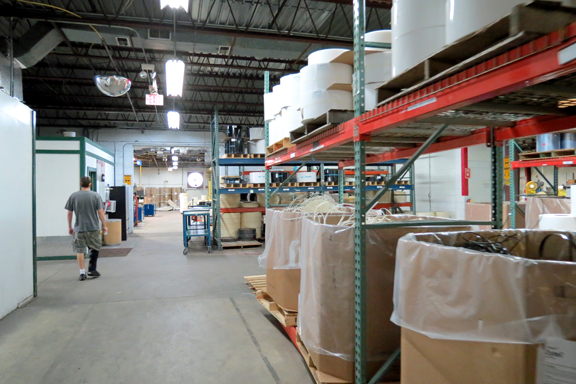 Shipping department employee and Teamster steward Bill Stamm said it made a big difference to know management trusted the workers to make sound decisions about the clean up. "For example, if one department no longer needed a piece of equipment or storage rack (left), we checked around with other departments to see it if could be repurposed. The company was fine with that."
Today, not only does the plant look good, it's much safer. Penn Fiber Teamsters are proud of their contribution and hard work that helped to make it all happen.
"Our members were enthusiastic about the BOOM program because the changes were happening with them, not around them," said Local 355 Vice President Ervin Williams adding, "Their opinions mattered."