Members Oppose UPS' Unfair Production Standards
Updated On: Apr 119, 2011
As part of a nationwide day of action, hundreds of Local 355 members stood together in unity to protest production harassment at UPS.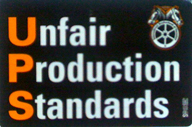 Package drivers at the three Baltimore hubs, sporting stickers that read "Unfair Production Standards," organized themselves in quiet protest in sharp contrast to the normal early morning chaos typical before morning shifts.
The mobilizing action was called by the Teamsters Union in coordination with Workers Memorial Day. "It was great that they all stood together across all 3 buildings," said Eric Wood, Local 355 Business Agent."They sent a clear message that they're tired of being messed with and treated unfairly when they're giving more than 100% to the job."
Shop stewards did a great job coordinating the solidarity action, Wood said. "But two rank-and-file members, John Nicoli and Rusty Sunstrom also stepped up to the plate, both of them really went beyond the call to help with coordination. Their efforts helped give us 100% participation, and they are greatly appreciated."
Members are reminded that rules are tools - Use your methods. Protect yourself if management challenges your numbers or tries to hold you to an unrealistic SPORH. Keep a daily record of your route.
It is very important that if you think you're being set up for unfair discipline that you contact your shop steward or business agent Eric Wood.