News Items - January 2019
AFGE sues government over shutdown
Jan. 2, 2019 | The American Federation of Government Employees on Monday sued the U.S. government on behalf of federal employees being forced to work without pay during the Trump Shutdown. The lawsuit alleges that the government is violating the law by requiring some federal employees to work without pay, including correctional officers, Border Patrol and ICE agents, transportation security officers, and other employees who are labeled as "essential". "Our members put their lives on the line to keep our country safe," said AFGE president J. David Cox Sr., noting that positions that are considered 'essential' during a shutdown are some of the most dangerous jobs in the federal government. Pointing out that many of those working without pay are military veterans, Cox said that "Our nation's heroes, AFGE members and their families deserve the decency of knowing when their next paycheck is coming and that they will be paid for their work." The lawsuit was brought on behalf of all federal employees who are required to work without pay during the shutdown. The U.S. Court of Federal Claims has previously ruled in favor of federal employees forced to work without pay during the 2013 shutdown. ~ Via Metro Washington Council AFL-CIO
Teamster members also work for federal government, contractors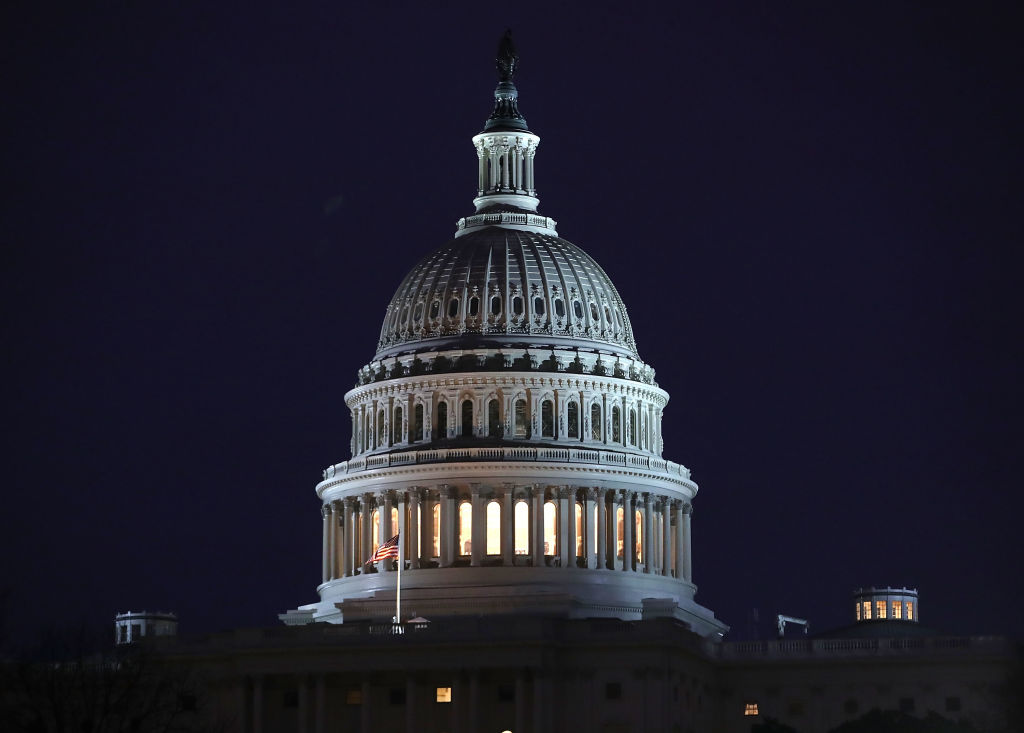 Jan. 2, 2019 | The International Brotherhood of Teamsters calls on Congress and the President to end the current budget impasse that could result in the partial closure of the federal government. The Teamsters Union represents thousands of hardworking members who are either federal employees or federal government contractors. Many of these members will be forced to either work without pay or face furlough or layoff during a government closure. The impact on these members and their families, as well as all federal employees impacted by a shutdown, would be catastrophic… teamster.org Photo: Mark Wilson/Getty Images
Unions call on the president and Congress to reopen the government

Jan. 9, 2019 | Every day the government shutdown drags on, hundreds of thousands of working people are denied a paycheck and millions lose the vital government services they deserve. America's working families are looking to the president and Congress to end this debacle. Join us for a rally to end the government shutdown at Noon, Thursday, Jan. 10, 2019, at AFL-CIO, 815 16th St., NW, Washington, D.C. 20006. Or, call your legislators and demand that they vote to reopen government: 1-866-803-8830. Download the rally flyer here. Download the informational flyer "President and Congress Must Reopen the Government" here.
Thousands of federal employee union workers rally for end to government shutdown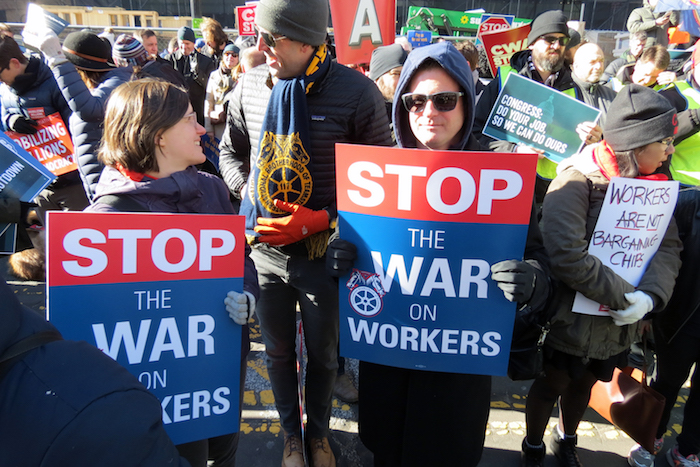 Jan. 10, 2019 | Teamsters stood with federal workers and other trade union allies at a rally today in Washington, DC to demand an end to the government shutdown. Tens of thousands of our union brothers and sisters are locked out or working without pay. Chanting 'Shut the shutdown now," they demanded government leaders "do your job" and reopen the government so they can go back to work. More than a dozen members of Congress joined the rally to stand with the workers including leaders from Maryland (House Majority Leader Steny H. Hoyer, Senators Chris Van Hollen, and Benjamin Cardin) and Virginia (Senator Mark Warner and Representative Don Beyer).
Teamsters go to court over federal rest time ruling
Jan. 11, 2019 | In a move that pits business interests against organized labor, the federal agency that regulates big-rig traffic late last year issued a ruling that wipes out California labor laws mandating meal and rest breaks for interstate truck drivers. Within a week of that decision, the Union filed a legal action in federal court challenging the Federal Motor Carrier Safety Administration's ruling. The federal agency is being asked to prove it has the authority to preempt this California regulation… The Press-Enterprise
YRC negotiations resume, continued progress reported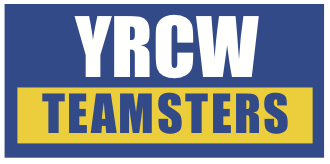 Jan. 14, 2019 | The Teamsters National Freight Industry Negotiating Committee (TNFINC) met this week to continue negotiations for a new National Master Freight Agreement covering YRC Freight, Holland and New Penn. The parties met for full days over the course of the week and discussed a wide variety of issues. TNFINC secured a tentative agreement with improvements on a number of items such as equipment, safety, stewards and work opportunities. TNFINC Co-Chair Ernie Soehl stated: "We continued making progress for the members and resolved a number of national non-economic items. Obviously, we will still need to tackle the difficult economic issues, but at least so far I am encouraged by the progress." Negotiations are scheduled to resume later in the month.
Hollywood Teamsters stand in solidarity with striking LA teachers
Jan. 15, 2019 | Teachers across California are making bold decisions to take action for their students and for the future of public education. Educators are deeply committed to improving learning conditions in their classrooms and public education calling for crucial changes such as reduced class sizes, improved school safety, less testing - more teaching, and fair wages. IBT Joint Council 42 has sanctioned the strike for Los Angeles Teachers and their fight… Hollywood Teamsters Local 399
New contracts approved at Avis Rent-A-Car, Mid-Atlantic Baking
Jan. 16, 2019 | Service agents, rental sales agents, customer service reps, and technicians at Avis Rent A Car ratified a new three-year contract in December that provides annual wage increases; an increase in company pension contribution; enhances sick leave; and increases technicians' boot and tool allowances. Drivers at Mid-Atlantic Baking approved…355 News
UPS contract update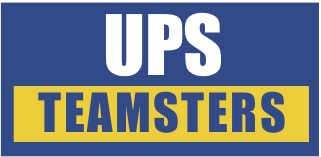 Jan. 18, 2019 | The seven Teamster local unions that represent UPS Teamsters covered by the Upstate and Western New York Supplement have reached a tentative agreement, and voting information will be mailed to members on Tuesday, January 22. Voting will be done over the internet or by phone. Ballots will be counted on Tuesday, February 5. Four supplements remain outstanding: Central Pennsylvania; Western Pennsylvania; Local 804; and Local 243 and Metro Detroit… Teamsters
UPS Freight national contract is now available online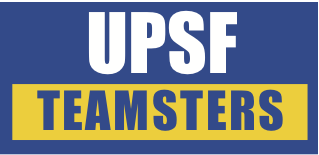 Jan. 18, 2019 | The 2018-2023 National Master UPS Freight Agreement is now available online and ready to print. You may access the agreement here. Workers at UPS Freight ratified the new five-year agreement in November 2018 that was the company's last, best and final offer. Members approved the contract by a 77 percent to 23 percent margin. The agreement covers about 11,600 workers at the company.
Labor hails DC City Council move to protect federal workers
Jan. 23, 2019 | Some good news to share with family or friends affected by the government shutdown and are residents of DC: The DC City Council yesterday unanimously approved the "Federal Worker Housing Relief Emergency Act of 2019" to protect unpaid federal government workers and contractors from foreclosure, eviction, and late fees during a federal government shutdown. The bill, which takes effect immediately following the Mayor's signature, would benefit as many as 80,000 federal workers and contractors living in DC. ...Metro Washington Council AFL-CIO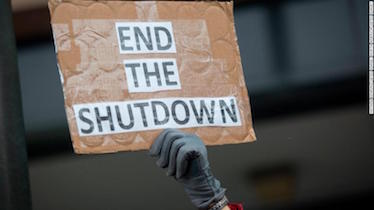 Stop the Shutdown National Call-In Day
Jan. 24, 2019 | Union members from all over the country are being asked to call their Senators and Representatives today to tell them to reopen the government and keep it open. Call the Senate: 866-803-8830; House: 855-976-9914. The Senate is tentatively scheduled to vote today on a bill that will reopen the government – the day before many workers will be missing their paychecks. The Teamsters stand in solidarity with workers impacted by the shutdown that has locked out hundreds of thousands of federal workers and forced hundreds of thousands more to work without pay. We believe that the shutdown must end now. Make the call now! Related: Teamsters take part in government shutdown protest on Capitol Hill Photo/Getty Images