Boddie retires after 40 years with UPS
Updated On: Nov 327, 2017
Closing out his final day with UPS, Stan Boddie reflects on his career during the company-sponsored retirement gathering at the Baltimore, Md. facility. Below right, Boddie with Eric Wood, Teamsters Local 355 business agent.
Nov. 22, 2017 | Continued from Main Page
Once the warehousemen and delivery drivers were back on the job, Boddie reported to his new job. His seniority date was later adjusted to January 4, 1977.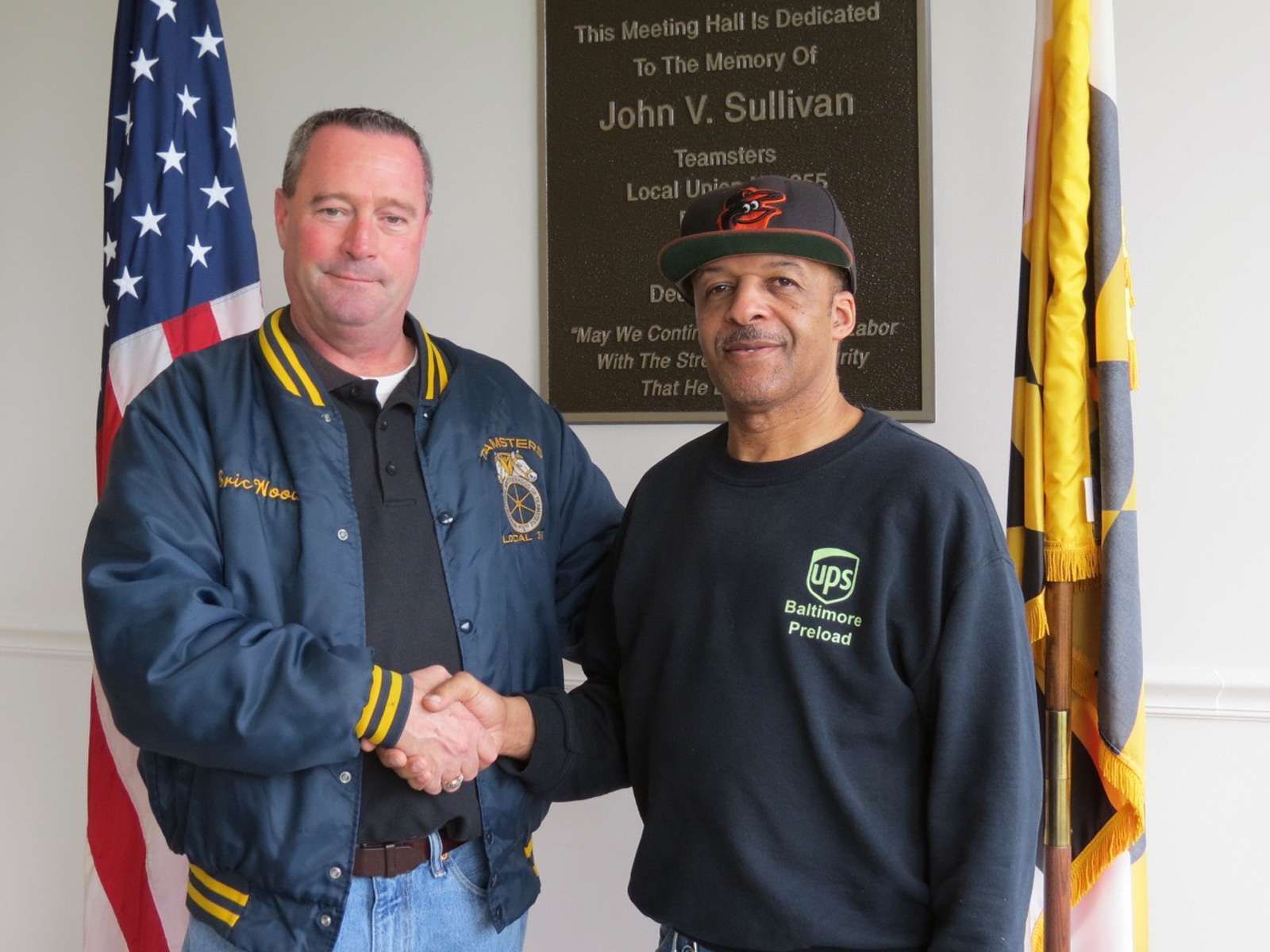 Boddie preferred to work inside the UPS facility. "I didn't want to drive, so I was happy as an unloader. Besides, I was still going to school for a degree in Business Administration with a focus on real estate, so the schedule worked well for me. Then finally in October of 1989, an opportunity opened for a full-time inside sorter/preload, and I jumped at it. Forty years later, here I am."
"I've met some great people at UPS. As I told my wife, they are all like family to me. In fact, many have known me as long as she has. We've celebrated together and mourned together because, with people like those I've worked with, we are just like family. And you know, wearing my Teamster jacket all these years has given me the chance to meet Teamsters from other places, too. That's been a real plus."
As a senior Teamster member, Boddie said he tried to pass forward to others what he'd learned about the job – and the union. "Teamsters look out for each other," said Boddie, clearly proud to be union. "For example, I had bought a house and looking to refinance, and one of my Teamster coworkers told me to call the union. Go through the union [Teamster Privilege], he said. I did, and I saved a lot of money."
Boddie and his wife, Gail, have no big plans for his retirement. He has always been active in his church, and will increase his involvement with the John Wesley United Methodist Church in Baltimore, with plans to continue in the Male Chorus and Media Ministry.
But it is his passion for genealogy and exploration of his roots that will likely keep him busy for a long time to come. He hopes to make frequent trips to the Carolinas for visits to [extended] family members who he found through his research: All of them are descendants of a great-great-grandfather born in 1832. The curiosity that resulted in the search for information about a grandfather who died before his birth launched him on a journey of discovery so compelling that relatives now refer to him as the family historian.
"I've learned how to research records which have since helped me piece together the story of our ancestors. Now I'm learning to be a storyteller. My mother passed away two years ago but even at 81 years old, she could tell a story from memory. That's not true for me; I always have to use notes."
Best wishes for a happy and healthy retirement, Brother Boddie. Happy trails!