Sept/Oct. 2015 Newsletter
Updated On: Sep 246, 2015
Brothers and Sisters:
Bowling started on August 26th. We can always use more bowlers.
The Golf Tournament will be on Saturday, September 12th, at Eisenhower Golf Course in Crownsville, MD. You need to register by Sept 4th. Call the hall for details.
A Motorcycle Run is scheduled for Saturday, September 19th, with a registration cutoff of September 17th. Call the hall for details.
The summer party was great as always. We had 260 signed up for the party. A very special thanks to all of the volunteers. Congratulations to Danny Williams, who won the 50/50 and donated a nice amount back to the club. Speaking of Brother Danny Williams, he made 10 gallons of delicious crab soup for our July retirees' meeting. (He was reimbursed for his expenses.) If you'd like to make or purchase something for our upcoming retirees' meeting, please let us know in advance.
On September 13th, monthly Sunday Union meetings begin. On September 11th, "never forget" the tragic event that happened 14 years ago.
Labor Day Celebration: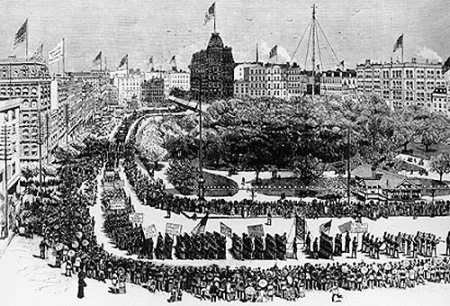 The form that the observance and celebration of Labor Day should take was outlined in the first proposal of the holiday — a street parade to exhibit to the public "the strength and esprit de corps of the trade and labor organizations" of the community, followed by a festival for the recreation and amusement of the workers and their families. This became the pattern for the celebrations of Labor Day. Speeches by prominent men and women were introduced later, as more emphasis was placed upon the economic and civic significance of the holiday. Still later, by a resolution of the American Federation of Labor convention of 1909, the Sunday preceding Labor Day was adopted as Labor Sunday and dedicated to the spiritual and educational aspects of the labor movement.
The character of the Labor Day celebration has undergone a change in recent years, especially in large industrial centers where mass displays and huge parades have proved a problem. This change, however, is more a shift in emphasis and medium of expression. Labor Day addresses by leading union officials, industrialists, educators, clerics and government officials are given wide coverage in newspapers, radio, and television.
The vital force of labor added materially to the highest standard of living and the greatest production the world has ever known and has brought us closer to the realization of our traditional ideals of economic and political democracy. It is appropriate, therefore, that the nation pay tribute on Labor Day to the creator of so much of the nation's strength, freedom, and leadership — the American worker.
Retail Sales Day:
To take advantage of large numbers of potential customers free to shop, Labor Day has become an important sale weekend for many retailers in the United States. Some retailers claim it is one of the largest sale dates of the year, second only to the Christmas season's Black Friday.
Ironically, because of the importance of the sale weekend, some of those who are employed in the retail sector not only work on Labor Day, but work longer hours. More Americans work in the retail industry than any other, with retail employment making up 24% of all jobs in the United States. As of 2012, only 3% of those employed in the retail sector were members of a labor union.
In high society, Labor Day is (or was) considered the last day of the year when it is fashionable to wear white or seersucker.
"Buy American!" might sound like nothing more than a slogan advanced by American manufacturers to sell products made in the USA, but the truth is that there are many reasons to consider buying American-made clothing, American-made toys, and other US-manufactured goods. We've listed just a few of the benefits of buying American below.
Top Ten Reasons to Buy USA Made Products:
10) Foreign labor standards allow unsafe worker conditions in many countries. When you buy American you not only support American manufacturers but also American workers, safe working conditions, and child labor laws.
9) Jobs shipped abroad almost never return. When you buy goods made in the USA, you help keep the American economy growing.
8) US manufacturing processes are much cleaner for the environment than many other countries; many brands sold here are produced in countries using dangerous, heavily polluting processes. When you purchase American-made products, you know that you're helping to keep the world a little cleaner for your children.
7) Many countries have no minimum wage restrictions, or the minimum wage is outrageously low. When you choose products made in the USA, you contribute to the payment of an honest day's wages for an honest day's work.
6) The growing lack of USA ability to manufacture many products is strategically unsound. When you seek out American-made goods, you foster American independence.
5) The huge US trade deficit leads to massive, unsustainable borrowing from other countries. Debt isn't good for you and it isn't good for America.
4) Foreign product safety standards are low. For example, poisonous levels of lead are in tens of millions of toys shipped to the USA. When you buy toys and other goods made in the USA, you can be confident that American consumer protection laws and safety standards are in place to protect your family.
3) Lack of minimum wage, worker safety, or environmental pollution controls in many countries undermines the concept of "fair and free trade". No Western nation can ultimately compete on price with a country willing to massively exploit and pollute its own people. When you buy only American-made products, you insist on a higher standard.
2) Factories and money are shifting to countries not friendly to the USA or democracy. When you avoid imported goods in favor of American-made items, you help ensure that the United States doesn't find its access to vital goods impacted by political conflict.
1) As the US manufacturing ability fades, future generations of US citizens will be unable to find relevant jobs. Buy American and help keep your friends and neighbors-and even yourself-earning a living wage.
Remember to "Buy Union" and "Buy American"
New Members: Tom Duncan, Donald Watson and Patrick Stowars
Sick Members: Nat Dowell, Eugene Chamberlin and Jimmie Pease
Deceased Members: Milton Stapf (Mountainside)
Please keep these members and their families in your thoughts and prayers.
The next meetings will be on September 17th and October 15th in the Sullivan Hall at Teamsters Local 355, 1030 S. Dukeland St., Baltimore, MD. Coffee and donuts are served at 9:30 a.m.
The Executive Board meets at 10 a.m., and the general meeting begins at 11 a.m. A light lunch is served following the general meeting. Hope to see you there. Remember to bring another retiree with you.
Fraternally,
Bob Eney
President