Teamster Hearts Are With Bridget
Updated On: May 125, 2011
Three-year-old Bridget, the youngest daughter of 355 Teamster and UPS package driver Scott Diveley and his wife Jennifer, and sister of Allison and Andrew, is a lucky little girl with a new lease on life after receiving a new heart March 7, 2010 at Baltimore's John Hopkins Children's Hospital.
On the morning of Sept. 22, 2009, her mother noticed that her breathing was unusually rapid and irregular. Bridget had no other symptoms, except that she was more tired than usual and a little on the cranky side, but Jennifer whisked her off to Bridget's pediatrician who determined she needed to go to the ER immediately for a chest x-ray and EKG. Following a battery of tests, Bridget was diagnosed with dilated cardiomyopathy (DCM), a disease that enlarges the heart, limiting its ability to supply blood to the body's tissue and organs. Though the actual cause is unknown, doctors suspect Bridget contracted a common viral infection that attacked her heart.
With the diagnosis confirmed, Bridget was sent to John Hopkins Hospital where she could receive the care she needed. She was hospitalized for a month after which she was sent home with medication everyone hoped would heal her damaged heart. But in January 2010 Bridget was rushed back to the hospital. Tests confirmed that Bridget needed a heart transplant but there was no way of knowing how long she would wait for a donor.
As Scott and Jennifer paced nervously in the waiting room soon after Bridget's admittance, a sympathetic stranger who had overheard their conversation about the diagnosis suggested they contact the Children's Organ Transplant Association (COTA), a non-profit organization that helps children and young adults who need or have had a life-saving transplant. COTA supports transplant families, helping to raise the needed funds to pay for transplant-related expenses. One hundred percent of all the funds are used for transplant-related expenses. Soon after Scott and Jennifer hooked in to COTA, the organization immediately set to work to help raise funds. Red rubber bracelets stamped with "My Heart is With Bridget" were quickly produced to sell to coworkers and friends, the proceeds of which went directly to Bridget's family.
A small group of volunteers formed Team Bridget, and COTA trained members on fiscal requirements of fund-raising and the coordination and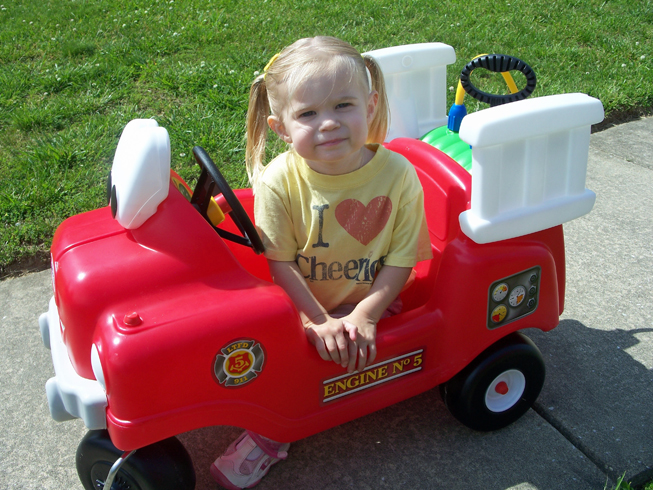 planning of events and activities. The team was comprised of family members and close friends, including UPS coworkers Bill Goudy, and Mike Petro and his sister Tina Leonard (wife of UPS driver Tom Leonard). They spearheaded a number of fundraisers, all of which were heavily attended by Teamsters and supported by Local 355. Events included face-painting and balloon creations at Rita's Italian Ice in July 2010, and a Bull Roast and Shrimp Feast in Parkville October 30, 2010. Bill and Mike put the word out at UPS/Quad Avenue early on about Bridget's condition. Scott said the response from his coworkers was overwhelming as cash donations quickly filled up envelopes. "[Bill and Mike] told me they would do it every month if they had to, and they did," said Scott. He and Jennifer were both on unpaid leave for months. The bills piled up, and the envelopes of cash donations provided much-needed money for their family's daily costs. Jennifer said they couldn't have done it without "a little help from our friends."
Scott was on family leave for several months, returning to work in April 2010. "I'll never forget that first day back. Everyone was wearing Bridget's bracelet. It really affected me. Not a day goes by when someone here doesn't ask me how I'm doing and how the family is," said Scott, speaking about his coworkers and pausing to gather his emotions. "It's not small talk. They really are concerned and I'm just so grateful."
"This has changed our lives," Scott said. "We know we can't ever take anything for granted."
"We are grateful, blessed, appreciative, humbled," Jennifer wrote in a recent COTA blog post. " There are too many words to describe how we feel. Please know, that when we say thank you, it is genuine, and from the bottom of our hearts. There is one little heart in particular that will also be thankful for all of this support. She is the reason for our efforts and I can't think of a better reason out there."
Bridget will need another transplant in 15-20 years. She requires numerous medications daily and continued medical monitoring. Through COTA, Bridget will be able to access donated funds for the rest of her life to help pay her medical costs. Donations may be mailed to the Children's Organ Transplant Association, 2501 West COTA Drive, Bloomington, Indiana, 47403. Checks or money orders should be made payable to COTA, with "In Honor of Bridget D." written on the memo line of the check. Secure credit card donations are also accepted online at www.COTAforBridgetD.com.
The Diveley's keep family and friends updated on Bridget's recovery at www.cotaforbridgetd.com/blog.
Below is the Channel 2 video interview with the Diveley family at the February 23, 2011 Hopkin's Children's Radiothon. Bridget served as ambassador to the fund-raising event for the kids at the John Hopkins Children's Center.