Feb. 27, 2020 | After announcing last week that he would not seek re-election in 2022, General President Jim Hoffa posted the following letter to his Facebook page.
Dear Fellow Teamster: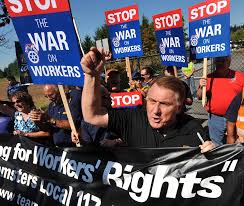 There can be no greater honor than serving as General President of the International Brotherhood of Teamsters. Everyday since you first elected me 21 years ago I have worked hard to earn the trust and support of you, the members I serve. Working together we have accomplished many great things for our beloved Teamsters Union.
When I was first elected I promised to:
Unite our great Union. Teamster Joint Councils and Local Unions are working together better today than any time in our history. That is why we are growing, why we are getting strong contracts and why we can hold politicians accountable. Nothing can stop us when we stand together united.
Run a clean union. Recently the Final Consent Order was implemented demonstrating that the Union and the Government agree that the Teamsters are now corruption-free.
Deliver strong contracts. I have worked with dedicated Teamster members and leaders to accomplish this most important goal. We have built worker power and exerted it to bring companies to the table to win industry-leading contracts that Teamster members deserve.
Grow the Teamsters Union. We created a dedicated organizing fund that has turned the Teamsters into the most recognized union in North America for aggressive, strategic and successful organizing. I am proud to say that despite attacks by anti-worker forces and the politicians they have elected, we have more Teamster members now than when I took office.
Work across political party lines to benefit Teamster members. We fought back against the war on workers over the last decade and I believe we are winning this fight. Through it all the Teamsters Union has been a leading advocate for worker justice, maintaining important lines of communications with Republican and Democrat administrations in State Houses and in Washington, DC. Most recently we were successful in obtaining meaningful changes in the North American Free Trade Agreement. This has been one of our major issues for the past two decades.
Make the Teamsters a democratic Union. Rank and file member engagement is what makes the Teamsters Union strong. I am proud to have enshrined the direct membership vote in the Teamsters election in the Teamsters Constitution.
There is much more work to be done. We have a pension crisis that must be solved and American workers are still under attack by politicians in Washington and state houses across the country. But I have faith that working together we will succeed for Teamster members.
My entire life has been dedicated to the Teamsters Union. I grew up walking picket lines with my father and spent my entire career representing and fighting for Teamster members. That is why my decision to not run for another term in 2021 is so difficult. But I know that it is time for new leaders to take the helm and steer our great Union through the difficult years ahead.
And please rest assured that during my final two years in office I will continue to fight to make the Teamsters Union stronger everyday.
Thank you all for of your incredible support over the years. We could not have succeeded without your involvement and participation. It has been an honor to work with all of you.
In Solidarity,
Jim Hoffa