Updated On: Jun 175, 2019
Brothers and Sisters,
Hope you have a happy Independence Day on July 4th.
The A.R.M incumbent officers were re-elected for another three-year term: Bob Eney, president; Joe Reichert, vice-president; Mike Brett, recording secretary; Frank Supiot, treasurer; Will Sank; sgt. at arms; Ronn Cain, Ed Jackson, Ray Bularz, Tom Miskimon, and Tommy Madkins, trustees. We thank you for all your support.
The bowling banquet was held on May 8th, and it was another great success. Bowling this year starts on August 28th. Please be there by 9:30 for a short meeting. We can always use new bowlers. If you don't want to be on a team, then just come in as a sub.
A very special thanks to Calvin and Faye Duley for their donation of the wheelbarrow for the "wheelbarrow of cheer." Remember, we can use more donations of unopened booze.
Great Summertime Recipes
The cool thing about these 2 recipes is that you can make them both at the same time.
BLT Pasta Salad
This bacon, lettuce, and tomato pasta salad will be the star side dish at your cookouts and picnics!
Prep time: 20 mins
Total time: 20 mins
Ingredients:
2½ uncooked bow tie pasta
6 cups torn romaine lettuce
1 medium tomato, diced
4 bacon strips, cooked and crumbled
½ cup ranch dressing
1 Tablespoon barbecue sauce
¼ teaspoon pepper
Ranch dressing, for serving
Cook pasta according to package directions. Drain. Then rinse pasta under cold water. In a large bowl, combine the romaine lettuce, tomato, bacon, and pasta. Drizzle the ranch dressing and barbecue sauce over the top. Gently toss to coat evenly. Season with pepper. Serve immediately and enjoy!
ICEBurgers
We go nuts over hamburgers. Just check out our quest for the ultimate burger for proof. Sadly, sometimes we have to cut back on the carbs or, honestly, we just crave the extra cool crunch of iceberg lettuce. Replacing the buns with lettuce allows us to be a little more lax when it comes to our burger cravings. It's a win-win.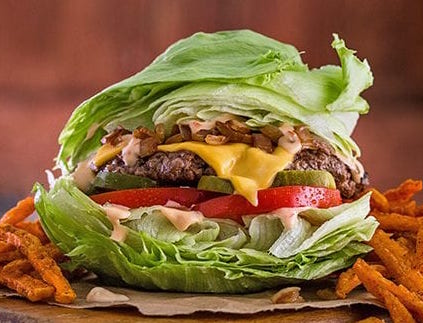 Yields: 4 servings
Prep Time: 0 hours 10 mins
Total Time: 0 hours 30 mins
Ingredients:
1 large head iceberg lettuce
4 slices bacon
1 red onion, sliced
1 lb. ground beef
Kosher salt
Freshly ground black pepper
4 slices cheddar
1 tomato, sliced
Ranch dressing, for serving
Slice 8 large rounds from the edges of the head of iceberg to create buns.

In a large skillet over medium heat, cook bacon until crispy. Transfer bacon to a paper towel-lined plate to drain, reserving bacon fat in pan.

Add onion slices and cook until tender, about 3 minutes per side. Set aside red onions and wipe skillet clean.

Return skillet over medium-high heat. Shape ground beef into 4 large burger patties. Season both sides of patties with salt and pepper and add to skillet. Cook until seared on both sides and cooked to your liking, about 4 minutes per side for medium. Top each burger with a slice of cheese, then cover skillet with a lid and cook until cheese has melted, about 1 minute more.

To build each burger, top one iceberg round with the cooked cheeseburger, a slice of bacon, and a tomato slice, then drizzle with ranch. Top with second iceberg round. Repeat with remaining ingredients and serve.
The Summer Party will be held on August 15th.
Your envelopes are due by August 5th. Remember, we will gladly hold your envelope for the Christmas Party. The hall for our parties is the UAW Hall at 1010 South Oldham Street. It's near the corner of South Oldham Street and O'Donnell Street, right behind the BP station. The hall is right off the Boston Street exit of Route 95 (new tunnel) and the O'Donnell Street exit of Route 895 (old tunnel). The hours for the parties are 11 a.m. to 3 p.m. Note: No one will be allowed in the hall until 20 minutes prior to the start of the party. Start getting your envelopes in. Remember that your check should be $25 if for one person and $50 for 2 people. There will be a money wheel. NO cake wheel. We need volunteers for the wheel and to sell 50/50's. Remember to purchase some of the 3-2-1 and basket of cheer tickets.
New Members: None
Sick Members: Calvin Duley, Warren, Shultz, Tyrone Howard, Jesse R. Taylor, George Booker, Willie Webb, Ernie Shipley, Norman Scott, and Ernest Boritz.
Deceased Members: Jimmy Key, John Bass, James Smith, and Herman Schulze
Please remember to keep these members in your thoughts and prayers.
The next meeting will be on July 18, 2019, in the Sullivan Hall at Teamsters Local 355, 1030 S. Dukeland St., Baltimore, MD. Remember there will be no meeting in August due to the summer party. Coffee and donuts are served at 9:30 a.m., the Executive Board meets at 10 a.m., and the General Meeting begins at 11 a.m. A light lunch is served following the General Meeting. Hope to see you there. And please remember to bring another retiree with you!
Fraternally,
Bob Eney
President