Profiles of Our 2012 Scholarship Winners
Updated On: Sep 265, 2012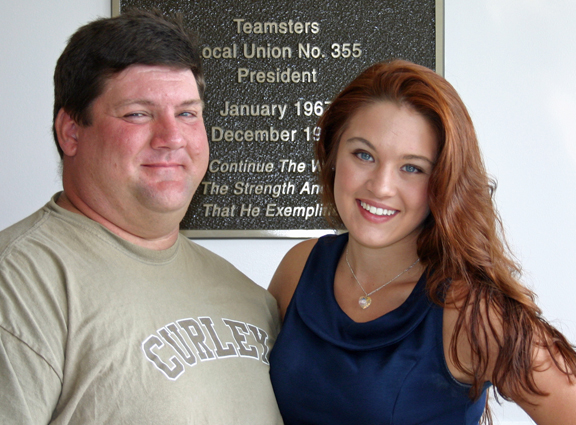 Brianna Ridgely has "always known" she wanted to be a teacher and with assistance from the Teamsters 355 Scholarship Fund, she's another step closer to accomplishing her dream. The daughter of UPS driver Michael Ridgely (right), she was one of two qualifying high-school students of Local 355 member families awarded a combined total of $8,000 in scholarships.
Robert White, son of UPS driver Tracey Morsell (below left), was also selected in the drawing of scholarship applicants during the May 5, 2012 membership meeting at the Baltimore office.
Brianna, a 2012 graduate of Baltimore's Catholic High School, began Cabrini College in Radnor, Pa. this month to pursue degrees in early education and business. Her long-term goal is to open a day-care center in the area.
"I'm the oldest of 12 cousins," Brianna told us. "I've always been around kids. I have a younger brother and I spoil him. We're very close; he's my best friend."
Brianna has been a member of the Girl Scouts of America since kindergarten: first as a Daisy, then a Brownie and nove a SeniorGirl Scout Gold Award, the equivalent of an Eagle in the Boy Scouts. In addition she was on her high school's varsity swimming team, specializing in the 50- and 500-yd. freestyle competitions. She was president of the school's Ambassador Association, charged with recruiting and welcoming new students. Her budding business and organizing skills were evident in her leadership in planning Open Houses for perspective students and Welcome Dinners for in-coming freshmen.
Robert, born and raised in Baltimore, is a recent graduate of Boys Latin School of Maryland. He is attending Goucher College, Towson, Md., to pursue a degree in pre-med.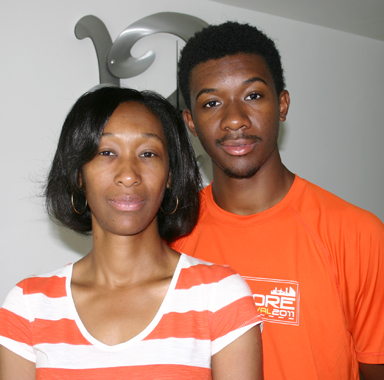 As a long-distance runner and basketball star during his high school years, Robert was no stranger to injury. But when he suffered an injury to his anterior cruciate ligament (ACL) in his sophomore year, he didn't know it would change his life's direction. While waiting for surgery and admittedly scared about the process, he became interested in what the anesthesiologist was doing to prepare him for the operation.
The operation fixed his knee but the conversation with his anesthesiologist inspired him, peaking his desire to learn more about the medical specialty.
"Even though I had surgery a second time to repair another injury, I knew what to expect," Robert explained. "My surgeon from the first operation linked me up with another anesthesiologist with whom I could talk about my interest. And from that - and with the helpful assistance from my mom's doctor, I was able to shadow doctors at area hospitals so I could learn more about the anesthesiology." Robert did his senior internship at Mercy Hospital in Baltimore.
Brianna and Robert will each receive a $4,000 scholarship, paid out at the rate of $1,000 per academic year.
On behalf of the members, the Local 355 Executive Board extends their congratulations and best wishes for their future success.