News Items - October 2019
Updated On: Nov 319, 2019
The power of the Public Sector
Oct. 1, 2019 | Listen to the latest episode of the Teamster Nation Podcast and learn how Local 1932 in San Bernardino, California stood up for its 11,000 public sector members and in the process got them better health care and pay that will improve the lives of their families for years to come.
Kraft-Heinz Teamsters ratify new contract
Oct. 9, 2019 | Local 355 members at Kraft-Heinz overwhelmingly approved in October a new four-year collective bargaining agreement, concluding 16 months of contentious negotiations. The agreement includes a signing bonus plus an immediate wage increase. Annual wage increases begin Jan. 1, 2020. Members will also have access to additional healthcare coverage options which may help to reduce their costs. The last contract expired in June 2018, and with extensions in place, the parties continued meeting to hammer out a mutually-acceptable successor contract. But in December 2018, members soundly rejected the employer's last, best and final offer (LBFO) and voted to authorize a strike. At issue were regressive proposals including the creation of a two-tier wage system. Working under challenging conditions, members remained on the job despite the absence of a contract. "Our shop stewards held everyone together, kept the focus on our goals and pushed back on every retrogression the employer put on the table," said Business Agent John Caparatta. "Their commitment to the process along with assistance from the International helped get us to the finish line."
Results of Jack Cooper vote released
Oct. 10, 2019 | Over a four-day period ending on Sunday, September 8, Teamster members employed at Jack Cooper Transport voted by a 2-1 margin to approve the Last, Best and Final Offer presented by the company. To view a spreadsheet detailing the voting totals by Teamster local, click here.
Hoffa: 'Candidates must take our voices seriously'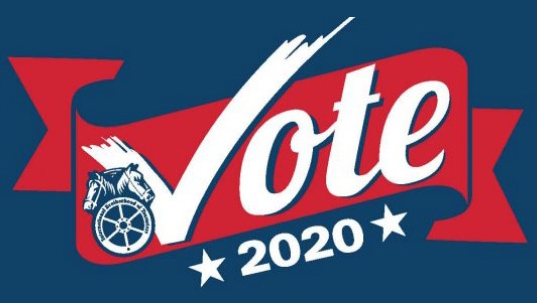 Oct. 11, 2019 | The Teamsters Vote 2020 survey conducted recently by the International revealed retirement security, collective bargaining rights, and fair trade as the most important concerns of members going into the 2020 election. The survey is just the start of Teamster efforts to make sure members are heard and respected in this election and beyond. "Candidates must take our voices seriously," said General President Hoffa today in an email to members. "We're demanding that all of the candidates listen to our members and support our priorities. We have the power to drive the conversation and ensure that issues that affect Teamsters and working people remain at the heart of the 2020 election." Watch President Hoffa here to find out how the union is holding candidates accountable on members' issues. Visit this website to learn more about the Teamsters Vote 2020 Program.
Bankruptcy court approves sale of Jack Cooper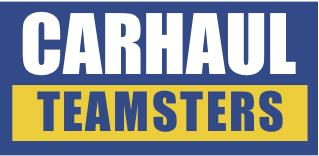 Oct. 14, 2019 | The Jack Cooper bankruptcy case passed a milestone Friday, with the bankruptcy judge approving the sale of the old Jack Cooper to the Solus-backed new corporate entity JCBuyer (however, the operating name of Jack Cooper will likely remain). While the bankruptcy court approved the sale, the sale will only become finalized at a to-be-determined date likely later this month or early November. We will keep you posted when we are aware of the date. The contract modifications in the approved Term Sheet will become effective when the sale is finalized.
Stewards honor VP Emeritus Erv Williams, Joyce Johnson at biannual banquet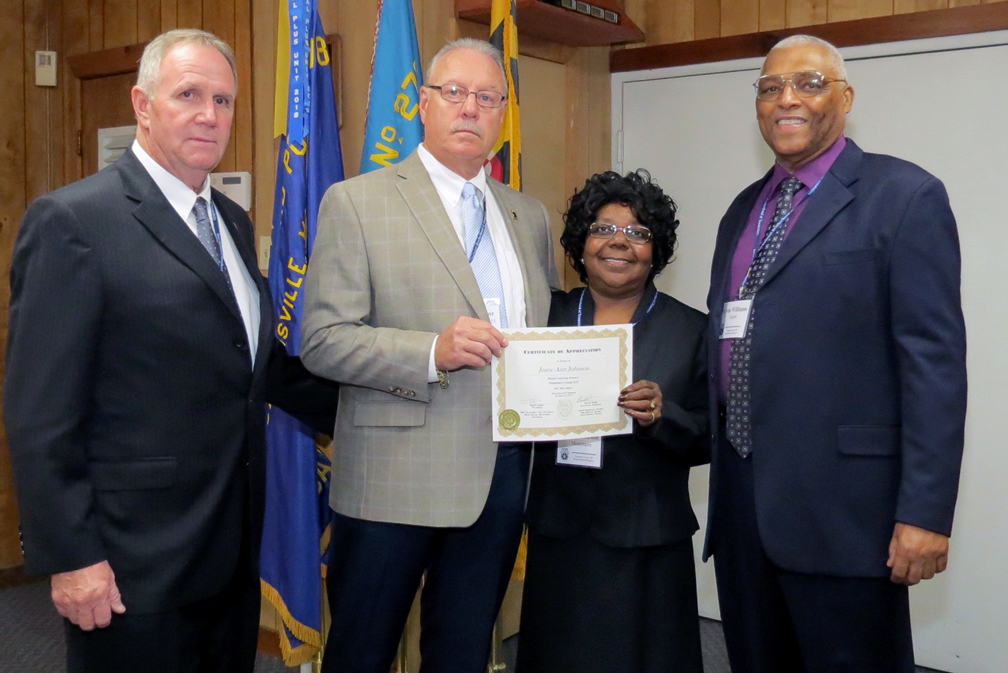 Oct. 15, 2019 | Vice President Emeritus Ervin Williams was honored at this year's steward banquet by the Local 355 Executive Board and Shop Stewards for his many years of leadership and service to Local Union members. President Denis Taylor presented him with an appreciation plaque. Williams, a 37-year Teamster, was vice president of Local 355 from 1999 until December 2015, when he retired to his home in Chesapeake, Virginia. Veteran shop steward Joyce Williams retired last week, concluding a 44-year career with Mountaire Farms. President Taylor presented Johnson with a Certificate of Appreciation for her commitment and service to members.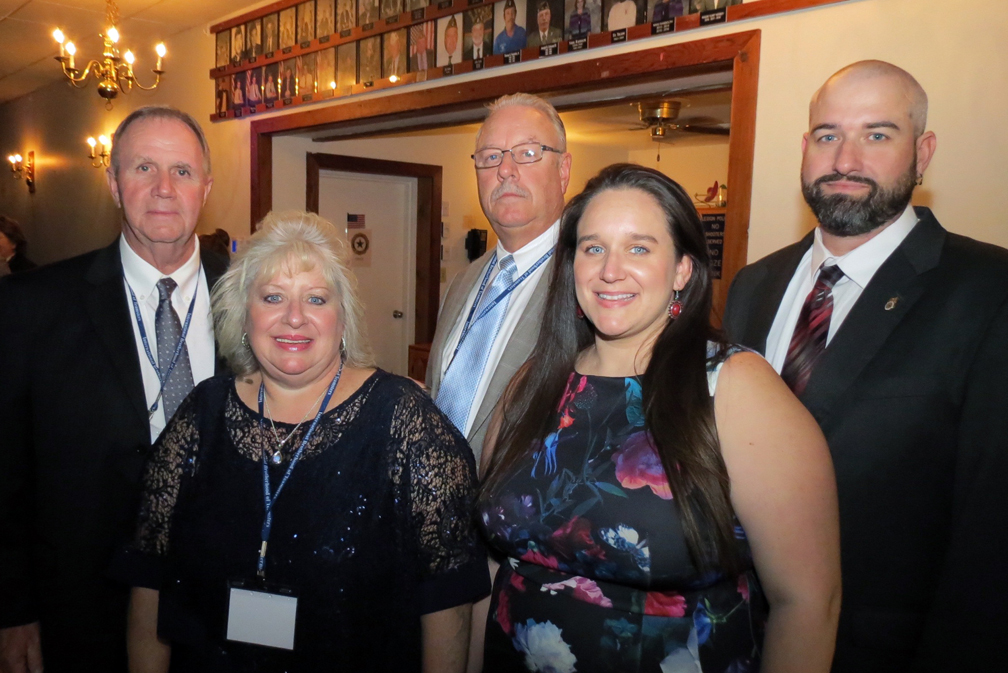 Among the invited guests were surviving members of Business Agent Jim Deene's family, wife Debbie, daughter Brandi Marie and son, Edward Wetherbee, Jr. Deene passed away suddenly in May. Sponsored by Local 355 and held every other year, the Shop Steward Banquet was held Saturday, Oct. 12th at the American Legion Hall, Kent Island, Md. View photos here.
Sick? Hurt? Talk to a doctor anytime. It's free!
Oct. 22, 2019 | Members participating in the Teamsters Local 355 Health and Welfare Fund have 24/7/365 access to a doctor through Teladoc, our virtual care solution provider that connects you to the healthcare you need, quickly, conveniently and securely. Talk to a doctor anytime, anywhere you happen to be and receive quality care via phone or online video at ZERO cost to you. Learn how to set up your account today here.
Miners, Teamsters demand Senate fix multi-employer pensions
Oct. 22, 2019 | Retirees from several unions joined Democratic senators on Capitol Hill Oct. 16 to demand that the Senate act on a bill to prevent endangered multi-employer pension plans from going bankrupt. "We need you, Congress, to stop kicking the can down the road," said retired Teamster Mike Walden of Cuyahoga Falls, Ohio. Multiemployer funds covering about 1.3 million workers and retirees have either already slashed benefits or are in danger of insolvency. The House passed a bill in July that would have… cleveland.com
New contracts are printed and ready for distribution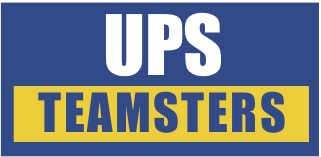 Oct. 24, 2019 | The new Teamsters-UPS Master Agreement is available and will be distributed to UPS members by Local 355 business agents over the next few days. The Regional supplement is included, color-coded for easy reference. Check with your stewards for information on delivery locations and times. If you haven't yet had an opportunity to meet your business agent, now is a good time to do so.
Working Americans are raising the bar for 2020 candidates
Oct. 25, 2019 | In a column appearing in the Des Moines (Iowa) Register this week, General President Jim Hoffa wrote: "As we head toward 2020, one thing is clear: Whoever is elected president will have to confront major challenges that have a significant impact on the livelihoods of millions. For Teamsters members and working people across America, these challenges include numerous crises that threaten the existence of our diminishing middle class… Read it here.
Revamped training is needed for workers
Oct. 28, 2019 | The nation's evolving workforce needs are cause for concern and must be mulled carefully to ensure that current and future workers have the skills they require to spur U.S. economic growth and support themselves and their families. While many focus on automation across a swath of industries, changes in the kind of work being done may be a bigger worry. That's why the Teamsters and other unions have long called for improvements in vocational education so that hardworking Americans can succeed now and in the years ahead. This union has been doing its part to help in that effort, but can't go it alone… Teamsters
Sale of Jack Cooper finalized, 2,200 jobs saved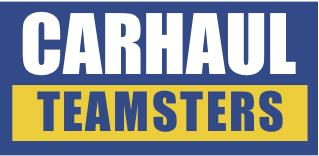 Nov. 6, 2019 | The sale of Jack Cooper Transport was finalized today, a move that will protect the livelihoods of about 2,200 Teamsters and their families. Jack Cooper filed Chapter 11 bankruptcy proceedings this past summer due to extremely high debt and declining sales volumes. While Chapter 11 bankruptcy filings are meant to help companies restructure their debts so they can continue operating, they can be risky and in this case, thousands of jobs were at risk. However, to make the restructuring possible, Teamster carhaul members at Jack Cooper overwhelmingly approved a Restructuring Term Sheet that facilitated the sale to a company backed by Solus Alternative Asset Management, an existing lender in Jack Cooper's debt structure. The new company will remain operating as Jack Cooper but have entirely new owners, significantly less debt and less future potential liabilities... Teamsters