News Items - January 2020
Hoffa: New year brings big responsibility for voters
Jan. 3, 2020 | Today, America begins a very important year in its existence. Over the next 11 months, voters will decide who they want to lead this country and what they want its future to look like. The process will be tumultuous. But it is a critical decision that will have long-lasting implications for all who call this great nation home. The Teamsters are taking its role in helping to shape this country's path forward seriously… Detroit News
Two Teamster UPS drivers die in PA turnpike crash
Jan. 6, 2020 | The Teamsters Union mourns the loss of two Teamsters Local 776 members and UPS drivers, Dennis Kehler and Daniel Kepner, who were killed Sunday in an accident on the Pennsylvania Turnpike. The pile-up involved several tractor-trailers that reportedly crashed after a tour bus was unable to negotiate a turn and hit an embankment. Five people were killed and 60 injured. Keller was a 28-year Teamster with UPS and Kepner was a five-year Teamster at the company… 355 News
Attention drivers with CDLs: FMCSA doubles random drug testing rate to 50%
Jan. 9, 2020 | The U.S. Federal Motor Carrier Safety Administration has raised the random drug testing rate for controlled substances for commercial drivers to 50% from the current 25% of driver positions. The change went into effect Jan. 1… Truck News
Tribune offering buyouts after hedge fund becomes largest shareholder
Jan. 15, 2020 | Tribune Publishing, the parent company of the Chicago Tribune, [the Baltimore Sun] and the struggling New York Daily News, is offering voluntary buyouts to [non-union] employees with eight or more years of service, it announced on Monday. "Although our digital successes provide good momentum, we continue to face industry-wide revenue challenges," Tim Knight, president and CEO of Tribune Publishing, said in an email to employees at all nine Tribune newspapers. "Further, to reduce expenses and avoid turning to company-wide reductions of the workforce as a last resort, the company is offering this voluntary separation incentive plan to all eligible employees with eight or more years of company service." NY Post
Attention credit union members!
Jan. 21, 2020 | The Federal Credit Union located at the Baltimore offices will have a delayed opening Thursday, Jan. 23, 2020. The credit union will be open for business at 1 pm. We apologize for the inconvenience.
Update: Contract ratified at Penn Fibre; negotiations continue at Amports, others
Jan. 22, 2020 | Members at Penn Fibre approved in December a three-year contract that includes modest wage increases, improvements to the vacation allowance, and maintenance of Health & Welfare benefits. A new three-year agreement was ratified in December by members employed at Hallcon (formerly Renzenberger) providing significant wage increases, a signing bonus, cell phone and driver trainer pay, and language improvements that tighten up the employer's notification obligation to the union. Negotiations continue for successor contracts at Amports; Baltimore Sun (pressmen); Piedmont Airlines and Transdev. Preparations for bargaining are underway at Allied Bindary, Bimbo Bakeries (Stroehmann's), ALSCO, Airgas East, Contanda, Republic National Distribution Company, and State of Maryland.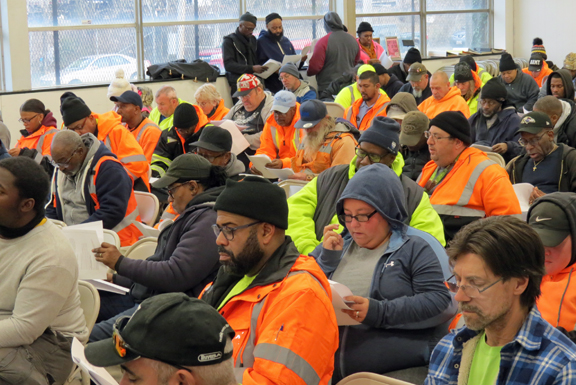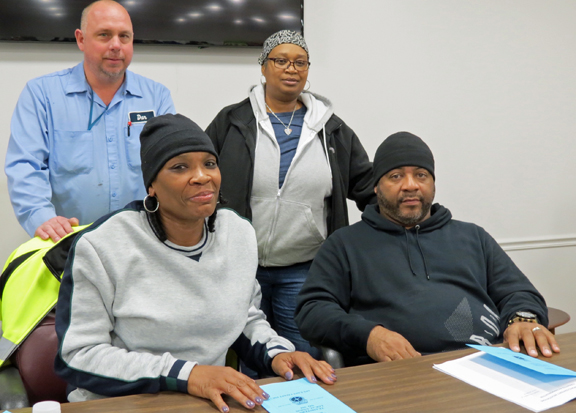 Amports Teamsters approve new contract
Jan. 25, 2020 | Members employed at Amports overwhelmingly ratified on Thursday, Jan. 23, 2020, a successor collective bargaining agreement providing wage increases, maintenance of Health & Welfare, and an enhanced vacation benefit according to seniority. The agreement has a four-year term. Amports is one of the largest auto processors in North America, handling vehicles for import and export at the Port of Baltimore. Local 355 represents more than 140 employees working in various classifications. Photos: Top, at the well-attended ratification meeting, members reviewed highlights of the committee-recommended tentative agreement before casting their secret ballot vote. Right, bargaining committee members (L-R) Daniel Stern, Sherry Mason, Danielle Barnes, and Dwayne Miles.
Teamsters stand in solidarity with DHL Express workers in South Korea
Jan. 27, 2020 | Teamsters at DHL Express are voicing their support for DHL Express workers in the Republic of Korea who are members of the Korean Public Service and Transport Workers' Union (KPTU). DHL Express workers in South Korea have been seeking a first contract for the last seven months but, according to the KPTU, have been faced with bargaining avoidance and other unfair conduct from management. "We must stand together with our fellow DHL Express workers in South Korea as they continue their struggle against a company that has not treated workers with the dignity and respect they deserve," said William Hamilton. Read more at IBT (Note: Local 355 represents courier drivers and office clerks employed at DHL Express, BWI Airport.)
New Penn requests additional headcount
Jan. 30, 2020 | New Penn Motor Express, the Northeast regional U.S. unit of less-than-truckload (LTL) carrier YRC Worldwide Inc., has notified the Teamsters union that it plans to add utility employee positions for "improved service and growth." The proposed "change of operations" would add 86 utility employees traveling within a 175-mile proximity of "three newly established regional velocity centers" in Newburgh, New York, and Scranton and Camp Hill, Pennsylvania, New Penn stated in the notice on Friday… Freight Waves (Local 355 represents 127 members employed at New Penn and YRC.)
Teamsters at ABF Freight to receive a 1% pay bonus for 2019
Jan. 31, 2020 | Teamsters employed at ABF Freight System will receive a 1 percent profit-sharing bonus—negotiated by the union—after the company reported fourth-quarter results today. Under the Teamsters 2018-2023 ABF National Master Freight Agreement, if ABF Freight achieves an annual operating ratio of 96.0 or below for any full calendar year, each Teamster-represented employee will receive a bonus based on their earnings. ABF Freight reported a 95.2 percent operating ratio in 2019, which resulted in a 1 percent bonus. For example, if a member earned $75,000 in 2019, he will receive a bonus of $750… Teamsters