Fire battalion chiefs unanimously approve their first Teamster contract
Updated On: Apr 113, 2015

After the contract vote: (L-R) Mike Greenhawk, Jim Craze, John McNally, Jim Wilkison, Michael Messick, Greg Novak, Tom Young, Tom Parks, Steve Thomspon, Paul Eichler, Wayne Leroux, Michael Smith, Mike King, and Bill Schneck.
Increase to extra shift bonus pay a very big deal
When the Anne Arundel County Fire Battalion Chiefs sought representation with the Teamsters, their number one issue was the gross inequity of extra shift bonus pay when compared to the overtime pay - depending on seniority - received by fire department personal two and three grades below them.
The chiefs work 24-hour shifts so working overtime means working another full 24-hour shift right behind a regularly scheduled shift. "For our group, that meant working overtime for pay that basically equates to less per hour than our straight-time pay," explained Smith.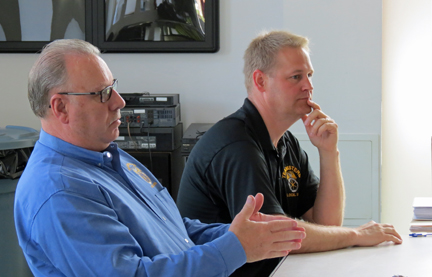 The pay inequity has cost the chiefs thousands of dollars a year.
The County had refused to address the issue with the group during previous contracts and did not change its position during the recent round of negotiations. This time, however, the chiefs went to the bargaining table as Teamsters, armed with Local 355 President Denis Taylor's promise that the Union would pursue the inequity issue as far as necessary to get the desired result. Given Teamster 355's winning track record, the County knew the Union would not back away from the fight. The County called the Local Union Monday, April 13th, two days before the scheduled arbitration hearing with an offer and promptly accepted the Union's counter offer.
The agreement provides the increase to the extra shift bonus payments that the chiefs were looking to gain with this contract. The enhanced payments will be effective July 1, 2015.
"We're very happy to have ratified a contract that finally includes the increase amount," said Smith. "For many years, as non-associated group [not affiliated with the Teamsters], this issue was a tough fight for us. Being Teamsters gave us the strength to go as far as we did this time. Unaffiliated, we didn't have the resources to fight the County. Without the Teamsters, we would not have been successful."
In addition, the new collective bargaining agreement includes a cost-of-living increase effective Jan. 1, 2016; continues the current cost share of health insurance; and establishes a bonus award program.­­­
Pictured above left, President Denis Taylor and Michael Smith. Above right, shop stewards John McNally and Michael Smith, and alternate steward Mike Messick.