News Items - September 2013
Updated On: Oct 291, 2013
New IBT website has latest information on UPS agreements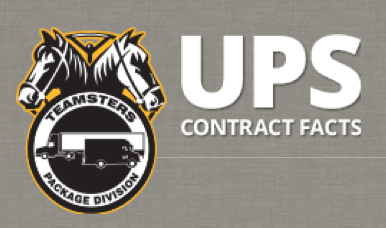 Sept. 4, 2013 | The IBT has launched a new website, upscontractfacts.com, to provide UPS members with the latest information on the National Master Agreement, its supplements and riders, and the most asked questions and answers about the contract and ratification process. You can read the contract highlights, browse the full agreement, the supplements and riders, and get additional information on TeamCare, the national Teamster Health Plan.
TeamCare improvements announced for UPS Teamsters
Sept. 5, 2013 | Local union leaders representing UPS Teamsters who currently receive TeamCare health care benefits and those moving into the TeamCare plan met September 4th in Chicago to learn about the improvements made since the UPS National Master Agreement was ratified in June. The improvements apply to all UPS Teamsters covered by TeamCare, existing participants and new participants. You will receive via mail an information packet, including a DVD that will explain the improved benefits. Additionally, you can go to www.MyTeamCare.org and click on the UPS link. Read the IBT announcement here.
Teamster locals support aggressive measures to protect contract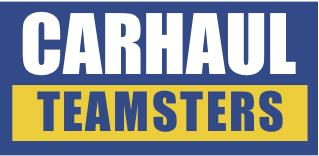 Sept. 8, 2013 | On Friday, Sept. 6, Teamster local unions that represent more than 1,000 Allied Systems Holding workers unanimously supported informing its members on the need to take aggressive action – up to and including a lawful strike – if the current Black Diamond/Spectrum bid to buy Allied proceeds and is approved by the bankruptcy court on Tuesday, Sept. 10. Full press release here.
Sunny, temperate weather create perfect conditions for motorcycle run?
Sept. 8, 2013 | Local 355's bike enthusiasts met at the union hall early Saturday morning for a 50-minute run through Maryland's beautiful rural back roads to Codorus State Park in southern Pennsylvania for an afternoon of brotherhood and a cookout featuring fried chicken, hot dogs, hamburgers and cold beverages. View additional photos here.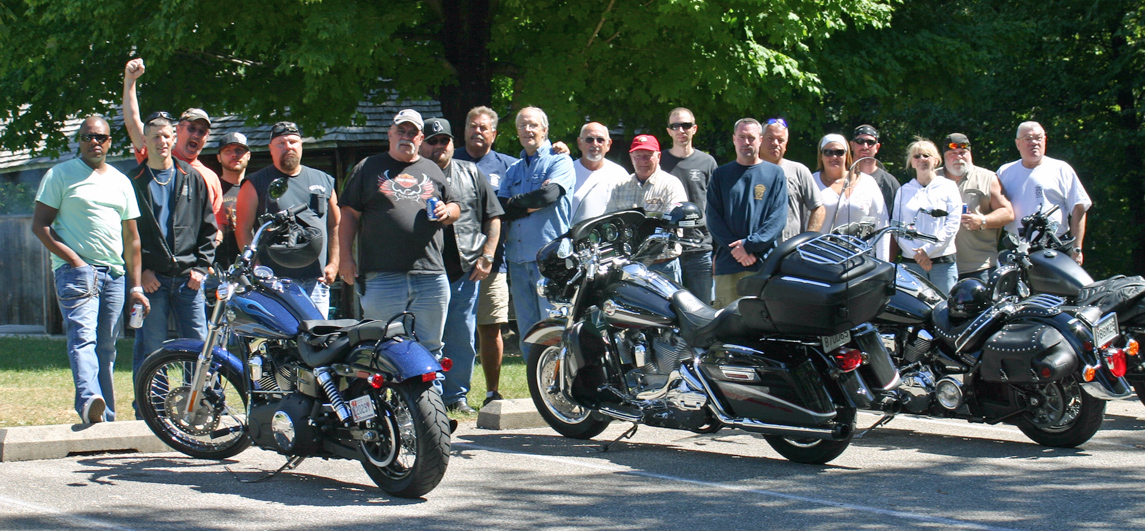 Attention 355 retirees: Summer Party photos are up
Sept. 11, 2013 | Check out the photo gallery to view retiree Stan Pietrowski's photographs of A.R.M.'s Summer Party held August 18th at UAW Hall in Baltimore.
National Master agreement approved; some local riders rejected *
Sept. 12, 2013 | Teamsters working at DHL Express across the country overwhelmingly approved the new tentative agreement, as were three national supplements and 21 of 28 local riders. The national contract will not go into effect until the status of the seven riders is resolved. Read the full notice at teamsters.org. * Local-by-local vote results available here.
Allied chooses Jack Cooper Transport bid *
Sept. 16, 2013 | At the auction that concluded September 12, Allied Systems selected Jack Cooper Transport as the entity with the best and highest bid. The selection of the Jack Cooper bid sets up an approval hearing by the U.S. Bankruptcy Court on tomorrow, and if approved, an effective sale date of Oct. 31, 2013. Unlike the first auction, where Allied selected a bid from Black Diamond/Spectrum that drew vigorous challenges by multiple constituents including the Teamsters, all major parties supported the sale to Jack Cooper subject to review of the final documents. Read the complete announcement here. * Update: On Sept. 17, U.S. Bamkruptcy Judge Christopher S. Sontchi approved the sale of most of the Allied Systems' assets to Jack Cooper. For further updates, visit www.teamster.org/Allied.
TTP: Out of the shadows!
Sept. 17, 2013 | Lead negotiators for the Trans-Pacific Partnership (TPP) Free Trade Agreement will be meeting in Washington, DC this month for several days of horse-trading aimed at speeding the massive pact towards conclusion. This round is even more secretive than the last three years of closed-door negotiations, in that they are not even including a stakeholder process. Please join representatives from the environmental, labor, family farm, faith, consumer, public health and other social justice movements for a lunch-hour rally that lets TPP negotiators know that people are watching and will hold them accountable no matter how far underground they take their negotiations. Rally - 12:00 Noon, Friday, September 20, 2013 - Office of the U.S. Trade Representative, 600 17th St. NW, Washington, D.C. Can't make it? You can still make a difference by telling friends in the DC area, and by writing your Members of Congress urging them to oppose Fast Track for the TPP. Click here for the fact sheet. Here's why it matters.
Teamsters turn out for Bridget and Bradley Heart Run fundraiser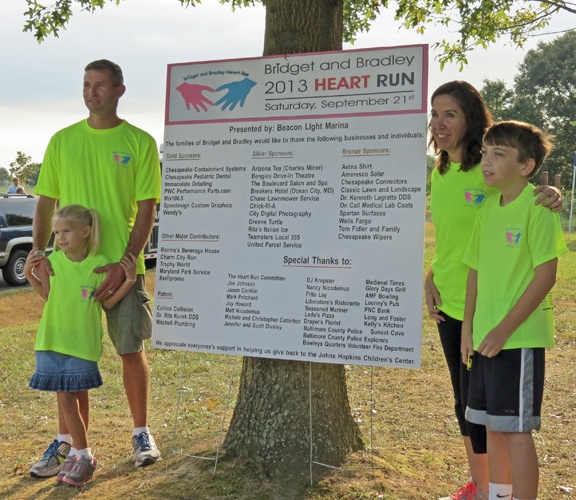 Sept. 24, 2013 | On Saturday, September 21, 2013, dozens of Local 355 Teamsters and family members participated in the 2nd Annual Bridget and Bradley 2013 Heart Run at Gunpowder State Park in Chase, Md. The 5k Run/3k Walk was a sponsored event to benefit the Division of Pediatric Cardiology at Johns Hopkins Children's Center. Bridget Diveley and Bradley Catterton were born healthy, but developed viral myocarditis, an infection that caused irreparable damage to their heart muscles. Both received life-saving heart transplants at Johns Hopkins. Bridget is the youngest daughter of Teamsters 355 member Scott Diveley (UPS/Quad Ave). Local 355 was among the sponsors of the family-friendly event that attracted 278 participants and raised more than $10,000. Photos are available here and here. Pictured: Bridget and dad, Scott Diveley; Bradley and mom, Michele Catterton. Photo/Teamsters Joint Council 62
Reminder! New Maryland cell phone, seat belt laws in effect Tuesday, Oct. 1 *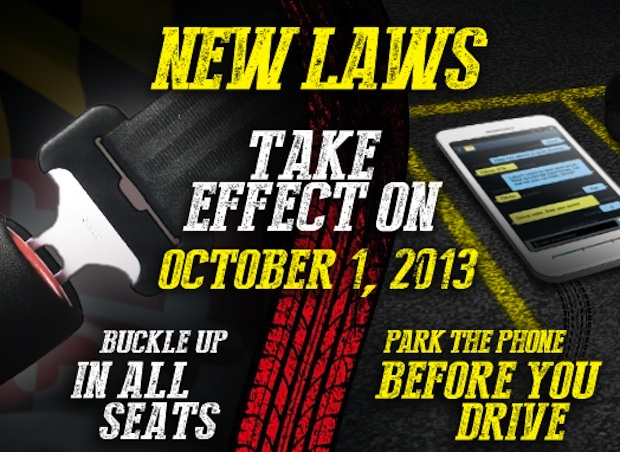 Sept. 27 , 2013 | Effective Tuesday, October 1, if you are caught driving while talking on your hand-held cell phone, you will be pulled over and issued a $75 ticket. Previously, police could only ticket a driver for cell phone use if the driver was stopped for a primary offense, such as speeding. Maryland's new get-tough law upgrades the state's existing hand-held cell phone law to primary status. A second offense will cost you $125, a third and subsequent offenses, $175. Additionally, the new seat belt law requires all passengers to wear a seat belt while traveling in the backseat of any vehicle. It is a secondary law and carries a $50 fine. (The primary law covers an unrestrained driver and/or passenger in the front seat.) * The Baltimore Sun: New law cracks down on cellphone chatting while driving