Updated On: Aug 223, 2016
Teamster convention approves slate of resolutions on final day
July 6, 2016 | Attendees at our union's 29th annual convention approved resolutions that clarify the union's policy stances on everything from airline organizing to worker misclassification. A full slate of resolutions can be read here. (Note: The convention is the highest governing body of the union, subject to the right of referendum by the membership. The General Executive Board has the authority to carry out the policies and directives approved by convention action.)
Taylor appointed International Trustee to the Teamsters General Executive Board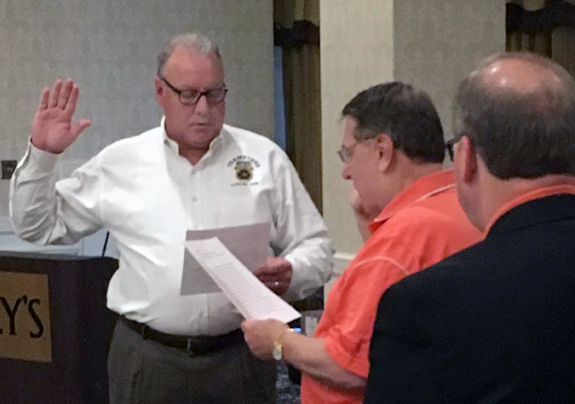 July 6, 2016 | On Friday, June 24, 2016, General President Jim Hoffa appointed President Denis Taylor to serve as a International Trustee on the Union's General Executive Board. One of three trustees, Taylor will serve the remainder of Trustee Greg Floyd's (Local 237, NYC) term. He was subsequently nominated for the position during the convention's nominations process held June 28. The Teamsters Union will hold International officer elections in October. (Pictured: President Taylor took the oath of office, administered by General President Hoffa and witnessed by General Secretary Ken Hall.)
'David's Hates Brides:' Teamsters put pressure on U.S. Foods' sister company
July 7, 2016 | With the assistance of one very angry bride, it seems a recent Teamster action that targeted a suburban Buffalo David's Bridal – one of many such actions taken by the Union across the country, hit a nerve late last week and raised the ire of an off-duty store manager who drove to the scene "dressed for the beach" with two children in tow to personally confront the Unionists who were holding an informational hand-billing event outside the retailer… Continued
Teamsters increase strike benefits
July 13, 2016 | Strike benefit increases approved by delegates at the 29th International Convention become effective on July 1, 2016. Under the new constitutional provisions, which were unanimously approved by delegates on June 30, 2016, the changes raise strike benefits, increase minimum benefits and allow for benefits to begin earlier than in the past… teamster.org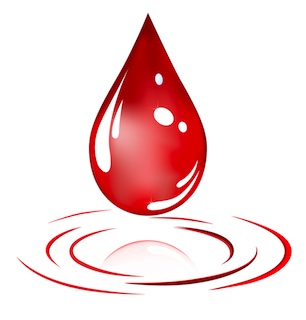 Give blood, save a life at Local 570's blood drive, July 17
July 13, 2016 | Our brothers and sisters over at Local 570 are sponsoring an American Red Cross blood drive Sunday, July 17th, 10 am to 3:30 pm at their union hall – 6910 Eastern Ave., Baltimore, MD 21224. Let's help out and do our part to prevent a summer shortage. To schedule your life-saving donation, visit redcross.org and enter sponsor code: teamsterblood. (Additional details here.) See you there!
Hundreds of members honor striking Maryland workers' picket line
July 18, 2016 | …Teamsters from the US Foods Severn location extended picket lines to Buffalo, N.Y. last Friday in the early morning hours, after extending lines to Streator, Ill. late last week. Drivers and warehouse workers represented by Local 264 in Buffalo, and drivers and warehouse workers represented by Local 722 in Streator honored the pickets in solidarity with their Severn brothers and sisters. In all, more than 200 workers refused to cross… teamster.org

Code red heat warning in Baltimore
July 25, 2016 | The Baltimore health commissioner is urging residents to prepare for 100-degree heat on Monday that could pose dangers for the young and elderly. The temperature is forecast to reach as high as 100 degrees, but it could feel as hot as 109 with humidity and wind factored in, according to the National Weather Service… baltimoresun.com Read the Teamster fact sheet on heat stress.
Mechanics at Piedmont Airlines Ratify Contract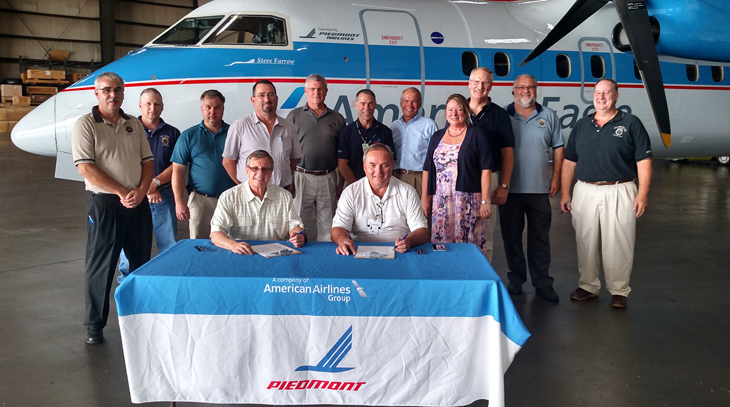 July 25, 2016 | (Click image to enlarge.) Approximately 300 Piedmont Airlines mechanics from Teamsters Locals 210, 355 and 776 have voted overwhelmingly to ratify a five-year contract with the carrier. More than 83 percent of voting mechanics cast their ballots in favor of the agreement. The agreement was reached May 26 and contains a 7 percent signing bonus and a 13 percent wage increase over the life of the agreement. Job security and furlough language are also vastly improved… teamster.org Photo: Second from left, shop steward Corey Lopatofsky, and far right, Local 355 Business Agent John Caparatta and Stephen Kennedy, shop steward and Piedmont Airlines dispatcher.
Tentative agreement reached with carhaul employer group
July 27, 2016 | After long and difficult negotiations, the Teamsters National Automobile Transporters Industry Negotiating Committee (TNATINC) has reached a tentative national Carhaul agreement with the National Automobile Transporters Labor Division (NATLD), the multi-employer collective bargaining association representing the unionized sector of the vehicle transport and logistics industry. The National Union Bargaining Committee has fully endorsed this new tentative settlement and believes it meets the goals of the carhaul membership and provides for their long-term job security. Details of the tentative agreement will be announced when leaders from local unions meet to review the proposal on August 4. Stay tuned here.