2019 Local 355 scholarship recipients
Updated On: Jul 210, 2019
July 29, 2019
Continued from Main Page...
The Problem Solver
Born in Annapolis, Md., the Samsels moved Tyler, his older brother, and sister to York, Penn., when he was a three-year-old. The decision to move to the historic city 20 miles north of the Maryland border was prompted by their parents' desire to raise their children where "the quality of life was better and the taxes lower."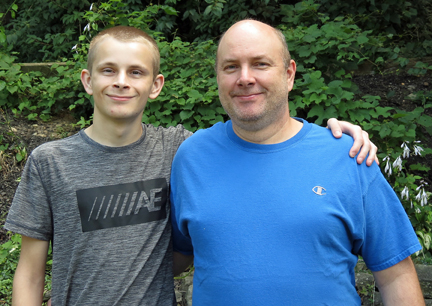 Tyler Samsel (right, with dad Thomas) grew up in a tight-knit family and lived in a comfortable middle-class neighborhood where children played in each other's yards, and the woods nearby. Thomas Samsel's youngest son turned to his school studies when his neighborhood friends moved away. Inspired by a fifth-grade math teacher, he developed an interest in mathematics which proved to be a motivating influence behind his decision to pursue a career in engineering. "Math is about solving problems," Tyler explained. "I am interested in solving puzzles. I've learned that there are often multiple ways to solve a problem."
Conversely, he didn't like English. "I hate being forced to read things I don't like." Except for the science fiction genre, particularly apocalyptic science fiction.
Tyler has joined the National Guard and will head out to boot camp in August. "The Guard allows me to stay close to home with my family while focusing on my higher education." His Guard contract requires his participation twice a month and two weeks a year which, he says, will work nicely with his online engineering studies. Initially, Tyler will enroll in an online education program, he said. He'll later transfer to Pennsylvania State University or Millersville University of Pennsylvania, renowned for its engineering degree program.
"I just came back from a 2-day practice boot camp where I learned what to expect when I report. It challenges one's level of self-discipline! I learned about Army values: Be loyal, honorable, dutiful to your country, have self-respect, and be courteous at all times." But, Tyler said, it was a grueling two days. "They bring you down to build you up better. It was good prep for boot camp. Being prepared is important for everything in life."
Tyler thinks it's good to have options. When asked where he sees himself in five years, he said that he'd be almost finished with his National Guard tour. He might sign on for another term to further his education, or resign and focus on his job, whatever that may be. "That's three options if I did the math right."
"I'm very grateful to the Teamsters for my scholarship. I think it's great that the union works to help the younger generation. It's good to encourage education because a good education is something kids can use throughout their life to help make the world a better place."
The Communicator
Ashley Goudy graduated in May from Bel Air High School in Hartford County where she excelled in Advanced Placement (AP) studies, especially in science and math classes. In her senior year, she had only one English credit needed to graduate. Ashley discovered that she could either take courses that might be fun but wouldn't necessarily benefit her long term. Or, she could get a head start on college by spending her senior year at Harford Community College (HCC) in Harford County.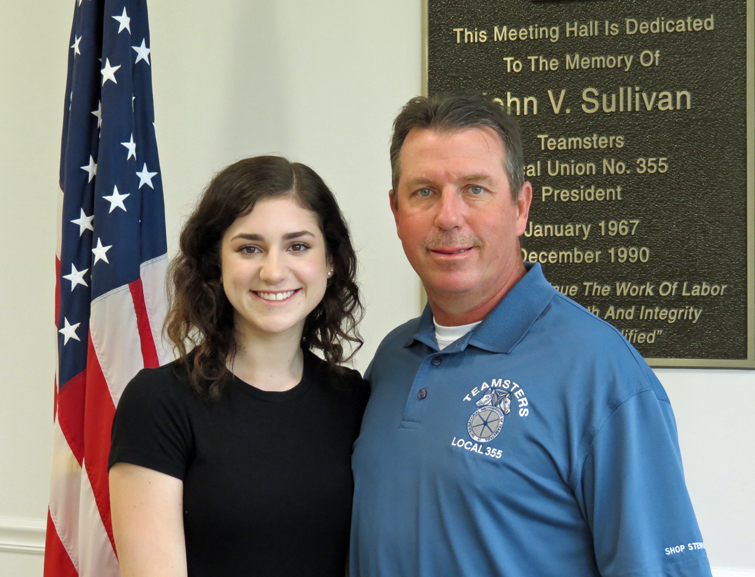 At the end of her junior year, Ashley (right, with dad, Bill) asked her parents to join her at a special meeting with her guidance counselor. During the session, Ashley was encouraged to accept a rarely-issued waiver that would allow her to take college courses during her final year at Bel Air High School. "Ashley's counselor has been a student advisor in Harford County for over 20 years. Ashley is only the second student she has suggested for the waiver," said her dad, Bill. "Academically, there wasn't any benefit to spending the last year in high school, but she could still graduate with her class."
"I loved my experience at community college," Ashley said. "It opened my eyes because I got to take courses like an Internet computer science course and a graphic design course not offered at my school. That allowed me to explore my interests and options. It helped me focus in on what I wanted to do and what I am good at doing. I learned that even though I'm good at science and math, I realized I'm not as passionate about it as other things. And while I do love art in general - I was passionate about graphic design – it isn't necessarily the path I wanted to take."
Her brief community college experience opened new paths of possibility for Ashley. She will enter the University of Maryland College Park (UMCP) in September and hopes to earn a Bachelor of Science in Marketing and a Minor in Communications. She wants to work in a business arena where she can utilize her strong leadership, communication, and organizational skills. "I've always seen myself taking on a managerial role or executive role, so I feel a career in business suits my personality best."
Socially, Ashley likes to move around and meet new people. She describes herself as one who can "float" among and between diverse groups. She's comfortable with those who have different interests and ideas – people who "go with the flow." Her dad agreed, describing his daughter as "very diversified in her friendships as opposed to cliquish."
Ashley's "strong desire to give back to the community" found her involved in volunteer work with groups that provide meals to the hungry and homeless. Also, having played soccer since the age of five (though a series of concussion ended her soccer career by the 10th grade), Ashley volunteered as a clinic youth soccer coach. "I was dealing with six little boys all winter," she laughed. "And it was one of the greatest experiences I've ever had. You can learn so much from kids. You learn how much you have to give them. I discovered how much my actions could positively impact others. Helping them develop their skills and work together as a group is what leadership is about."
Ashley said work in the creative, entertainment, or technology industries that can offer opportunities for travel and a wide variety of experiences hold the most appeal to her. "I would like to thank President Taylor and the Teamsters for this tremendous gift which helps me pursue my lifelong goals," wrote Ashley in a followup after her interview. "Someday I hope to pay it forward. I will forever hold the Teamsters in my heart for all it has given my family."