News Items - November 2015
Updated On: Dec 337, 2015
"Unions aren't needed anymore."
Nov. 3, 2015 | How many times have you heard that recently? Well, here's an excellent video reminder from our Canadian brothers and sisters that there's nothing new, and nothing true, about that all-too familiar line. Click here to watch.
House rejects highway bill amendment to allow heavier trucks
Nov. 4, 2015 | The House on Tuesday defeated an amendment to a $325 billion highway funding bill that would have let states decide whether they want to allow heavier trucks on their roads. The amendment would allow states to decide whether they want to increase a current limit of 80,000 pounds for cargo trucks to 91,000 pounds. Proponents wanted to attach it to the highway bill in an attempt to end a bitter fight over truck weights that has raged for years in Washington. The proposal was rejected 187-236 in a House floor vote.
Tell Congress to vote NO on the job-killing TPP
Nov. 5, 2015 | If the TPP is approved by Congress, this awful deal would offshore good-paying American jobs and lower wages in the jobs that are left, increasing inequality by forcing Americans into competition with workers paid less than 65 cents an hour. Put simply: it stinks. The just-released TPP text is actually worse than we imagined. Here are just a few examples of how the TPP will undercut jobs and wages. Also, Hoffa says release of TPP text does little to allay workers' concerns about the deal.
Members employed at Avis Rent-A-Car ratify new three-year contract
Nov. 6, 2015 | Service agents, rental sales agents, customer service representatives (CSRs), and technicians overwhelmingly approved on Wednesday, Nov. 4, 2015, a successor contract that provides significant wage increases, an additional sick day, and an increase to the boot and tool allowances, a 20-cent per hour increase in lead pay, and a 45-cent per hour increase in overnight shift differentials. In addition, the contract will provide pension contribution increases each year of the agreement which will result in increased benefits to the members. "This is one of the better contracts we've negotiated with this employer," said Mark Garey, the business agent for the Avis workers. Watch for additional information on this contract and other contract negotiations in our next issue of Local 355 Union News.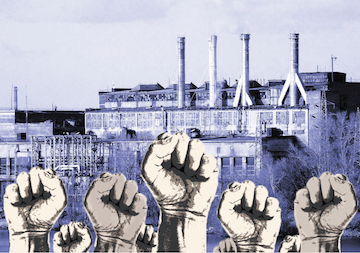 The march to inequality: How did we get here?
Nov. 10, 2015 | This week Talking Points Memo launches an in-depth four-part series on the ever-pressing issue of today, wealth and income inequality. "The four pieces come from different authors, each coming from a different angle, with a different sort of expertise. The aim of the series is to pose a simple question: How did we get here?…" The first installment looks at the politics of the left and the decline of organized labor over half a century. The decline played a key role in the declining economic clout of working class and middle class Americans, but it is only part of the story…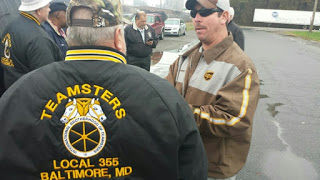 Teamsters take a stand for fair pay, organizing workers
Nov. 11, 2015 | The Teamsters joined with thousands of truck drivers, valet attendants and low-wage workers across the country yesterday in a day of action to raise awareness about the sorry state of wages and benefits for millions of everyday Americans on the job... From Baltimore to Seattle, Teamsters stood outside more than 300 FedEx Freight terminus educating workers about the company's spending of $5.2 million over the past three years to cover the personal taxes of top executives as well [as] hundreds of dollars to wage anti-worker campaigns. Meanwhile, workers there continue to have access to poor and expensive health benefits. Continued... Pictured: UPS Freight driver Al Richardson and Joe Smith (back to camera), members of Local 355.
Teamsters applaud Senate motion to keep double 33' trucks off the road
Nov. 12, 2015 | The Senate scored a victory for highway safety Tuesday for passing a motion by a 56-31 margin which instructs Senate negotiators of a long-term highway bill to oppose any federal mandate that would force states to allow an increase in length of tractor trailers at this time. Continued…
Teamsters, carhaul employer group to reconvene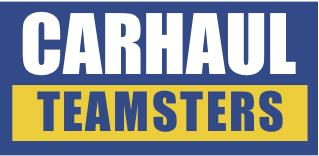 Nov. 17, 2015 | The Teamsters National Automobile Transporters Negotiating Committee (TNATINC) will reconvene with the carhaul employer group this week to negotiate on the members' behalf after carhaulers overwhelmingly voted to reject the national agreement and two supplemental agreements. The negotiations come after local unions held meetings over the past few weeks with the carhaul members to discuss the recently rejected tentative agreement. All carhaulers should continue to work as usual and the TNATINC will keep local unions and members updated.
21 organizations fighting for labor rights in the food system
Nov. 19, 2015 | … In Tracy, California, Teamsters members are fighting poverty wages and severe violations of basic rights at Taylor Farms. And more than 11,000 Teamsters workers have united to defeat a mega-merger of U.S. Foods and Sysco, which would have jeopardized thousands of broadline food service and transportation jobs… Read more here.
High court rulings could affect workers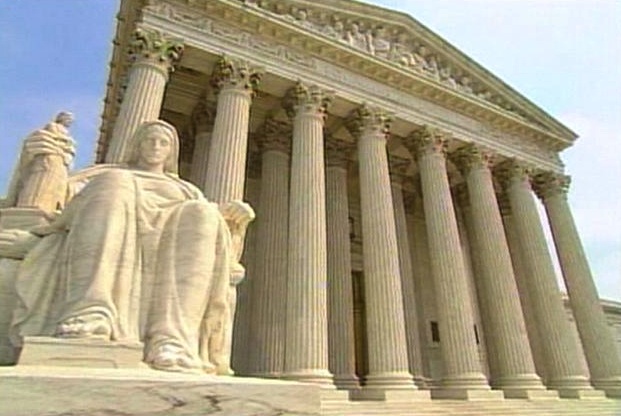 Nov. 20, 2015 | The future of workers on the job could be shaped significantly by a spate of causes set to be considered by the U.S. Supreme Court during its current term. And it is something more everyday Americans need to be aware of and consider. … The Teamsters represent about 273,000 public sector workers, and other union represent millions more. These government employees are everyday Americans just trying to earn a living and support their families. But that will be increasingly difficult if union rights are curtailed nationwide. Full story here.
Ford workers narrowly ratify UAW contract
Nov. 23, 2015 | Workers at Ford narrowly ratified the company's four-year labor deal with the United Auto Workers, the labor union announced late Friday. A defeat for the contract could have left ford facing a strike for the first time in 39 years. The UAW had been looking to claw back some concessions that were made eight years ago to help the U.S. carmakers survive the recession. Industry Week