Updated On: Jul 183, 2014
Dillon Stanley and Javier (Jay) Cook are the 2014 winners of the Teamsters Local Union 355 40th Annual Scholarships Awards.
Dillon, son of UPS package driver Chris Stanley, graduated from Bennett High School in Salisbury, Md., and plans to attend Salisbury University in the fall while Jay, son of Donovan Clark, also a UPS package driver, graduated Easton High School, Easton, Md., and plans to attend Chesapeake College.
The students' names were selected in a drawing of scholarship applications during the May 18, 2014, general membership meeting at the Baltimore union hall. Dillon and Jay will each receive $4,000, paid out at the rate of $1,000 per academic year.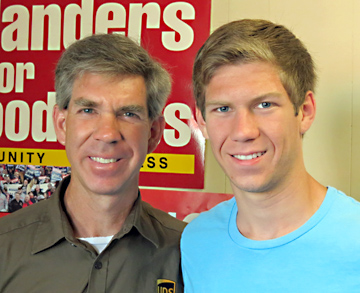 Dillon (right, with his dad) a track athlete and long-distance runner, plans to earn a degree in communications, with a focus on sports journalism. "I've always been a huge sports fan and a career as a sports reporter or broadcast announcer would allow me to stay close to the games I love," he said. Dillon is a devoted follower of the Baltimore Orioles and Maryland Terps, and runs 5k races almost every weekend. When he wasn't playing basketball growing up, he joined in his dad's quest to run a marathon in every U.S. state. (Chris has run 13 marathons to date.) If dad fueled his early interest in sports, it was Dillon's educator mom who helped develop his interest in the written word. "My mom is a kindergarten teacher. She encouraged me to read at an early age. I really like learning about history, reading about the past." When Dillion isn't watching or playing sports, or reading about the Civil War, he can be found at the movies. A self-described movie buff, Dillon prefers comedies, but likes action and horror films too. "Thank you so much to the Teamsters for choosing me for this scholarship. It is a great honor."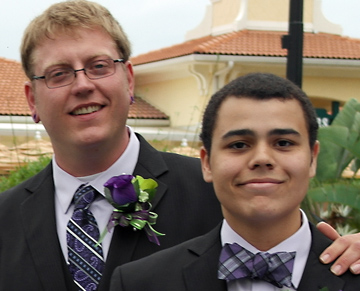 Like Dillon, Jay, (left, with his dad), is an avid reader, preferring history and English literature. But right now his passion is his car, a 1997 VW Golf with more than 200,000 miles on the engine, and a wheel bearing that needs replacing. "My mom and dad bought it for me when the car I bought myself died. I like working on it, mainly because I need to get it running so I can find a job for the summer, hopefully one outdoors." Though Dillon will enter Chesapeake College's Liberal Arts program in September, he intends to transfer to the University of Florida in Gainesville, where he has relatives that live nearby. At UF he hopes to pursue a degree in psychology. An interest in how people think and what they feel makes him "a magnet for the troubled" ones, he said. "I read people and I'm a good listener which I think helps people get what's bothering them off their chest." In turn, he said, he feels fortunate that he has people to whom he can talk. Ultimately, Dillon hopes that one day he will be his own boss, perhaps with his own practice that can allow him "freedom of movement and independence." Of his Teamster scholarship, Dillon said, "I really, really appreciate it. I'll make sure it helps me fulfill my dream. Thank you!"
The annual scholarships are awarded to two qualifying high school students of Local 355 member families.
Teamsters Local 355 represents 5,800 working men and women and their families in the Delmarva region.