UPS Teamsters participate in National Day of Action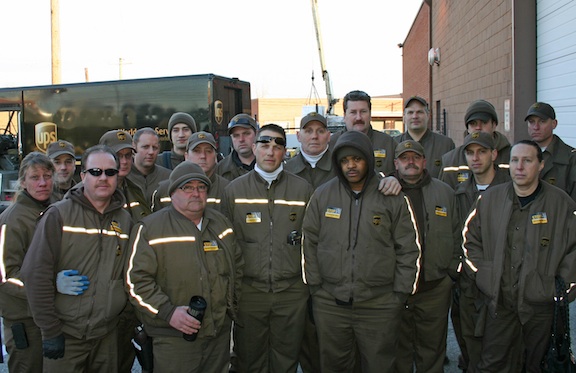 Local 355 UPS drivers at the Quad Ave. facility in Baltimore participated in yesterday's Teamsters National Day of Action, as did their brothers and sisters at seven other UPS and UPS Freight facilities in Baltimore and the Eastern Shore. Greg Marders (front row, third from left) has worked at UPS for 24 years: "I refuse to take a loss. I'll go out with a fight. We need to stand tall for all American workers. Hopefully, we can take a stand that the rest of the country will follow."
Thousands of UPS and UPS Freight Teamsters are rallying at events across the country this month. Here in Baltimore, Maryland UPS Teamsters will rally Saturday, Feb. 23, 3 p.m., at the BWI Westin. Check back here to view photos from the event.
Below, L-R: Karl Martins, Mike Poremski, shop stewards Bill Goudy and Mike Petro.