January/February 2010 Newsletter
Brothers and Sisters:

This is a reminder that the regular local union meeting scheduled for Sunday, January 3, has been rescheduled to Sunday, January 10.

Well, the Christmas party was another huge success. We had well over 220 members and guests attending. I thought that everything was extremely well done. We had real silverware and glasses (no plastic). The food was very good. Yes, there were a couple of small problems; they were resolved right away. We realize that we are not going to please everyone all the time, but I think that some of you expect perfection and you are not going to get it. You can't tell me that you haven't had problems in fancy restaurants. I mean, where else are you going to get what you get for free? We are talking open bar, oysters, bottle beer, good food, and desserts.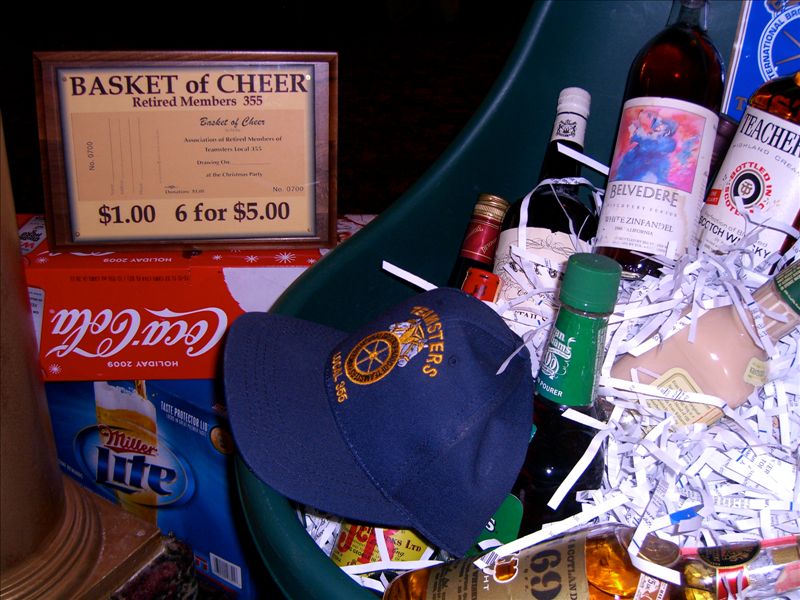 Congrats to Diane Adams for winning the very nice 50/50. Congrats to Lee Rausch for winning the basket of cheer. Lee and her husband Bob turned around and donated all of the bottles of liquor back to the club. Thank you.

We want to extend a special thanks to all of the people who set this party up, and to all who worked selling the tickets and handling the cake wheel.
A very special thanks to all of you who bought the 50/50's and the basket of cheer tickets and who brought in the cakes for the cake wheel. This party was for you, and if it wasn't for you it wouldn't be the great success that it is.
Those of you who were at the Christmas party probably noticed a young lady going around acting like a reporter for the Daily Planet. Her name is Lesley Phillips, and she's with the Joint Council. Lesley just set up a Local #355 website: www.teamsters355.com. On the left-hand side of the home page, you'll see a link titled "Retirees," where you will find pictures and an article about the Christmas party.

While Brother Rich Parker's bowling scores are lower than normal, his appetite for the crab soup was above average as he was seen hovering around the bowl quite a few times.



New Members: Steve Davis, LMC; Edwin M. Foard, Sun Papers; John D. Irwin, Blue Diamond; James T. McVey, Active Transportation; Jerry Jordan, US Foods; Wesley Corbin, Mason-Dixon; Don Norris, UPS; Daniel Williams, APA Transport.



Deceased Members: Russell Lawhorn, R&F Transport.



Sick Members: Milton Stapf

The January meeting will be held on Thursday, the 21st, and the February meeting on Thursday the 18th, in the Sullivan Hall at Teamsters Local Union #355, 1030 South Dukeland Street , Baltimore. Coffee and donuts are served starting at 9:30 a.m. The Executive Board meets at 10:00 a.m. The General Meeting starts at 11:00 a.m. A light lunch will be served following the general meeting.

Remember to bring another retired member with you to the meetings. If Baltimore City schools are closed because of inclement weather, there will be no meeting that day. On behalf of the executive board, I wish each and every one of you a happy and safe new year.

Fraternally,
Bob Eney,
ARM President