GCC President Tedeschi Meets with Sun Pressmen
Updated On: Jul 200, 2011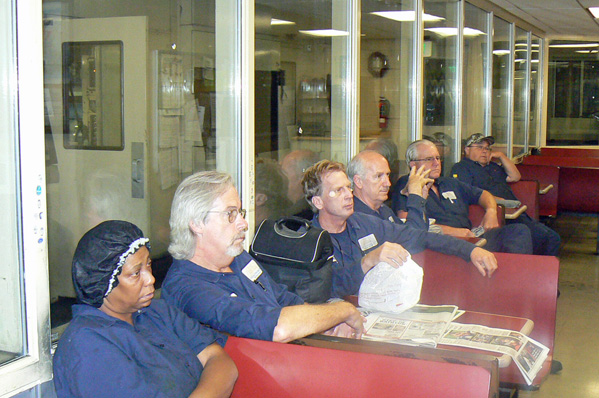 (L-R) Robin Watkins, Bill Bowers, Tom Patro, John Trail, Joe Malone and Brad (PA Boss) Schmidt.
Pressmen at the The Baltimore Sun got a visit yesterday from George Tedeschi (center), President of the Graphics Communications Conference (GCC) and a Teamsters Vice-President At-Large. Tedeschi spent nearly 5 hours at the plant in order to meet with members from both shifts.
Tedeschi gave members an update on the state of the newspaper industry, and more specifically, brought members up to speed on the status of The Sun's parent company, Tribune, which has been in bankruptcy since December 2008.
Local 355 represents 78 pressmen at the newspaper.
Pictured at right: Ed Russell and Tedeschi
Below: (L-R) Carl Nelville, Tom Hopwood, Local 355 Business Agents Jim Deene and Chip Elgert, Tedeschi.