Retiree club hosts IBT history project staffers
Updated On: Apr 111, 2010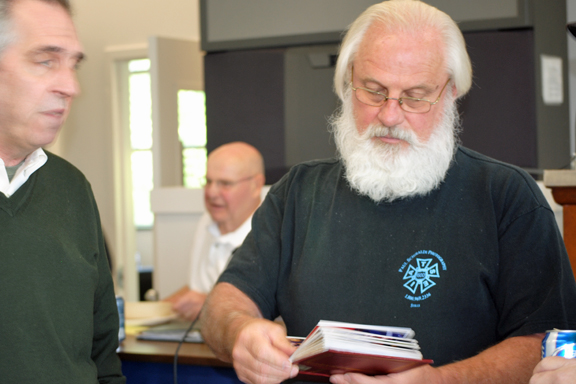 Bart Wright shares pictures of his family's Cape Cod transport company with IBT archivist Tom Connors
Members of the Teamsters Archives Project attended Local 355's Association of Retired Members (A.R.M.) monthly meeting April 15 to meet with retired Teamsters interested in sharing road stories and memorabilia with the International.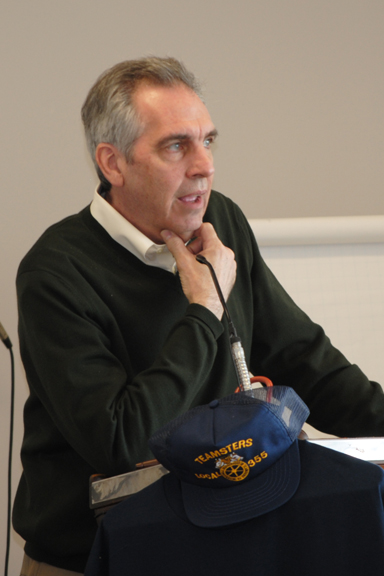 IBT staff member Tom Connors, Archives Project of the Training and Development Department (left), Chicago-based writer/reporter Al Stein (below right), and information specialist and researcher David Piper (bottom), each explained their role in the six-month project, and what they hope to achieve.
"Our work is to record history, your history, specifically during the glory days between 1945 and the 1970s – at the height of the union's organizing campaigns, and the break-through achievement of a Master Freight Agreement." said Connors. "What are your stories? What do you remember of those times?"
Recently the archivists were given two reel-to-reel tapes, the content of which was unknown. The International purchased a recorder to play the tapes, and watching it, they were amazed and excited: it was an original recording of Jimmy Hoffa in front of a crowd of members, explaining the master freight agreement and what it meant to drivers. "He was explaining it without notes, apparently off the top of his head," said Connors.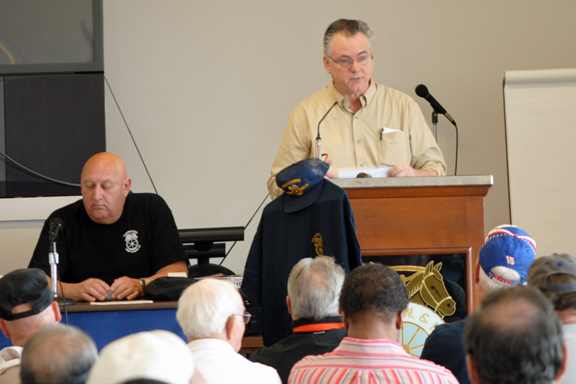 Among other discoveries have been pictures of team drivers with their horses and wagons, and stable hands and blacksmiths. "Images like these document the incredible diversity of Teamster members very early on."
After lunch, the archivists spent a couple of hours listening to and recording members in the quiet of the local's conference room. Pleased to have connected with several retirees who want to continue telling their stories, A.R.M. president Bob Eney was assured that the project members will be back to continue the dialogue and collect more historically valuable information.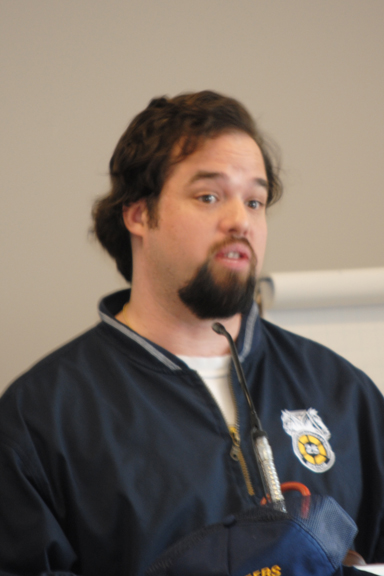 The Teamsters is working on books about different aspects of the union's history. (For example, "100 Years of Teamsters History: A strong Legacy, A powerful Future," "Teamsters: Snapshots in Time" are just two recently published books that are available.) The union wants stories, photos and/or journals that could end up being in one of the history books and in the special collection in the Teamster archives.
For more information, contact A.R.M. president Bob Eney at bobeney@yahoo.com, or Teamster historian Karin Jones at 202-624-8117.

– Photos by Stanley Pietrowski