Local 355 sheriffs get their due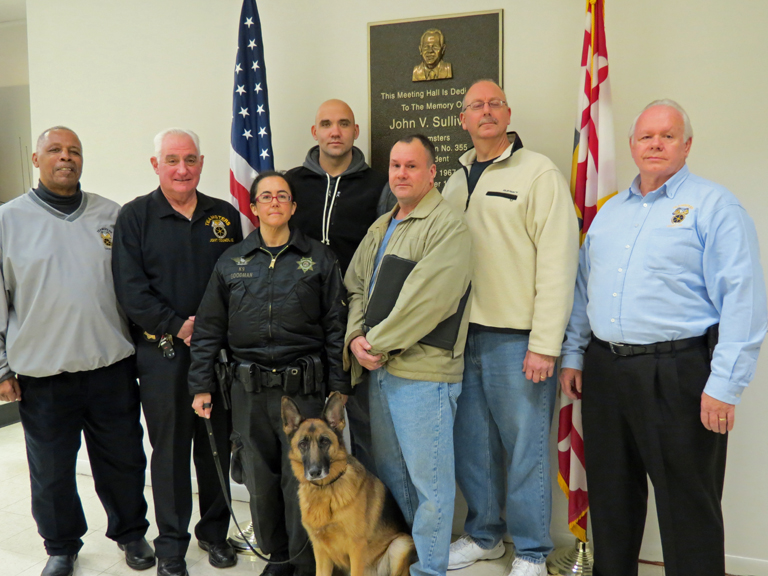 Deputy sheriffs met at the Baltimore union hall to work on proposals for a new contract with Anne Arundel County. (L-R) Local Business Agent Charles Marshall, shop steward Dave Belisle, Michele Goodman (with Cali, an explosive detection expert), Ryan Costin, shop steward Jimmy Walker, Doug Schwaab, and Local Business Agent Dan Taylor.
The Local Union prevails in its long and costly battle with Anne Arundel County
Jan. 03, 2014
Three and a half years into a legal battle with Anne Arundel County after its executive reneged on 2009 contractual wage provisions for 58 Teamster deputy sheriffs, an arbitrator in January 2013 sustained Local 355's grievance: Arbitrator Andrew M. Strongin directed that all affected employees were to be made whole, retroactive to July 1, 2009.
Upon news of the decision, Local 355 President Denis Taylor declared the Union "will not consider the case settled until all affected members have their checks in their hands."
Eleven months later, on Friday, December 27, 2013, the sheriffs finally got their checks in their hands.
County concedes
Following John Leopold's February 2013 criminal conviction and subsequent resignation as county executive, the Anne Arundel County Council selected Laura Neuman to complete his term. Shortly after her appointment, Local 355 sought a meeting with the new county executive to discuss the Union's lawsuit demanding County compliance with the arbitrator's January 2013 decision.
During initial conversations with Business Agent Dan Taylor, Neuman claimed to have no knowledge of the Union's long-standing lawsuit against the County. With yet another court date looming, a meeting on Nov. 19, 2013, between President Taylor and County Executive Neuman, produced exactly what the Union expected for its members in 2009: Payment to all affected deputy sheriffs of the contractual 3% COLA (cost of living adjustment) and 4% merit increases, now retroactive to July 1, 2009.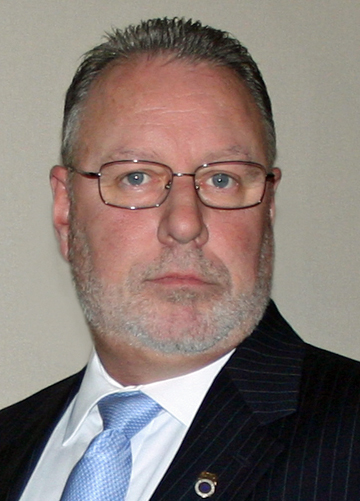 "It took us four and a half years to get our members more than $670,000 due them contractually," said Local 355 President Denis Taylor (left), after the sheriffs received their checks. "It was a long, hard, expensive legal battle, and I want to thank the membership for their unwavering financial and moral support in our defense of the deputy sheriffs."
The back story
The County's decision to end the legal battle and honor the Teamster contract brings to a successful conclusion the Union's determined drive for justice.
The County's continued refusal to concede that it had violated its contract with the Teamsters left the Local Union no choice but to file a lawsuit in Anne Arundel County Circuit Court to compel the County to arbitration.
When the County's new fiscal year arrived in July 2009, and the contractual raises did not, Local 355 filed a grievance citing the violation of the CBA's Pay Schedule. In September 2010, a ruling by the Fifth Circuit Court found that Anne Arundel County had, in fact, broken its contract with Teamsters Local 355 — a violation of the Anne Arundel County Charter — and ordered the dispute to arbitration.
The County requested a stay of the ruling, pending appeal to the Court of Special Appeals. The request was denied. The County appealed that decision but in December 2011, a three-judge panel in Maryland's Court of Special Appeals affirmed the Fifth Circuit Court's judgement that provided the Union's grievance against the County was arbitrable.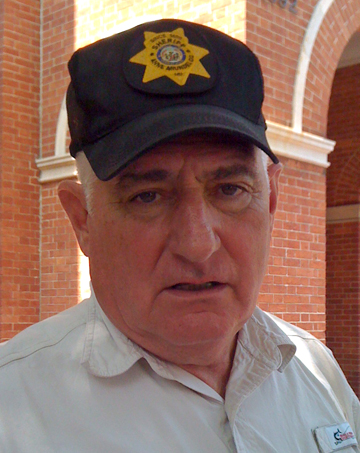 On Jan. 19, 2013, Arbitrator Strongin sustained Local 355's grievance against Anne Arundel County for the County's failure to pay its Deputy Sheriffs their pay increases for fiscal year 2010 and in its award, directed that all affected employees be made whole retroactive to July 1, 2009. Strongin found "the [County] Executive violated the Agreement by failing in good faith to honor wage provisions. Specifically…that the Executive intentionally rendered payment of the wage increases impossible due to the Executive's own decision not to request any funding for the negotiated wage increases." Still, the County refused to accept the judgement of the courts — and its contractual obligation to the deputy sheriffs — by continuing to file Motions to Dismiss judgements against it. In fact, another court hearing was scheduled Dec. 19, 2013.
"This was a long, hard fight," said Deputy Sheriff Dave Belisle (above, right), a shop steward. "My very special thanks to Denis, who said all along that the County needed to do the right thing. Sure enough, he was right. We are fortunate to be part of a Local Union whose members backed us 100%. We are only 58 cops, but we are backed by thousands of truck drivers, bus drivers, warehouse personnel, state workers, correctional officers and many other hard-working men and women who believe an injury to one of us was an injury to them all."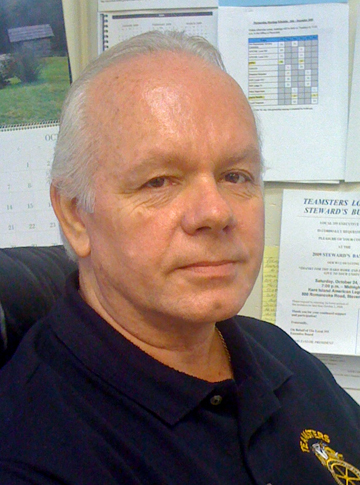 Business Agent Dan Taylor (left) is glad a resolution finally came together. "Every union in the County agreed to accept the County's offer rather than what was in their contracts. We did not. We said no because a contract is a contract. We uphold our end of the contract and the County is expected to uphold theirs."