January/February 2011 Newsletter
Brothers and Sisters:
First off, let me wish everyone a Happy New Year.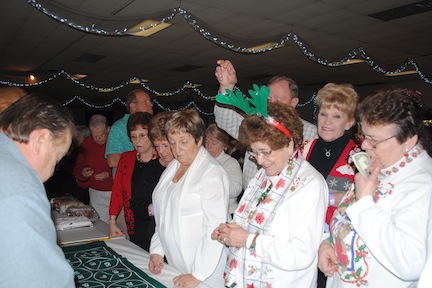 The Christmas party was a smash hit. We had one of the best turnouts ever. The food and the hall were awesome. A special thanks to the executive committee for doing another spectacular job. The only bad part was Mother Nature hitting us with the snow.
Thanks to each and every one of you who provided cakes for the cake wheel. It was a huge success. Thanks to Mike Krainer and his crew for all their help. I am not naming them, because I know I will leave someone out, but you know who you are.
Congratulations to John Cook for winning the basket of cheer, and to the Prunty family who won the 50/50.
Congratulations to the following people who won the 3,2,1 drawing at the general meeting in December:
First prize: Frank Supiot
Second prize: Lee Rausch
Third prize, John Carroll.
New Members: Benedict Falice
Sick Members: John Kirschke, Steve Glowacki, Bart Wright, Frank Barnett.
Deceased Members: William Matthews (Mason Dixon)
Please keep these members and their families in your thoughts and prayers.
The next meetings will be on January 20 and February 17 in the Sullivan Hall at Teamsters Local 355, 1030 S. Dukeland Street, Baltimore, MD. Coffee and donuts are served at 9:30 a.m. The Executive Board meets at 10 a.m., and the general meeting begins at 11 a.m. A light lunch is served following the general meeting. Hope to see you there. Remember to bring another retiree with you.
Fraternally,
Bob Eney, President