Updated On: May 125, 2010
Brothers and Sisters:
As you read this, the bowling season is coming to the end. We will have our bowling banquet on May 12. The banquet is for bowlers only, so think about joining us next season. Dates will be in upcoming newsletters.
The Spring Gold Outing was held at Queenstown Harbor and we had 52 golfers sign up. (Pictures to come.)The Fall Outing will be announced at a later date.
Weather permitting, we will be grilling outside for our May meeting.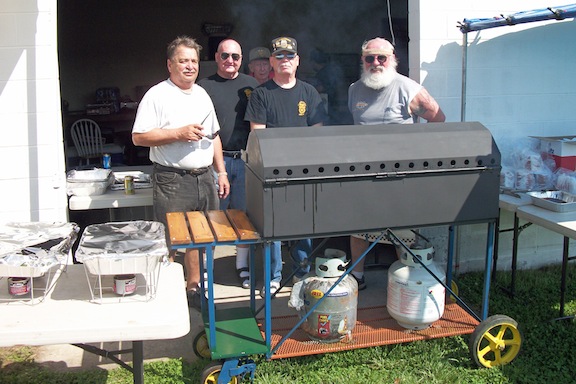 While on the subject of grilling, this past Sunday (May 2), the retirees did some bodacious outdoor cooking for the regular membership. This is an annual event that the retirees do at the last regular Sunday meeting before the summer break. (The regular meetings have always been canceled for the months of June, July and August.) A special thanks from me and the officers of Local 355 for a great job to all who worked their butts off. (More photos here.)
At the April meeting, the retirees hosted IBT history Project staffers. To read more about this project, please go [here]. This very well done site has a retiree's link, as well as many other links for keeping informed about union matters.
From the good news/bad news department:
First the bad news. As I am sure that most of you have heard by now, after many years of having our Summer and Christmas parties at the Town and Country Hall in Lansdowne, we had to come up with a new place. This was done because of something beyond our control.
The good news is that the retiree officers have come up with a very nice new hall where we are going to have the upcoming Summer and Christmas parties. The new hall is the UAW Hall at 1010 South Street, right next to the Farm Store. The hall is right off the Boston Street exit off of Route 95 (new tunnel) and the O'Donnell Street exit off of Route 895 (old tunnel). The Summer party will be August 19.
The Christmas party will be December 16 and there are some changes to the schedule. First, the hours for the party are now 11 a.m. to 3 p.m. (instead of Noon to 4 p.m.). Second, no one will be allowed in the hall until 20 minutes prior to the start of the party.
Start getting your envelopes in, as they have to be in by August 9 and December 9, respectively.
The Triple Crown winners were: First place - Rusty Rinehart; Second Place - Don Fox; Third Place - Jesse Artis.
New members: James Hinton, Ralph Boarman, Sr., and Joe Michael
Sick members: Joe Gardner, Brett Scheibe, and John Kirschke
Deceased members: Donald Parks and John Mandley
Please keep these members and their families in your thoughts and prayers.
Our next meetings will be on May 20, and June 17, 2010, in the Sullivan Hall at Teamsters Local 355, 1030 S. Dukeland St., Baltimore, MD. Coffee and donuts are served starting at 9:30 a.m. The Executive Board meets at 10:00 a.m. The General Meeting starts at 11:00 a.m. A light lunch will be served following the general meeting. Remember to bring another retiree with you.
Fraternally,
Bob Eney,
ARM President