Leonard Paper: Maryland's 'Greenest' Distributor
Local 355 members employed by Leonard Paper joined other employees and invited guests Tuesday in a ceremony marking the company's switch to full solar power from traditional energy reliance, making it one of Maryland's most energy efficient distributors.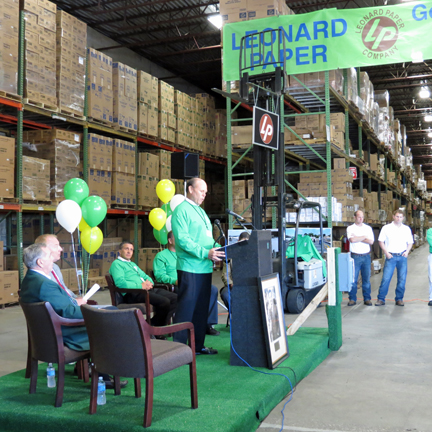 The family-owned company, a wholesale supplier of environmentally-friendly janitorial supplies and food service disposables, started business 73 years ago with four employees and one truck. It now employs more than 153 workers at its Baltimore plant, including 35 Teamsters Local 355- represented drivers and 31 Teamsters Local 570-represented warehouse employees.
The company serves a wide range of customers in the Baltimore-Washington region.
Local 355 shop steward and 26-year employee Jerry Eggleston said the switch to solar power will save the company a lot of money. "It's good for the environment, good for the company and good for us," he said. "We hope the energy savings will eventually translate to improved equipment like electric jacks for the drivers, and maybe even improved benefits at contract time. But none of that will happen over night."
The important thing, Eggleston said, is that the switch to solar "gives us opportunities to grow— more merchandise, more product, more workers."
Local 355 Business Agent Marcus Smith said the company's energy savings should allow it the ability to purchase the additional equipment that will improve workers' productivity and safety, thus increasing worker retention.
The latest upgrade to its facility — the installation of 1,700 solar panels on the plant's roof (pictured left) — will allow the company to generate clean sustainably energy for the next 30 years. According to company literature, it has fully automated on demand sensing lights in its distribution facility, nightly on-site refueling of its trucks which reduces fuel consumption, and zero landfill impact as a result of its comprehensive recycling program.
The solar commissioning ceremony included comments by senior members of the Leonard family and presentation of a Proclamation to Maryland's Greenest Distributor from Governor O'Malley by the state's comptroller, Peter Franchot.