Convention Delegation Team Elected on White Ballot
Updated On: May 125, 2011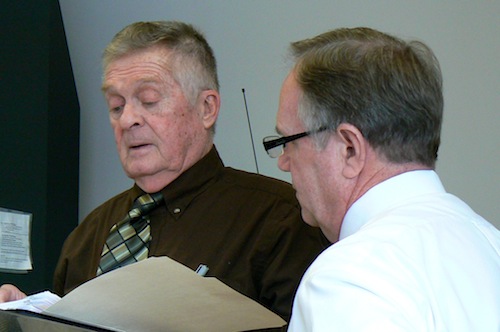 Candidate nominations for 8 delegates and 8 alternates to the June 2011 IBT Convention were held on February 6th at Local 355's membership meetings in the Baltimore and Salisbury offices. Because only eight candidates for each were nominated (thus the use of the term white ballot), all were declared duly elected by IBT Elections Officer Frank Sheridan (pictured with S-T Dave White).

Delegates are:
Denis Taylor, President
Dave White, Secretary-Treasurer
Ervin Williams, Vice President
Bill Alexander, Recording Secretary
Ed Mulford (U.S. Foodservice), Trustee
Janet Genovese (UPS/Baltimore), Trustee
Tim Marvel (UPS/Hunt Valley), Trustee
Mike Petro (UPS/Quad Ave.)
Alternates are:
Bill Faley (UPS/Balto Feeders)
Chris Green (Sysco)
Lauren Holley-Allen (State of Maryland)
Gil Howdershelt (Burris)
Bud Palmer (Cassens)
Mike Peoples (UPS/Delivery)
Al Richardson (UPS Freight)
Christine Staylor (Hertz)

The unanimous results of the nomination meeting marks the first time in many years the Local Union's IBT convention candidate nominations did not force a secret ballot election.
"I am extremely honored that our Local members gave our delegation teams a white ballot," said Denis Taylor. "It saved the Local an incredible amount of money not having to run a contested election. We look forward to representing the members' interest at this summer's convention."
The convention will be held June 27 - July 1, 2011 in Las Vegas, Nevada. The number of delegates and alternates to which a Local Union is entitled is determined by the size of its membership.