2012 Fall Golf Tournament
Updated On: Oct 282, 2012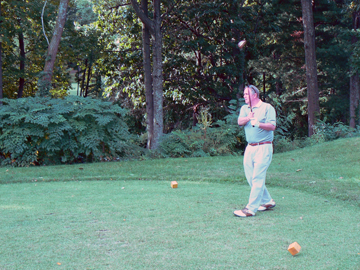 View more photos in our Photo Gallery.
Fifty-one members and retirees participated in Local 355's fall golf outing September 29, 2012 at the Bay Hill Golf Course in Arnold, Md.
Thirteen teams hit the 9:00 a.m. shotgun start, completing the 18-hole course in record time, after which participants enjoyed lunch and liquid refreshments.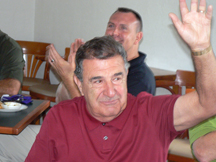 Brother Lou Lubawski (Retired/US Foods), right, made the trek from his home in Ohio to enjoy the day with old (and new) friends.
The top four teams each won $80. The first-place team came in with a score of 64; the 2nd, 3rd, and 4th place winners tied with a score of 65 (-5). The final finish was determined by the score at the hardest hole. Longest drive and closest to pin winners each received $25. Congratulations to all the winners!
First Place:
Tom Wotjek (UPS/Hunt Valley)

Bob Williams (

UPS/Hunt Valley

)

Craig Wilkerson (

UPS/Hunt Valley

)
Second Place:
Aaron Skipper (UPS/Easton)

Chris Towers (

UPS/Easton

)

Mike Howard (

UPS/Easton

)

Mark Porter (

UPS/Easton

)
Third Place:
Victor Gray (Penske/Retired)

Vince Genco (

Penske/Retired

)

Duane Kelly (Film Industry)

Tim Wojtek

(Film Industry

)
Fourth Place:
Melvin Stevens (

UPS/Freight

)

Bill Lewis (

UPS/Freight

)

Dave Manny (UPS/Freight)

Walker Chapman (

UPS/Freight

)
Closest to the Pin Winner:
Craig Wilkserson (

UPS/Hunt Valley

)
Longest Drive Winner:
Danny Ward (UPS Feeders/Baltimore)