YRC Freight rescinds pay cuts – but not for all workers
May 1, 2017 | Three years after the Teamsters agreed to pay cuts to prevent YRC Freight trucking company from going bankrupt, the company is rescinding the cuts – but only for workers in some areas. YRC Freight and two of its regional trucking affiliates agreed Apr. 10 to end the two-tier system for newly hired truckers and mechanics and gradually eliminate the 15% pay cut for dockworkers… laborpress.org
Teamsters aircraft mechanics print open letter to UPS CEO
May 2, 2017 | As UPS prepares for its annual shareholder meeting, more than 900 of its aircraft mechanics and other related classifications sent an open letter to CEO David Abney and the board of directors Monday saying they are concerned that UPS is trying to strip them of their health benefits and that they will do whatever it takes to secure a fair contract. UPS relies on the mechanics, stationed at more than 90 gateways across the country, for all maintenance of its cargo aircraft. The workers do physically demanding and often dangerous work around jet engine aircraft and equipment and toxic chemicals and exhaust… teamster.org Related: UPS Teamsters, remember to vote! Demand lobbying accountability at UPS.
New contracts ratified by Anne Arundel County members; others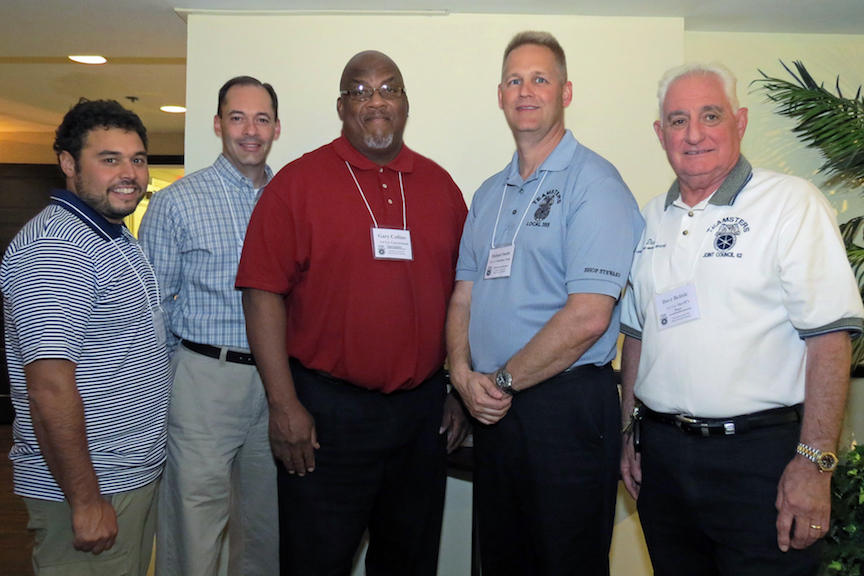 May 9, 2017 | Anne Arundel County members employed under four collective bargaining agreements recently ratified new one-year contracts that provide merit increases and COLA. Battalion chiefs, in lieu of merit, received wage adjustments based on years of service with the County, and maintenance of all benefits. Park rangers received clothing allowances, designation of emergency essential personnel, and new in this contract, a meal allowance. Correctional programs specialists (CPS) won retention bonuses and field training pay. Deputy sheriffs… Read more. Photo: Anne Arundel County stewards (L-R) Justin Ramos/park ranger; Mike Messick/fire battalion chief; Gary Collins/CPS; Mike Smith, fire battalion chief; Dave Belisle/deputy sheriff.
Members vote to suspend general membership meetings for the summer
May 9, 2017 | Members in attendance at Sunday's general membership meeting unanimously voted to suspend Local member meetings in Baltimore and Salisbury for the months of June, July, and August. The next meeting will be held Sunday, Sept. 10th at 10 am in both locations.