Local and National Union News
'Day of Action' set to bring workers together to support their unions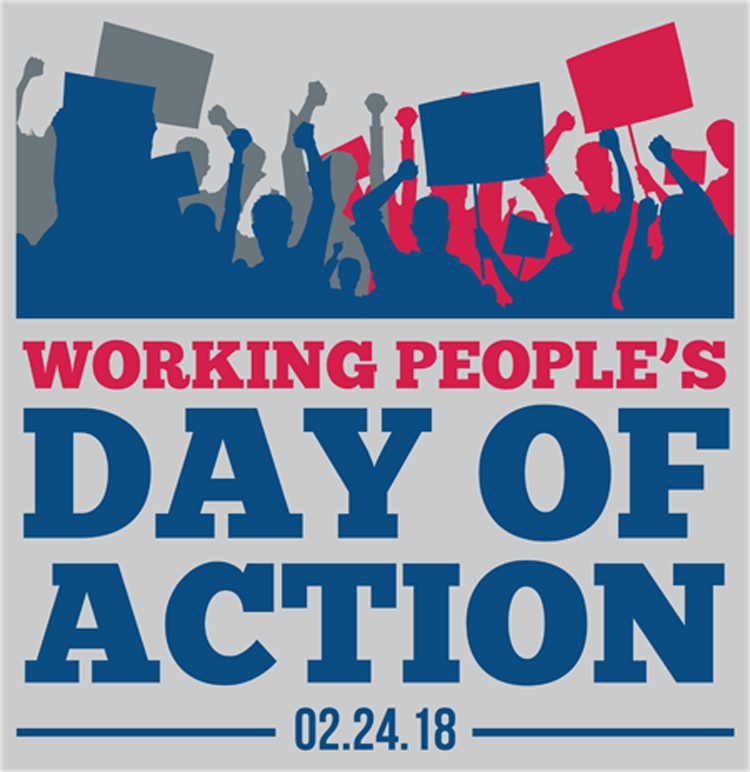 Feb. 22, 2018 | Workers all across the country will come together in cities from coast-to-coast Saturday to urge lawmakers to stand up to big business bullies dumping dollars into an effort to tamp down on the collective bargaining rights of those on the job. As part of the Working People's Day of Action, attendees will challenge the latest attack on laborers that will come before the U.S. Supreme Court on Feb. 26, when oral arguments will be heard for Janus v. AFSCME. The court will decide whether non-union public sector workers should continue to contribute fees to cover workplace representation they receive from unions like the Teamsters. Read more at Teamsters. To find out more and locate the nearest gathering, click here.
Negotiating committee reports progress on some issues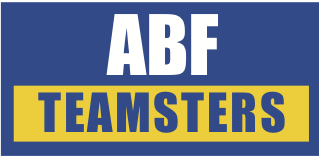 Feb. 19, 2018 |The Teamsters National Freight Industry Negotiating Committee (TNFINC) and ABF Freight resumed bargaining last week and the union reported progress on some of the issues. View the contract update here.
Update: Ratification meeting scheduled for Sat., Feb. 24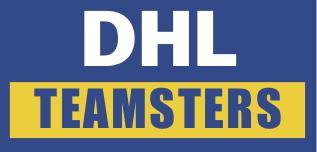 Feb. 18, 2018 | A meeting to review the tentative agreement and supplement will be held Saturday, February 24, 2018 at 10 am at the Baltimore union hall. A ratification vote will be conducted at the conclusion of the review. Leaders from 26 local unions that represent DHL members unanimously approved the tentative master agreement and supplements on Friday, February 9 in Washington, D.C. Read the update here.
Members taking active role; negotiations set to resume Feb.19

Feb. 9, 2018 | As the Teamsters National UPS and UPS Freight Negotiating Committees prepare to resume contract negotiations on February 19, members are continuing to take an active role and asking questions. More than 20,000 Teamsters joined the UPS and UPS Freight contract negotiations update call on January 28, and scores of members left questions after the call. Click here for the most frequently asked questions and answers.
Piedmont Airlines steward to members: 'Help us help you'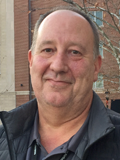 Feb. 8, 2018 | Veteran steward Stephen Kennedy admits to being worried about the union's future at Piedmont. "I think our youngest member is 18 or 19 years old. The most senior, and I'm one of them, is close to retirement. If I leave today and take with me my years of union knowledge and labor/management relationship experience, who will take over tomorrow?" Kennedy, a maintenance controller who oversees the daily operational status of Piedmont's fleet, shares a little about himself and his hope that others will step up when he steps back … Shop Steward Profiles
| | | |
| --- | --- | --- |
| | | |
| | | |
| | | |
Feb. 22, 2018 |

PENSIONS

| The sprawling agreement to boost government spending reached by Republicans and Democrats this month quietly included a step toward defusing what could be a financial time bomb for 1.5 million retirees and hundreds of companies in the industrial Midwest and the South. The deal creates a select congressional committee to craft what could effectively be a federal rescue of as many as 200 so-called "multiemployer" pension plans — in which employers and labor unions band together to provide retirement benefits to employees. Many of these plans are hurtling toward insolvency in the coming decade, with benefits owed to retirees projected to swamp what the plans can afford to pay. The 16-member, bipartisan committee will have to come up with a solution and legislation by the end of November, which the full Senate would need to vote on by the end of the year… New York Times
Feb. 22, 2018 |

PENSIONS

| The sprawling agreement to boost government spending reached by Republicans and Democrats this month quietly included a step toward defusing what could be a financial time bomb for 1.5 million retirees and hundreds of companies in the industrial Midwest and the South. The deal creates a select congressional committee to craft what could effectively be a federal rescue of as many as 200 so-called "multiemployer" pension plans — in which employers and labor unions band together to provide retirement benefits to employees. Many of these plans are hurtling toward insolvency in the coming decade, with benefits owed to retirees projected to swamp what the plans can afford to pay. The 16-member, bipartisan committee will have to come up with a solution and legislation by the end of November, which the full Senate would need to vote on by the end of the year… New York Times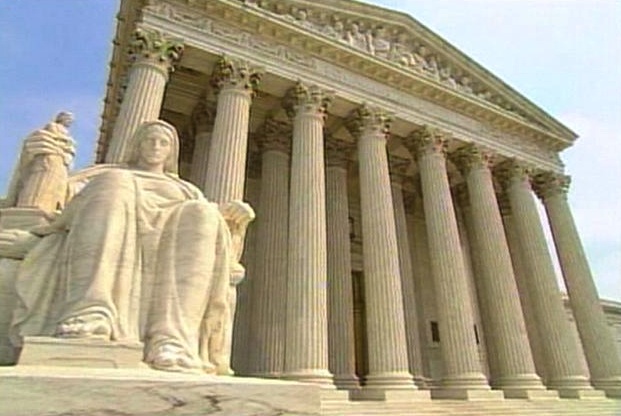 Feb. 22, 2018 |

U.S. SUPREME COURT

| In a new paper, EPI Labor Counsel Celine McNicholas and research assistant Zane Mokhiber report that the Supreme Court case Janus v AFSCME Council 31, along with previous cases challenging unions' right to collect "fair share" fees from nonmembers, have been financed by a small group of foundations with ties to the largest and most powerful corporate lobbies…"This case is one of the most important cases to corporate interest groups. It is one of the cases that made Senate Republicans so determined to block President Obama's nominee to the Supreme Court," said McNicholas. "The outcome of Janus will affect millions of working people across the country and will impact the public services we depend on these workers to provide." People's World
Feb. 21, 2018 |

WAGES

| Eighteen states and 20 cities raised their minimum wages on January 1. But many workers aren't getting their raises because the federal and state governments don't have the resources—and, all too often, just don't care enough—to enforce minimum wage and overtime laws. The result: an estimated $15 billion in stolen wages that are pocketed by the greediest employers, instead of being paid to the neediest workers. As an in-depth investigation by POLITICO found… Independent News Net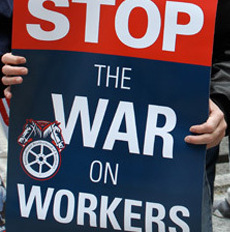 Feb. 20, 2018 |

WORKERS' RIGHTS

| When Donald Trump was running for the presidency, he promised that, if he was elected, "the American worker[s] will finally have a president who will protect them and fight for them." Today, though, safely ensconced in the White House, President Trump is waging a fierce campaign against American workers…As the new Labor Secretary, Alexander Acosta served as one of the stars at the annual gathering of the militantly anti-labor American Legislative Exchange Council (ALEC). For Deputy Secretary of Labor, Trump chose Patrick Pizzella, a former employee of the rabidly anti-union National Right to Work Committee who had lobbied against raising sweatshop-level wages…The Trump administration also took control of the National Labor Relations Board (NLRB) by appointing members with a record of opposing workers' right to organize… History News Network
Feb. 19, 2018 |

IMMIGRATION

| Teamsters President Jim Hoffa had strong words for lawmakers Friday after they failed to pass legislation that would have helped immigrants who were brought into the country illegally as children. […] "The issue of immigration is not always easy and undoubtedly will be closely parsed by those in Congress," Hoffa said in a statement. "However, immigrant kids in good standing should not be penalized because elected officials refuse to get their act together. They deserve an opportunity to continue to live their lives with their loved ones in their adopted home country."… Inside Sources Read the full statement at Teamsters