Local and National Union News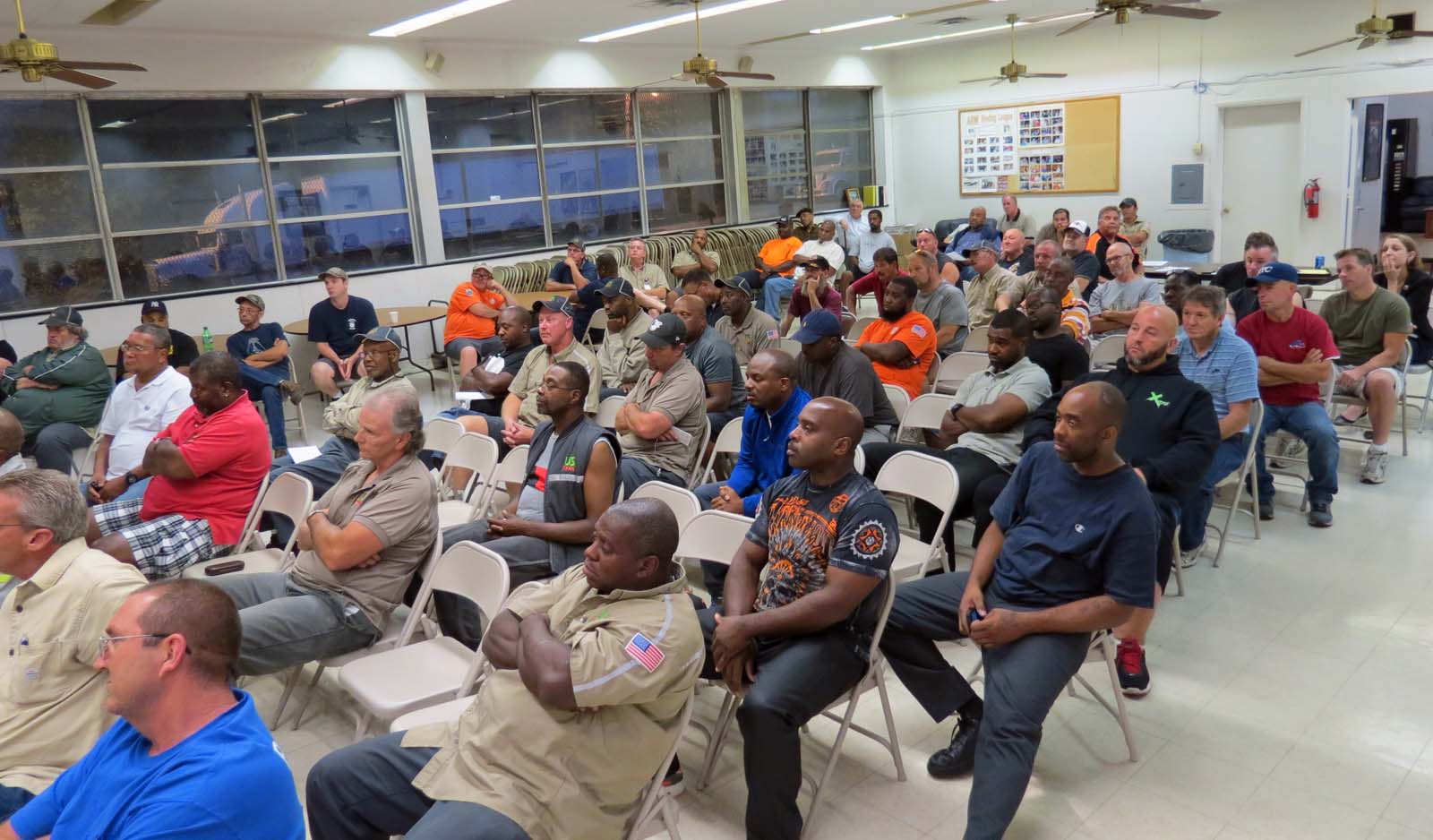 Drivers at US Foods authorize a strike *
Sept. 24, 2015 | At a packed meeting held at the Baltimore union hall last night, Local 355 members who drive for US Foods at its Severn, Md., facility voted overwhelmingly to authorize a strike. Before a packed room, President Denis Taylor laid out the company's economic proposals presented Tuesday to the bargaining committee: Switch to a 401(k) from a union pension, switch from a union health plan to a company plan at a substantial cost to employees, and go from 7 paid holidays to 4. And that, according to the company, would just be the beginning of its demands. Members promptly asked for a strike vote. "We've had great contracts with this company," said one driver. "But if we don't take a stand together now, we'll fall for anything." The Local has filed two unfair labor practice charges with the regional National Labor Relations Board. Watch this space for updates. *Update: Local 570 warehouse workers authorize a strike.
---
Central States Pension Fund files plan to cut retiree benefits under new law
Oct. 7, 2015 | …The huge pension fund, which administers retirement benefits for some former and current Teamster truckers, said the reductions are the only way to save the plan from insolvency. Under the proposal, pensions for Central States' 407,000 participants would be cut by an average of nearly 23 percent. "Pension fund participants and beneficiaries did not cause the problem of underfunding," James P. Hoffa, general president of the International Brotherhood of Teamsters, wrote in a letter to Central States. "They worked day in and day out to earn their pension credits. It is monstrously unfair that they will end up holding the short end of the stick." Full story… Related: NYT: Teamster pension fund has filed for reorganization [Note: The pension proposal has no relation to the national carhaul tentative agreement currently out for ratification.]
Webcast Oct. 7: Domestic violence as a critical workplace issue
Oct. 5, 2015 | When domestic violence enters the workplace, it can have significant repercussions for the targeted individual and the work environment. Union stewards and fellow coworkers can all be affected by, and have a role to play in, dealing with intimate partner violence as a critical workplace issue. A free one-hour webcast on Wednesday, Oct. 7th beginning at 12 noon will explore labor's role in addressing domestic violence in the workplace. The webcast is a joint initiative between the ILR School's Scheinman Institute of Conflict Resolution and The Worker Institute at Cornell University. Click here to learn more and register.
Hoffa says tenuous TPP agreement does not listen to workers' concerns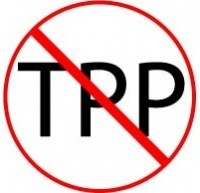 Oct. 5, 2015 | Bum trade deals like NAFTA have killed upwards of 1 million U.S. jobs, many of which moved abroad. And that's the concern with the looming TPP. These big business handouts continue to hollow out the manufacturing base of communities and destroy middle-class jobs in their wake. The Teamsters and many, many others just don't see any value in what TPP brings to this country. First and foremost is the deal won't create any new jobs here. Full statement...
Reminder for members and stewards
Oct. 5, 2015 | Every Monday we post new information under the Members and Stewards tab in the left column. Today's educational tips offer information about the union's right to strike, and the differences between the two types of strikes.
Fiat Chrysler workers appear to reject contract proposal
Oct. 1, 2015 | Hourly workers at Fiat Chrysler Automobiles appear to have soundly rejected a proposed new union contract that set no limit on the number of lower-paid workers and that contained no mechanism to move them up to top-wage status. It would be the first time in more than 20 years that Chrysler workers have turned down a tentative contract negotiated by their union, the United Automobile Workers. Full story...
Shop steward banquet photos are posted
Sept. 30, 2015 | We've posted photographs from last weekend's 2015 Stewards Banquet in the Photo Gallery here, here, and here. The event, held every other year for stewards and their guests, is sponsored by the Local Executive Board. It is their way of saying thank you for the hard work and dedication you give to your union. Photos can be downloaded for printing. Mac users: Double click on the image, then drag and drop image to your desktop. PC users: Right click on the image, copy, then go to your desktop and right click on the image to paste.
| | | |
| --- | --- | --- |
| | | |
| | | |
| | | |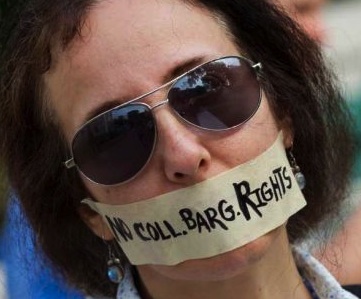 Oct. 8, 2015 |

WORKERS RIGHTS

|

washingtonpost.com

Ask an economist what's driving the trends in the variables we track and you'll hear a lot about demand, supply, unemployment, prices, interest rates, inflation, technology, trade flows, capital markets, etc. All true, all relevant. But what you probably won't hear enough about is actually a key determinant of economic outcomes: bargaining power. In the real world, bargaining power is a very big deal. Full story...
Oct. 7, 2015 |

WORKERS RIGHTS

|

thehill.com

Sen. Bernie Sanders (I-Vt.) unveiled sweeping new legislation that will make it easier for workers to organize unions in a bid Tuesday to endear himself to the labor community ahead of the 2016 presidential election…The Workplace Democracy Act [read a summary of the bill here] would allow employees to form a union through the controversial card check process, as opposed to holding a secret-ballot election. Card check allows employees to sign an anonymous card saying they want to join a union. Once more than half of a company's employees sign the card, the union must be recognized, even without an election being held. Labor advocates say this reduces the opportunity for companies to discourage workers from joining. Full story...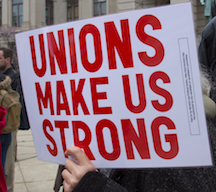 Oct. 6, 2015 |

WAR ON WORKERS

|

wepartypatriots.com

A recent article in Bloomberg Politics suggests that Wisconsin Scott Walker's exit from the presidential election is a sign that the political appeal of bashing unions has peaked. As a last ditch effort to save his campaign, Walker announced he would make sweeping, draconian changes to national labor law if elected. His polling numbers then fell below one percent and it was over. The truth is Americans view unions more favorably than in recent years. The union bogeyman is becoming a dated concept. Full story…
Oct. 5, 2015

|

TRADE AGREEMENTS

|

nytimes.com

The United States and 11 other Pacific Rim nations on Monday agreed to the largest regional trade accord in history, a potentially precedent-setting model for global commerce and worker standards that would tie together 40 percent of the world's economy, from Canada and Chile to Japan and Australia. The Trans-Pacific Partnership still faces months of debate in Congress and will inject a new flash point into both parties' presidential contests. Full story...

*

Related:

Organized labor is expected to lead a vigorous campaign to persuade and pressure lawmakers to vote against the Pacific accord.

latimes.com