Local and National Union News
Memorial Day magazine preview: Teamsters Military Assistance Program
May 25, 2015 | This Memorial Day, as we honor the men and women who gave the ultimate sacrifice for their country, we are paying tribute to our Teamster military heroes and the Teamsters Military Assistance Program (TMAP). Learn more...
Fast Track vote in Senate may happen today
May 22, 2015 | Yesterday the Senate voted to end debate, meaning that a final vote could take place today. We cannot let up in the fight against Fast Track. Please send another email to your Senators right now to ask that they oppose Fast Track when it comes up for a final vote.
Teamsters, allies voice outrage at attempts to gut truck safety laws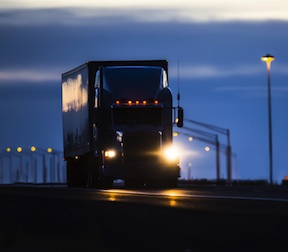 May 20, 2015 | Teamsters joined forces last week with safety advocates, crash victims, and law enforcement allies for a press event on Capitol Hill to speak out against proposed rollbacks of major truck safety regulations. The event was held as the Appropriations Committee considers this bill, which includes "riders" that will force truck drivers to work longer hours and drive larger, heavier trucks. Full story…
New shops ratify 1st contracts; Signature Flight, Piedmont Airlines still at table
May 18, 2015 | Matheson Gas workers in Baltimore ratified their first Teamster contract April 25th. Bargaining on behalf of Burris Foods workers began May 6th. Joint bargaining with four other unions is expected to begin soon for a first contract at Baltimore's Horseshoe Casino where Local 355 represents more than 50 workers, including valet attendants, warehouse workers and casino cashiers. More shop news...
Sysco overstating benefits of merger, gov't witness says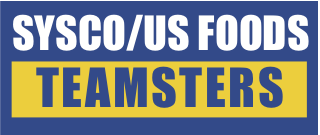 May 15, 2015 | "… Sysco originally told investors that it would save $600 million through merging the two companies, which it would then pass on to consumers. Mr. Gokhale argued that a large part of Sysco's claimed "merger efficiencies" were not merger-specific, meaning that they were either happening or going to happen without the merger. As an example, he spoke at length about how Sysco expected to save money through "category management" following the merger, but both Sysco and US Foods had been doing this prior to the merger." Full story… Additional info on the FTC trial at Protecting Sysco & US Foods Workers on Facebook.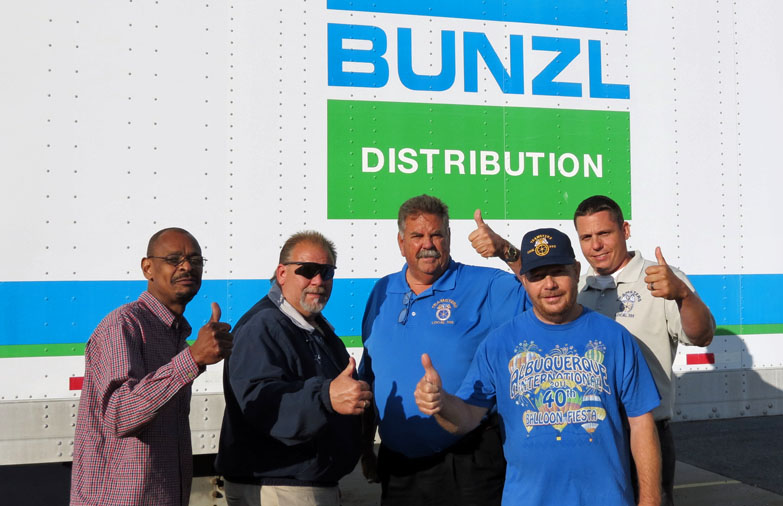 Bunzl workers choose Teamsters
May 13, 2015 | Local 355 welcomes drivers and warehouse workers employed at Bunzl Distribution in Hanover, Md., who voted Wednesday, May 13, 2015, to join the Teamsters. The unit of 25 workers seek fair treatment, and dignity and respect on the job. "We need to feel safe in our workplace," said Charles Moser, Jr., a driver with eight years at the company. "We want to put an end to the bullying tactics that effect our working conditions." Derrick Moon, a warehouseman for more than six years said that as a union they can address a continuing short-staffing problem. "People are overworked because of the shortage of staff." Bunzel is a supplier of paper and packaging products. Pictured left to right: Derrick Moon; Local 355 Organizer Ed Mulford; Business Agent Chip Elgert; Charles Moser, Jr.; and Business Agent Mark Garey
Senate success against fast track push! *
May 13, 2015 | Senate Democrats took a stand today against efforts to ram fast track trade authority through the chamber, denying an effort to move forward with consideration of the legislation. The vote further delays big business' desire to pass fast track and raises serious doubts about the future of the 12-nation Trans-Pacific Partnership (TPP). Full story... * May 15: "A simple up-or-down vote on a trade deal of this magnitude is not in the best interest of middle class Americans. They have seen firsthand the real impact of unfair, unbalanced trade agreements over the past 20 years. I call on every member of Congress to vote down fast track and do their part to protect our country from another bad trade agreement." President Hoffa's full statement...
US Foods will kill Sysco deal if court delays merger, exec says
May 12, 2015 | A US Foods executive said in federal court today that his company would walk away from its planned merger with Sysco if the presiding judge issues an injunction to preliminarily block the deal. David Schreibman, an executive VP at US Foods, told the judge that his company is not willing to endure a protracted legal fight with U.S. antitrust enforcers. Full story...
| | | |
| --- | --- | --- |
| | | |
| | | |
| | | |
May 22, 2015

|

ECONOMY

|

salon.com

The Street is back to many of its old tricks. The only sure way to stop excessive risk-taking on Wall Street so you don't risk losing your job or your savings or your home , is to put an end to the excessive economic and political power of Wall Street. What should be done? Learn more here….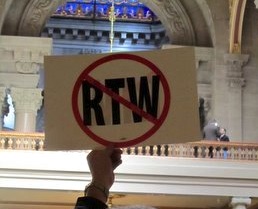 May 21, 2015 |

WAR ON WORKERS

|

newsweek.com

A bevy of "right-to-work" bills has been introduced in state legislatures across the United States this year. The legislation has generated intense debate and contention, making headlines across the country. What is most alarming about the parade of bills introduced, however, was how their proponents manipulated facts in order to propel them through state legislatures. The results of this war on workers may vary from state to state, but the genesis of these salvos and the misleading arguments used to muscle them through legislatures are the same. A careful analysis reveals their scientific and intellectual flaws. Full story...
May 20, 2015 |

ECONOMY

|

ourfuture.org

Some of the biggest banks in the world are expected to plead guilty to felonies this week. Finally, America will see members of the class that crashed the economy in black and white suits that are hardly the Brooks Brothers pinstripes to which they've grown accustomed. Oh, wait, no. The New York Times says these felons will just pay some fines and go about their business … they won't face prison like normal criminals… The promise of America is that anyone who works hard and plays by the rules can earn a middle-class life. That promise is betrayed when the system provides a tiny class of Americans with special treatment, including a get-out-of-jail free card when they commit fraud to make untold millions. Full story...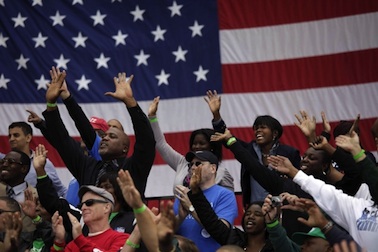 May 19, 2015 | ANALYSIS | huffingtonpost.com …Every Senator, and every member of the U.S. House, who votes for "Fast Track" approval for these deals, is looking for big money from big corporations, and not for fulfilling his or her supposed and oathed job: to be an authentic representative of the public back home -- and of their children, and future generations. The idea that these are 'free market' treaties is the biggest of all Big Lies. They're a transfer of sovereignty from national democracies to a despotic world government. This is the biggest news-story of our times, and it's been virtually ignored. Full story…
May 18, 2015 |

WORKERS' RIGHTS

|

wepartypatriots.com

A rash of "collective bargaining transparency bills" have popped up in state legislatures across the country, each being pushed by think-tanks that answer to dark money donors. Transparency in government is a righteous pursuit, but lopsided treatment of unions is clearly intended to make us less efficient and curtail our power at the bargaining table. Full story…