Local and National Union News
Teamsters remember James R. Hoffa on 40th anniversary of disappearance

July 30, 2015 | Today marks the 40th anniversary of the disappearance of one of the greatest labor leaders in American history – James R. Hoffa. As Teamsters General President, Hoffa honed his well-earned reputation as a tough and effective bargainer and gained the respect of labor and business leaders alike across the country. He worked hard to expand the number of working men and women who were protected by union contracts and under his leadership, the union's membership rose to include more than 2 million workers. Continued…
Here's 7 reasons not-yet-union folks should join one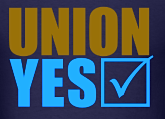 July 29, 2015 | We know that our union jobs generally pay significantly more than non-union jobs and our negotiated contracts provide benefits like paid vacation, holidays and sick days that many non-union workers don't get. So how about that non-union worker friend of yours who doesn't get that being a member of a union can greatly improve his/her work life? This short and to-the-point article can help you talk with family members and friends who may be on the fence about joining a union.
Human rights before huge profits from TPP
July 28, 2015 | Putting people before the powerful. It's a statement the Teamsters firmly believe in, and one that U.S. democracy supports by having a one-person, one-vote system in place. But a report released yesterday by the State Department raises some concerns about whether American policy is following the same path. Continued...
Teamsters post first billboard in Baltimore to educate the public about Toyota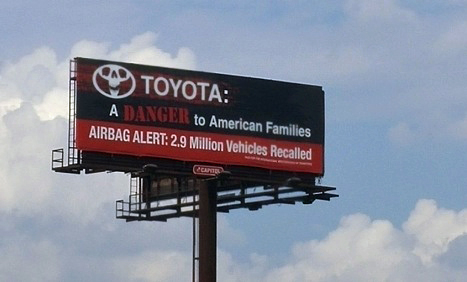 July 23, 2015 | Yesterday the Teamsters Union posted the first of several roadside billboards about the Toyota Corporation in order to educate the American public about the economic and safety dangers posed by the company. The billboard is located along I-95 in Baltimore. "Toyota spent years trying to regain consumer confidence after mass recalls in 2009-2011 due to sticking gas pedals and faulty floor mats. Millions more Toyotas are being recalled due to dangerous faulty airbags. Now, on top of these very public issues, Toyota is bidding out much of its automobile transport work to small, unproven operators who undercut the health care protections and retirement security of their drivers," said Kevin Moore, Teamsters International Trustee and Director of the Teamsters Carhaul Division. Full story ... Note: Local 355 represents more than 200 carhaul drivers.
Teamsters call on UPS to leave ALEC at massive protest in San Diego
July 23, 2015 | Hundreds of Teamsters from across California traveled to San Diego Wednesday to participate in a massive protest outside a national meeting for the American Legislative Exchange Council (ALEC). The Teamsters had one clear message they wanted to send – it was time for UPS to end its affiliation with ALEC. Full story…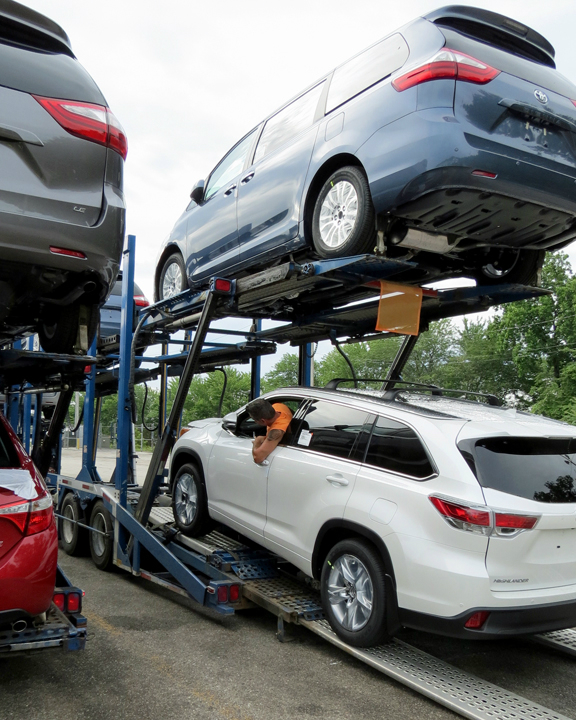 Teamster carhaulers launch campaign to save their jobs
July 17, 2015 | The Teamsters have a petition to Toyota for you to sign demanding the company not turn its back on American workers. It is critical that every Teamster carhauler sign a petition and return it to their shop steward or Business Agent Bill Alexander. Please don't wait. Do it now. Here's how to get the petition.
Truckers at Los Angeles, Long Beach ports vote Teamsters
July 10, 2015 | Eight-eight drivers at the ports of Los Angeles and Long Beach voted late Wednesday to join the Teamsters, becoming the fourth company at the port to unionize at a time when many say port trucking is ripe for a shakeup. For decades, most drayage drivers – who number more than 10,000 at the LA and LB ports – have been independent contractors who own their own trucks. But as ports have grown more congested amid a general trucker shortage, an opening emerged for companies that purchase trucks and hire full-time drivers. Full story...
| | | |
| --- | --- | --- |
| | | |
| | | |
| | | |
July 31, 2015

|

WORKERS' RIGHTS

|

wsj.com

A federal-district court has upheld a National Labor Relations Board rule that is expected to speed union-organizing elections, a blow to several business trade groups that sued to block it. Plaintiffs, including the U.S. Chamber of Commerce, filed suit early this year to block the rule, alleging it overstepped the board's authority and violated federal law by curbing an employer's right to communicate with employees about the organizing process. Congressional Republicans likewise said the rule could limit the time employers have to counter union-organizing campaigns. Full story...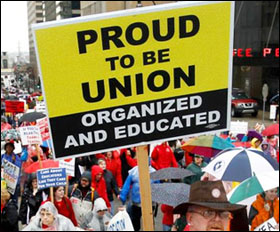 July 30, 2015 |

OPINION

| counterpounch.org It's bad enough that many (most?) non-union workers have little understanding or respect for the contributions that organized labor has made to the American economy. Worse, most of them don't have the faintest idea of what is laid out in a standard union contract. I've had people—good, well-meaning people—tell me that union contracts are "bad for the country" because they allow workers to slack off on their jobs (basically do anything they like), and management can't do a thing about it. Yeah, right. And the moon landing was a hoax, and the Arab world "hates us for our freedom." Continue reading…
July 29, 2015 |

WAR ON WORKERS

|

thehill.com

Republicans on Monday renewed their push for legislation that they say would help prevent workers from being forced into union membership. Sen. Orrin Hatch (R-Utah) on Monday introduced the Employee Rights Act, a bill that would create new requirements for workers to organize a union and make it easier for them to disband it. The bill would also restrict political donations by unions. The bill is the latest shot fired in the bitter battle between the Obama administration and Republicans over labor policy. Full story…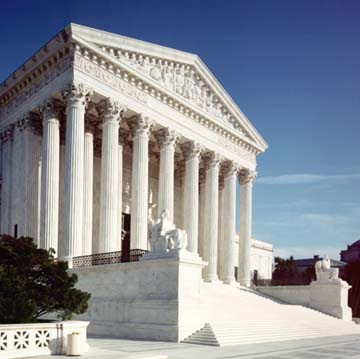 July 28, 2015 |

WORKERS' VOICE

| talkingunion.wordpress.com In the term that will begin this fall, the court has a splendid opportunity to deliver the most partisan decision it has rendered dine Bush v Gore… Friedrich v. California Teachers Association is a case brought by a California teacher who objects to paying dues to the union that has bargained the contract that secures her pay and benefits. The union does not collect any money from her to support its political activities, but, by virtue of the court's 1977 Abood decision, and hundreds of later decisions based on Abood, she is obliged to pay that portion of her dues that goes to bargaining and administering her contract. That obligation, the court ruled in Abood, is essential if public employees are to have an effective right to collective bargaining. If employees can benefit from union representation without funding the union, the court reasoned, the union could be weakened to the point that it couldn't represent those employees adequately, if, indeed, at all. Last year, however, in an opinion breathtaking for its chutzpah, Justice Samuel Alito invited union opponents to bring a challenge to Abood before the court. Full story…
July 27, 2015 |

LABOR UNION NEWS

|

cwa-union.org

At a rally in New York Saturday with thousands of workers and supporters, the Communications Workers of America announced that 85% of Verizon workers voted over the last two weeks to authorize a strike if necessary. The contract expires at midnight on Saturday August 1 and covers 39,000 CWA and IBEW represented telephone workers from Massachusetts to Virginia. Full story…