Our next general membership meetings will be held Sunday, May 4th, at 10 am in Salisbury
and Sunday, May 18th, at 10 am in Baltimore. Please be present and on time.
Local and National Union News
NPR story: To increase productivity, UPS monitors drivers' every move
Apr. 17, 2014 | UPS is using technology in ways that may soon be common throughout the economy...When you hear people talk about technology increasing workers' productivity, this is what they're talking about: same guy, same truck – lots more deliveries. In the long run, as workers have gotten more productive, their pay has gone up. UPS drivers make about twice what they made in the mid '90s when you add up their wages, health care and pensions, according to the head of their union… Story and readers comments at npr.org
Teamster horse-carriage drivers win more support in New York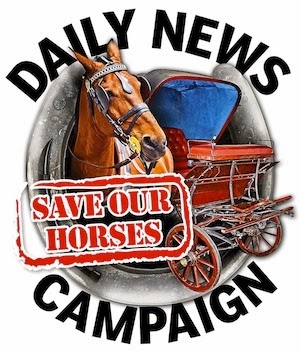 Apr. 17, 2014 | Our endangered Teamster brothers and sisters who drive horse-carriages in New York City are winning support from some powerful friends, including The New York Times editorial board, actor Liam Neeson and the New York Daily News. They are defending some 300 horse-carriage drivers from animal rights extremists and Mayor Bill de Blasio, who want to ban horse-carriages and throw the drivers out of work. Full story at teamsternation.org.
New contracts ratified at ALSCO, Anne Arundel County, others
Apr. 15, 2014 | A new first contract with a 3-year term has been ratified by ALSCO Teamsters, a 5-year contract was approved at Mountaire Farms, and Anne Arundel County park rangers, deputy sheriffs and corrections program specialists (CPS) ratified new one-year contracts during the past week. Shop news update here.
Survey for Sysco and US Foods workers can be downloaded here
Apr. 11, 2014 | Members currently employed at Sysco and US Foods will find the IBT survey here. Please download, complete and submit to your shop steward or Business Agent Jim Deene. Or, complete the online survey here.
Teamsters reach settlement with UPS over fired LU 804 members
Apr. 10, 2014 | Teamsters General President Jim Hoffa and General Secretary-Treasurer Ken Hall announced yesterday that Hall and International Vice President Sean O'Brien met with Teamsters at the UPS Maspeth (New York) facility. Hall and O'Brien met yesterday with Local 804 officials and UPS management to resolve the situation. The parties have come to a settlement regarding the termination of 250 Local 804 members that occurred after a job action took place in February.
| | | |
| --- | --- | --- |
| | | |
| | | |
| | | |
April 21, 2014 |

LABOR

| The UAW announced today it is withdrawing objections filed with the NLRB regarding February's vote at the Volkswagen plant in Chattanooga, effectively terminating the NLRB review process. UAW President Bob King said the UAW based its decision on the belief that the NLRB's historically dysfunctional and complex process potentially could drag on for months or even years. Additionally, the UAW cited refusals by Tennessee Gov. Bill Haslam and U.S. Sen. Bob Corker to participate in a transparent legal discovery process, which undermines public trust and confidence. Full story at uaw.org. Related: Auto workers union drops appeal in VW vote
April 18, 2014 |

ECONOMY

| With the national debate over the minimum wage likely to intensify into 2014, Oklahoma governor Mary Fallin has signed a law passed by the Oklahoma legislature that would forbid any municipality in the state from passing its own law setting the minimum wage higher than $7.25. Not only that, it forbids cities and counties from requiring employers to provide paid sick days or vacation days. Above all, this is a reminder that in many ways, the minimum wage fight is taking on the feel of a culture war. Call it an economic culture war. Full story at washingtonpost.com.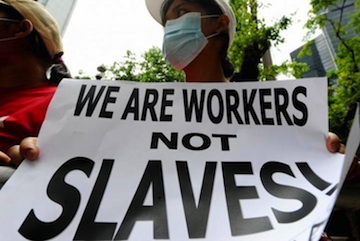 April 17, 2014 |

WORKERS' RIGHTS

| Societies have come up with justifications for peonage, slavery and child labor, all of which seem unjustifiable to most people today. Those conditions still exist, of course, but sometimes people like us, who benefit from cheap labor, choose not to look too closely at the origin of our clothing or gadgets, in order not to feel complicit. Modern Americans generally don't think it's right to mistreat people, to strip them of their humanity. We're become more socially advanced, but so have the ways people and institutions have of devaluing people to the advantage of others. That's what's going on in our economy today. Full editorial opinion at seattletimes.com.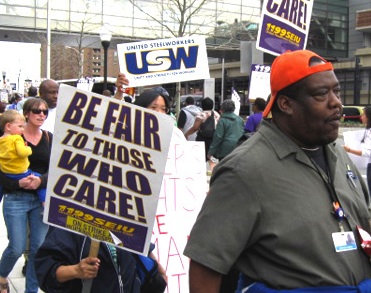 April 16, 2014 |

SOLIDARITY

| Healthcare workers of 1199-SEIU United Workers East struck the Johns Hopkins Hospital for threes days last week. With over 2,000 workers in the unit, the picket line in front of the hospital's main entrance had from 700 to 1,200 picketers during the day shift picket duty. The strike was the result of intransigence on the hospital's part when they failed to present a counter offer to the union's last proposal, the objective of which was to get the low-paid workers above the federal poverty level. Learn more at peoplesworld.org.