Next General Membership Meeting: Sept. 7th in Baltimore, Sept. 14th in Salisbury
Meetings begin at 10 a.m. Please be present and on time. Bring a coworker!

Local and National Union News
UFCW president issue's statement on the mother of Michael Brown
Aug. 22, 2014 | Joe Hansen, International President of the United Food and Commercial Workers Union (UFCW), today released the following statement regarding UFCW member Lesley McSpadden whose son Michael Brown was shot and killed by police in Feguson, Missouri.
Teamsters assisting global efforts to organize DHL, FedEx, UPS
Aug. 18, 2014 | The International Transport Workers Federation's (ITF) 43rd global conference wrapped over the weekend in Sofia, Bulgaria. The ITF consists of 360 unions from 116 countries. It has 4.5 million members. Tim Beaty, IBT Director of Global Strategies spoke with Canada's Radio Labour about global efforts to organize workers at delivery companies like DHL, FedEx and UPS.
US Foods worker outlines his merger concerns to trade commission
Aug. 14, 2014 | Frank Rinetti, a Teamster member and employee of US Foods, recently sent a letter to the Federal Trade Commission (FTC) seeking information about the proposed Sysco-US Foods merger and he also outlines his concerns about the merger's impact on jobs. Read it here.
Teamster: Trade deal caused refugee crises at border
Aug. 12, 2014 | The nine-year-old CAFTA trade deal caused thousands of desperate children to flock to the U.S. border seeking safety, Teamsters legislative representative Mike Dolan explained recently on the Thom Hartmann Show. He calls them 'CAFTA kids.' They are actually the second generation of economic refugees to leave their land and their homes. The first wave came after NAFTA took effect on Jan.1, 1994. Continue reading here. Related: Blame CAFTA for children at the border
Tribune completes spinoff of newspapers, including The Sun
Aug. 5, 2014 | Tribune completed the spinoff Monday of Tribune Publishing Co., which includes The Baltimore Sun and nine other daily papers…First announced in July 2013, the spinoff of the newspapers allowed Chicago-based Tribune Co. to offload its publishing assets while avoiding the large capital gains taxes associated with an outright sale. Continue reading here. Business Agent Jim Deene said there is no indication of changes looming on the horizon, but more will be known when negotiations for a new contract begin in the fall. Stay tuned.
Teamsters praise Obama crackdown on companies that abuse workers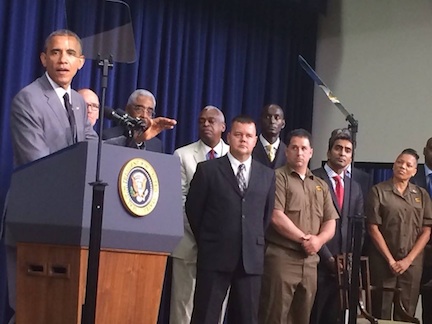 Aug. 4, 2014 | The Teamsters strongly supports President Obama's executive order to crack down on corporations that break laws but still win government contracts. Two members of the Teamsters Union stood with President Obama last Thursday to announce the new policy: Mike Petro of Baltimore, a UPS driver with Teamsters Local 355, and Etta Epps of Landover, Md., also a UPS driver, with Teamters Local 639. "I am so proud of how my union makes sure I earn a good wage, health care benefits and retirement security," Petro said. Continue reading here. Watch the video here. IBT photo: Mike Petro, third from right, was among UPS Teamsters who attended the President's executive order signing ceremony at the White House last Thursday.
| | | |
| --- | --- | --- |
| | | |
| | | |
| | | |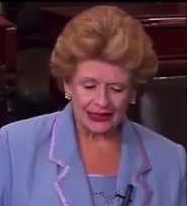 Aug. 22, 2014 |

JOBS

| Speak with any elected official, and inevitably he or she will stress the need to create more U.S. jobs. But given the opportunity to do so just before Congress went on its annual August recess, Senate Republicans decided they would rather do nothing instead. Legislation sponsored by Michigan's own Sen. Debbie Stabenow that would have provided tax credits for American companies to bring home jobs from overseas while ending tax credits for those who ship employment abroad was sandbagged by the GOP. In a preliminary vote taken on the Bring Jobs Home Act, the Senate overwhelmingly approved the bill, voting 93-7 in favor of the measure. One week later, however, it all changed… Continue reading here.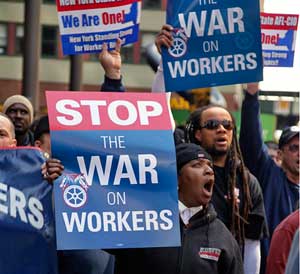 Aug. 21, 2014 |

WAR ON WORKERS

| On the heels of its recent Supreme Court victory in Harris v. Quinn, the National Right to Work Committee and Legal Defense Foundation (NRTW) has initiated a bold new attack on unions. In a recent fundraising appeal sent on August 10, the president of both organizations wrote that Harris "was just the beginning," and that fair share provisions (or, as he called them, "forced dues") were only "part of the problem." Now, having succeeded in imposing a right-to-work model for home healthcare workers across the country, NRTW is gunning after a much greater and unexpected target: exclusive representation. Continue reading here.
Aug. 21, 2014 |

JOBS

| In May 2013, low-wage workers in federal buildings in Washington began walking off the job in a series of one-day strikes. Employed by concessionaires and janitorial contractors at places like the Smithsonian and the Ronald Reagan Building, the workers said their rock-bottom wages were't enough to survive on. Like the Walmart and fast-food workers also going on strike, they asked for better working conditions and a greater share of the spoils. Calling themselves Good Jobs Nation, and backed by the Change to Win union federation, the workers crystallized their grievances into a clear policy demand… Continue reading here.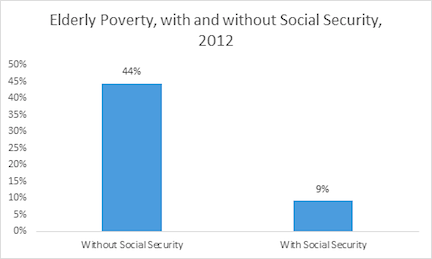 Aug. 19, 2014 |

RETIREMENT

| (Click image to view) This week marks the 70th anniversary of the Social Security Act. For seven decades, Social Security has been under attack by opponents who consider government-guaranteed pensions for Americans to receive as they get older or if they become disabled to be socialism or unAmerican….For more than 30 years, opponents of Social Security have peddled the lie that the Social Security Trust Fund is going bankrupt or is nearly insolvent. The roots of the efforts to attack Social Security run deep in the far right…The truth is that Social Security wasn't broke in 1980, 1990, or 2012, and it's not broke today. Full story here.