Our next general membership meetings will be held Sunday, December 8, at 10 am
at the Baltimore and Salisbury union halls. Please be present and on time.
Local and National Union News
Buy Made in America (or Canada) this holiday season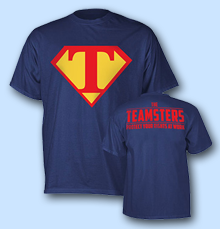 Dec. 3, 2013 | We know we don't have to remind you to shop at Costco, buy-union made beer and ship your holiday packages by UPS. You can also buy union-made Teamster gear at the Teamster Fund store: Teamster Power golf shirts, Teamster flip flops, Teamster earrings, Teamster trailer hitch cover, and our fav – the Teamster Hero T-shirt (shown at right). More ideas for gifts produced by American workers at Teamster Nation. (And don't forget to stop by the Union Hall for Local 355 apparel.)
Black Friday protests held at 1,500 Walmart stores; more than 100 arrested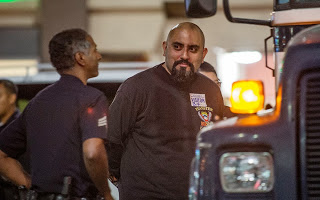 Dec. 2, 2013 | OUR Walmart, the non-union group arguing for labor protections, confirmed that protests were held at 1,500 stores on Black Friday to protest pay and calling for a minimum annual salary of $25,000 and better health care for hourly workers. (The average worker makes $8.81 an hour, forcing many to rely on taxpayer-funded public assistance programs to make ends meet. ) The protests took place in large cities — Chicago, Dallas, Los Angeles, Minneapolis, Philadelphia, Alexandria, Va. and D.C., Boston and Orlando — and stores in smaller cities and towns like Lakeside, Co., Granbury. Tx., and Hyattsville, Md. The company brought in $17b in profits last year. More at CBS News. Related: DC area Walmart workers, community supporters join protests. Also: Walmart's latest lie: "Unions paid $50 to anyone who protested." — Pictured: Brother Gilbert Castillo, IBT Local 396, arrested last month at a Los Angeles protest in support of Walmart workers. More at TeamsterNation.
7 tips for staying on budget this holiday season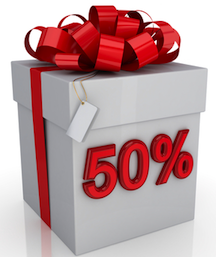 Nov. 27, 2013 | Do you overspend during the holidays? Holiday spending isn't a competition. Forget what you gave and how much you spent (and received) last year. Create and stick to a budget based on what you can afford this year. Union Plus has seven helpful tips and discounts to keep you within this year's budget.
Teamsters YRCW local union leaders to meet on Dec. 6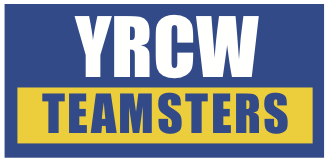 Nov. 27, 2013 | The Teamsters National Freight Industry Negotiating Committee (TNFINC) has called a meeting with Teamster Local Unions that represent YRCW members on Dec. 6th to review a forthcoming proposal from YRCW that modifies the existing Restructuring Agreement that is not scheduled to expire until March 31, 2015. Consistent with the IBT Constitution and past practice, Local Union leaders, after reviewing the details of the proposal, will then decide whether to submit the proposal to its membership to vote in a mail ballot referendum. Details of the proposal will be released after it has been reviewed with the Local Union leaders Dec. 6th. Stay tuned.
| | | |
| --- | --- | --- |
| | | |
| | | |
| | | |
Dec. 4, 2013 |

LABOR

| Tethered to the euro and thus unable to devalue their currency to help make their goods less expensive in export markets, many European countries … have been furiously dismantling workplace protections in a bid to reduce the cost of labor … Europe's strategy offers a test of the role played by labor market institutions — from unions to the minimum wage — in moderating the soaring income inequality that has become one of the hallmarks of our era … The question is whether relative equity can hold as workplace institutions that for decades protected European employees' standard of living give way to a more lightly regulated, American-style approach, … The evidence so far suggests the answer is no… Full story at NYT.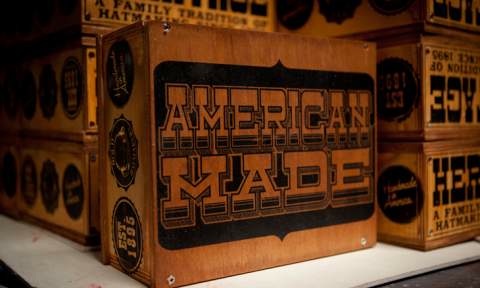 Dec. 3, 2013 |

U.S.LABOR

| ...Lot's been said lately about a flickering comeback in American apparel manufacturing. Wal-Mart vows to raise its meager buying of American-made products by $50 billion over the next 10 years. American clothing names — New Balance and L.L. Bean, for instance — now proudly advertise some of their wares as domestically produced. Could an industry devastated by cheap imports come back? Americans are allegedly clamoring for more "made in the USA" stuff. A poll shows almost half are saying they'd pay an extra $5 to $20 for what's now a $50 sweater if the garment were made here. Full story at Nation of Change.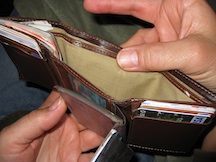 Dec. 2, 2013 | ECONOMY | …We need government spending and investment to get the entire economy moving forward. When families are back at work with decent wages, government tax revenues will rise and spending on social supports will fall. That's when government can reduce spending without slowing the economy…History shows that if we had continued the levels of spending normally done after recessions, we would have spent some $800 billion more than we did, and the overall economy (and not just the stock market) would be back to the same level today that it was before the recession hit. Full story at otherwords.org.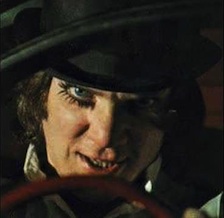 Nov. 27, 2013 |

WAR ON WORKERS

| …The champions of anti-union legislation often portrayed themselves as the defenders of non-union workers whom they characterized as hard-working private-sector taxpayers being forced to pick up the tab for public employees' lavish pay and pensions. Two years later, however, it is clear that the attack on public employee union has been part of a broader agenda aiming to cut wages and benefits and erode working conditions and legal protections for all workers, whether union or non-union, in the public and private sectors alike. This push to erode labor standards, undercut wages, and undermine unions has been advanced by policymakers pursuing a misguided economic agenda working in tandem with the corporate lobbies. Read the recent report on Unions and Labor Standards by the Economic Policy Institute.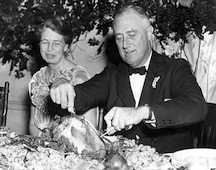 November 27, 2013 |

HISTORY

| Today in 1941, President Franklin D. Roosevelt signs a bill officially establishing the fourth Thursday in November as Thanksgiving Day. The tradition of celebrating the holiday on Thursday dates back to the early history of the Plymouth and Massachusetts Bay colonies, when post-harvest holidays were celebrated on the weekend regularly set aside as "Lecture Day." a midweek church meeting where topical sermons were presented. A famous Thanksgiving observance occurred in the autumn of 1621 in a three-day festival held in gratitude for the bounty of the season. But what most people don't know about that first Thanksgiving … Continue reading at People's World.