Local and National Union News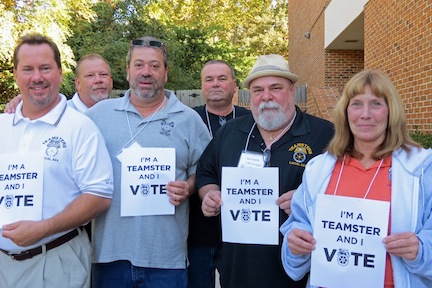 They're Teamsters and they vote!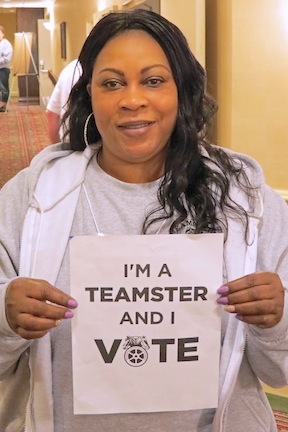 Oct. 20, 2014 | Local 355 shop stewards showed their power last week during a break at the Local-sponsored steward seminar. Proud to be part of a politically powerful union, these members contribute, are registered and ready to vote on November 4th. Are you? Pictured left, Charmaine Coldiron (Budget Rental) and right, (left to right) John Moylan (Giant), Ed Mulford and Joe Schwabline, (US Foods), Skip Neely (Stroehmann), Joe Smith (UPS Freight), and Janet Genovese (UPS).
Local union shop stewards complete three days of extensive training
Oct. 18, 2014 | Local stewards were awarded recognition certificates today at the conclusion of a grueling three-day seminar held in Williamsburg, Virginia. "Without the work you do this union would not function, and on behalf of the membership, I sincerely thank you," said President Denis Taylor during his remarks in expressing appreciation and support for to all 112 stewards who participated in the training. The Local sponsors shop steward training every other year. Photos are available in the photo gallery (photo IDs to come). Story to follow. Stay tuned...
Send your boss a message every Thursday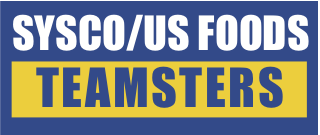 Oct. 17, 2014 | Wear your Teamster colors every Thursday to show Sysco and US Foods our solidarity in demanding answers about what will happen to us if this merger goes through. Teamsters have been outside Sysco, US Foods, Sygma, Stock Yards, and FreshPoint facilities across the country on behalf of all workers— union and non-union. Let's show Sysco and US Foods that we are standing strong together.
Private sector privileges cost regular workers
Oct. 16, 2014 | …In the third of five in-depth blog posts leading up to the Nov. 4 elections, Teamster Power writes: "The U.S. has a population of more than 317 million people It has more than 146 million registered voters. But increasingly, elected officials seem to believe their only constituency is the Fortune 500… Between big business outsourcing jobs overseas and the billion doled out by the federal government in tax breaks directly to corporations every year, you'll excuse those who believe President Lincoln's famous clarion for American government has morphed into 'Of, By, and For the Company.' Full story here.
Teamsters make history with first-ever organizing victory at FedEx Freight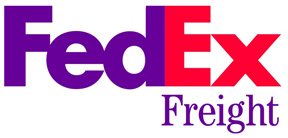 Oct. 15, 2014 | A group of 47 drivers at FedEx Freight's East Philadelphia terminal in Croyden, Pennsylvania, made history yesterday when they overwhelmingly voted to join Teamsters Local 107 in Philadelphia. "We are tired of getting treated with disrespect and dealing with constantly changing unfair and unwritten work rules," driver Gary Loftus said. "We also want job security and to be valued for the work we do making FedEx Freight successful." Full story here.
| | | |
| --- | --- | --- |
| | | |
| | | |
| | | |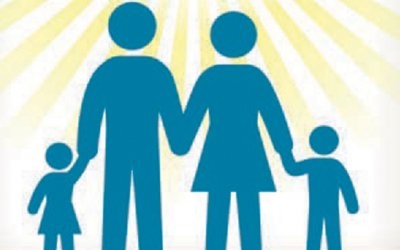 Oct. 21, 2014 |

WORKING FAMILIES

| In a wide-ranging and progressive speech on jobs, Labor Secretary Tom Perez said Monday the path to more "shared prosperity" in the U.S. economy lies in a higher minimum wage, paid family leave for workers and stronger union density in the private sector. Perez argued that U.S. workers are significantly better off than they were when President Barack Obama took office, though he said the statistical improvements "don't mean a whole lot" to many low- and middle-income workers or to the unemployed. Continue reading here.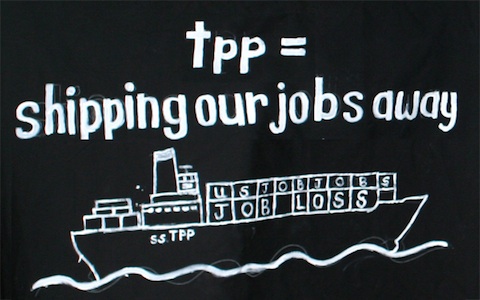 Oct. 20, 2014 |

TRADE AGREEMENTS

| The corporate jargon surrounding the Transatlantic Trade and Investment Partnership (TTIP) deal is about 'protecting' investment', reducing 'unnecessary' barriers and 'harmonizing' regulations that supposedly deter free trade between the US and the EU. In principle, the notion of trade that is free and fair sounds ideal. But, across the world, the dominant ideological paradigm allows little scope for either. Markets are rigged, commodity prices subject to manipulation, and nations are coerced, destabilized or attacked in order that powerful players gain access to resources and markets. Continue reading here.
Oct. 15, 2014 | UNION POWER | (via Daily Kos) Unions cannot compete, dollar for dollar, with the Koch brothers' billions, and they don't: They use other means to push back against Big Money.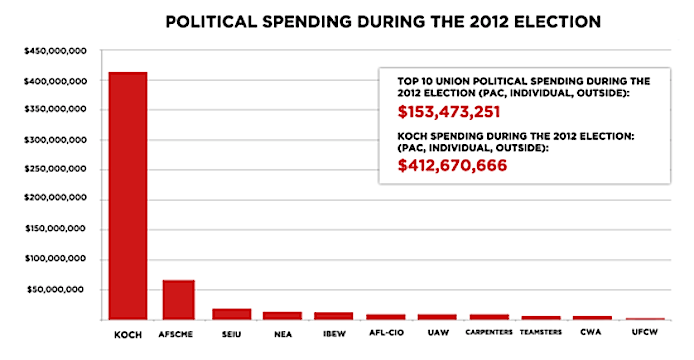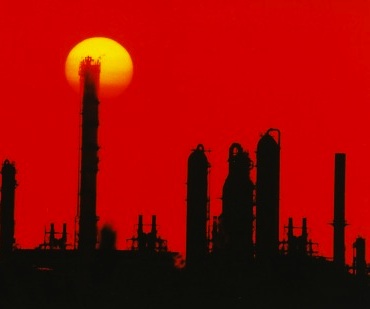 Oct. 14, 2014 | WORKERS' SAFETY | The country's top workplace safety official said Thursday that the regulatory system protecting workers from chemical exposure is "broken," and called for a new dialogue with employers and worker safety experts about how it might be improved… The government tries to protect workers in manufacturing plants and other workplaces through so-called permissible exposure limits, which cap the allowable concentration of airborne hazards. Yet the vast majority of these limits haven't been updated in the more four decades that OSHA has existed. Full story here.