Local and National Union News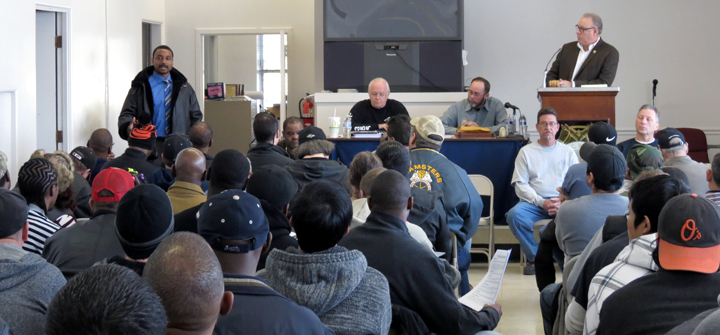 Bargaining committee member Eric McKee addressed the membership prior to the vote. (Other committee members include President Denis Taylor, Business Agents Dan Taylor and Jim Deene, shop stewards Chris Greene, Harry Goodall, Ricky Kilgore, Bob McCullough, Orlando Monroe, and Chris Whitcomb.)
Members reject tentative agreement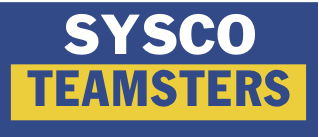 Feb. 1, 2016 | The union negotiating committee will continue to negotiate on members' behalf Thursday, February 4th, and Friday, February 5th, after members overwhelmingly rejected Sysco's last, best and final offer at a meeting held Sunday in Baltimore. The tentative agreement was presented to members without the bargaining committee's recommendation. After the vote results had been announced, President Taylor described possible next steps and called on members' to tell the committee what it will take to get to an acceptable agreement. "In the meantime, continue to go to work and do your job," Taylor told the packed hall. "If you have a problem, let us know – don't do anything on your own." Sysco members with questions about the proposed contract and next steps should talk to their shop steward. Local 355 represents 263 Sysco drivers, jockeys and warehouse workers.
---
FAA reauthorization legislation would roll back truckers' mandatory rest time
Feb. 5, 2016 | Click here to read President Hoffa's response to a provision included in new FAA reauthorization that would curb states' ability to require mandatory meal and rest breaks for truck drivers.
US Foods forces Phoenix Teamsters to launch unfair labor practice strike
Feb. 5, 2016 | Teamsters Local 104 members with US Foods took up unfair labor practice pickets yesterday, charging the nation's second-largest foodservice provider with bargaining in bad faith and discriminating against its union workforce as they attempt to negotiate a new collective bargaining agreement. teamster.org
Teamsters and others fight pension battle over multi-employer fund
Feb. 4, 2016 | A half mile from their union hall, over 220 retired members of Teamsters Local 346 gathered at Holy Family Catholic Church in Duluth's West End in late January to fight for their pensions. But this isn't just a Teamsters fight. They're one of the unions under the knife now, but 200 multi-employer pension funds covering 1.5 million American workers could be in jeopardy for a number of reasons. peoplesworld.org
Acme Paper co-founder, Edward Attman, passes
Feb. 3, 2016 | Edward Attman, a founder of the Acme Paper & Supply Co., which began in a rented garage and grew to be one of the nation's largest suppliers of paper products, died Tuesday of natural causes at Sinai Hospital, family members said. The longtime Pikesville resident was 95. Local 355 represents 115 drivers and warehouse workers employed with the company. The Baltimore Sun
| | | |
| --- | --- | --- |
| | | |
| | | |
| | | |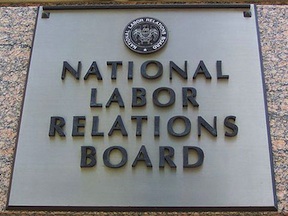 Feb. 4, 2016 |

ORGANIZING

| The captive audience meeting, "management's most important weapon" in an anti-union campaign, is finally being challenged in a petition to the National Labor Relations Board that could help re-balance the scales in union representation elections. …[The Equal Time rule], while a narrow tweak of an otherwise broken law, would be ideal if adopted by the NLRB. First, because it would cause many employers to abandon the captive audience tactic altogether rather than make time for organizers to state the case for forming a union on the company's premises and on the company's time. Since these meetings are one of the boss's principle tools for beating unions, that's a good thing...
workinginthesetimes.com
Feb. 3, 2016 |

TRADE AGREEMENTS

| Sen. Elizabeth Warren (D-Mass.) is pushing her Senate colleagues to reject an Asia-Pacific trade deal that's considered a key pillar of President Obama's second term. "I hope Congress will use its constitutional authority to stop this deal before it makes things even worse and even more dangerous for America's hardest-working families," Warren said Tuesday. She added that the agreement "would tilt the playing field even more in favor of big multinational corporations and against working families." thehill.com Related: White House warns Congress not to delay TPP deal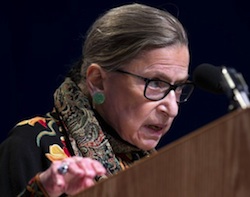 Feb. 2, 2016 |

JUSTICE

| …The cases Justice Ginsburg refers to concern a common practice where companies refuse to do business with consumers – or threaten not to hire a worker – unless the worker or consumer agrees to sign away their right to bring any disputes against the company in a real court, and instead submit to a private arbitrator… thinkprogress.org
Feb. 1, 2016 |

COMMUNITY

| This is solidarity in the truest sense of the word. Due to the inaction of state and federal officials, thousands of people in Flint have been exposed to unsafe levels of lead in their water. Now a group of union plumbers are taking matters into their own hands. On Saturday, 300 plumbers from unions across the country descended on Flint to install new faucets and water filters for free. thinkprogress.org
Feb. 1, 2016 |

RACE & CULTURE

| Throughout history, black people have proven our courage, intelligence, and creativity time and time again. But as Black History Month approaches, you may notice the same names and faces representing African-American accomplishment and resilience. No shade to Harriet Tubman, Rosa Parks, and Medgar Evers, but there are plenty more examples of black excellence worth noting…

upworthy.com