US FOODS INFORMATIONAL RALLY – MAY 31, 2016

An informational rally for all US Foods Teamsters will be held Tuesday, May 31st at 5:30 pm
at Local 355 Union Hall, 1030 S. Dukeland St., Baltimore, MD 21223.
Please be present and on time.
Local and National Union News
Teamsters at largest USF facility in US honor our picket lines
May 25, 2016 | We extended our picket lines to Metro New York (Perth Amboy, NJ; photos above), the largest US Foods facility in the country. Three hundred and twenty warehouse workers and drivers from Locals 202 and 282 have the right to honor our picket lines by refusing to work. facebook.com/SyscoUSFworkers Teamster press release
Teamsters to host strike update conference call with US Foods investors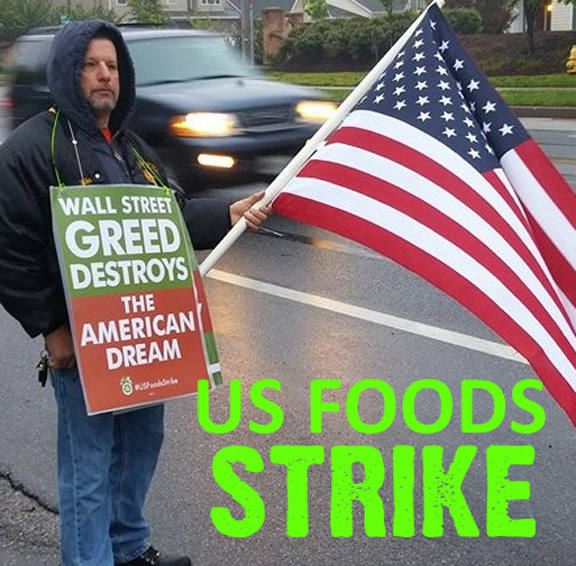 May 24, 2016 | The IBT will host a conference call tomorrow to discuss the immediate and long-term impact of recent strike at US Foods' distribution warehouses across the country and the ongoing strike in Severn. "We are stunned US Foods management is asking investors for money in the midst of repeated and sustained work actions against the company," stated Steve Vairma, director of the Teamsters' Warehouse Division. "We are now entering or fourth week of work actions and they will continue until management meets us at the table with real, substantive proposals to renew or resolve contract disputes at 18 Teamster represented US Foods warehouses."
Hoffa on the picket lines in support of USF members
May 16, 2016 | General President Hoffa this afternoon met and walked the picket line with more than 50 Local 355 and 570 members who have been on the picket line for almost three weeks (photos above). He pledged the full support of the International for the strikers. "US Foods is attempting to pull these workers out of the middle class," he said in a press release. "Slashing pay as well as health and retirement benefits is no way to ensure that this formerly Maryland-based company remains a good corporate partner in the Free State." Baltimore Sun story here.
Locals 355 and 570 extend picket lines to Michigan and Illinois
May 12, 2016 | On Tuesday, picket lines were extended to a US Foods location in Wixcom, Mich., where unloaders and drivers, members of Local 337, are honoring our strike. And last night, some 40 Teamsters represented by Local 722 who work at the US Foods' distribution warehouse in Streator, Illinois, refused to cross the picket line in solidarity with our brothers and sisters in Severn, Md. Thank you, Wixcom and Streator! #USFoodsStrike #Solidarity
Older news items are posted at 355 News...
---
Our striking brothers and sisters need your support on the picket line
We invite all Teamsters Local 355 members to support our brothers and sisters fighting for their rights by walking the picket line along with them at the US Foods facility at 8024 Telegraph Rd., in Severn, Md. Bring your family and friends, your neighbors and coworkers. And if you can commit to some time on the line to give a US Foods Teamster a rest break, check in with a strike team leader to sign up for scheduled time slots. (Please note: Do not park at or near the facility. Parking is available at the Severn Run Bar & Grille at 7940 Telegraph Road. We have vans running regular pick-up and drop-off trips; wait times average between 5 and 10 minutes.)
| | | |
| --- | --- | --- |
| | | |
| | | |
| | | |
May 27, 2016

|

ECONOMY

| …In what's called the gig economy, companies like Uber hire people to use their own cars as taxis; property owners use firms like AirBnB to rent homes and rooms; and the well-off use firms like Instacart for on-demand shopping. While this may seem to offer more freedom of choice to all, some say the gig economy not only erodes wage-based work and benefits, it poses systemic risks to the economy as income becomes more erratic.

alternet.org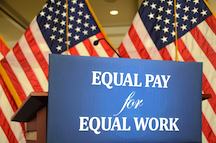 May 27, 2016 |

WAGES

| …The Maryland equal pay law outlaws pay discrimination on the basis of sex or - and this is new - gender identity. It also closes loopholes employers now use to justify pay inequity. Ever since the original federal equal pay law, in 1962, firms have used those loopholes nationwide to keep women's pay far below that of men in equal jobs. Maryland's Equal Pay for Equal Work Act covers employees who work for the same employer at workplaces in the same county and who "perform work of comparable character or work in the same operation, in the same business, or of the same type." Even an anti-worker law firm concedes it "covers more than just pay disparities…. peoplesworld.org
May 25, 2016 |

INCOME INEQUALITY

| Shelter is a necessity of life. But for too many everyday Americans, it is becoming increasingly difficult to cover the soaring costs of providing a home for themselves and their families… An article at apartmentlist.com states, "Faced with rising rents and stagnant incomes, most are not saving enough. They also receive much less financial support from friends and family, and will need more than 15 years to save enough for a 20% down payment. Nearly all metros across the United States are unaffordable for millennials without a college degree." … teamster.org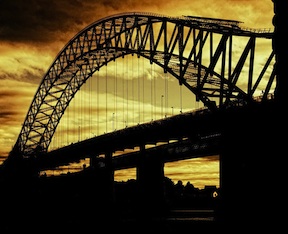 May 24, 2016 |

JOBS

| America is literally falling apart. In Flint, children were poisoned by the lead contamination of the water. In Washington, the subway system is plagued by fires and delays. Arlington Memorial Bridge – which connects the North to the South, the Capitol to Arlington National Cemetery – may have to be closed soon. Kennedy's eternal flame may burn forever, but the bridge is on its last legs. This isn't about money. We have the money… peoplesworld.org
May 23, 2016 | STRIKES | Teamsters workings at US Foods facilities across the country are ramping up actions against the nation's second-largest fraud service provider, building off the efforts of fellow Teamsters in Severn, Md. who began an unfair labor practice strike against the company on April 27. In all, more than 1,700 USF Teamsters have either gone out on strike or honored their picket lines in the last month… teamster.org