Click here to learn how you can support our striking brothers and sisters
on the picket line (scroll to bottom).
Local and National Union News
Tentative agreement reached with carhaul employer group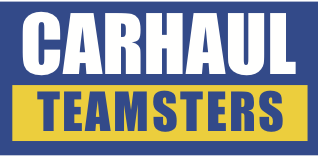 July 27, 2016 | After long and difficult negotiations, the Teamsters National Automobile Transporters Industry Negotiating Committee (TNATINC) has reached a tentative national Carhaul agreement with the National Automobile Transporters Labor Division (NATLD), the multi-employer collective bargaining association representing the unionized sector of the vehicle transport and logistics industry. The National Union Bargaining Committee has fully endorsed this new tentative settlement and believes it meets the goals of the carhaul membership and provides for their long-term job security. Details of the tentative agreement will be announced when leaders from local unions meet to review the proposal on August 4. Stay tuned here.
Mechanics at Piedmont Airlines Ratify Contract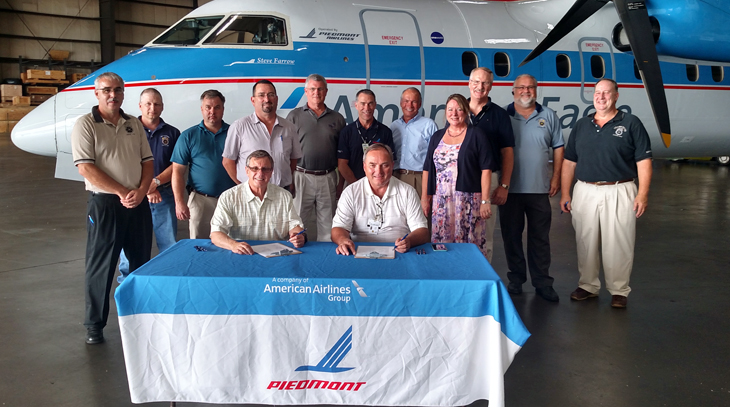 July 25, 2016 | (Click image to enlarge.) Approximately 300 Piedmont Airlines mechanics from Teamsters Locals 210, 355 and 776 have voted overwhelmingly to ratify a five-year contract with the carrier. More than 83 percent of voting mechanics cast their ballots in favor of the agreement. The agreement was reached May 26 and contains a 7 percent signing bonus and a 13 percent wage increase over the life of the agreement. Job security and furlough language are also vastly improved… teamster.org In photo far right, Local 355 Business Agent John Caparatta and Stephen Kennedy, shop steward and Piedmont Airlines dispatcher.

Code red heat warning in Baltimore
July 25, 2016 | The Baltimore health commissioner is urging residents to prepare for 100-degree heat on Monday that could pose dangers for the young and elderly. The temperature is forecast to reach as high as 100 degrees, but it could feel as hot as 109 with humidity and wind factored in, according to the National Weather Service… baltimoresun.com Read the Teamster fact sheet on heat stress.
Hundreds of members honor striking Maryland workers' picket line
July 18, 2016 | …Teamsters from the US Foods Severn location extended picket lines to Buffalo, N.Y. last Friday in the early morning hours, after extending lines to Streator, Ill. late last week. Drivers and warehouse workers represented by Local 264 in Buffalo, and drivers and warehouse workers represented by Local 722 in Streator honored the pickets in solidarity with their Severn brothers and sisters. In all, more than 200 workers refused to cross… teamster.org
| | | |
| --- | --- | --- |
| | | |
| | | |
| | | |
July 28, 2016 |

ORGANIZING

| If you're a temp worker, you likely live day by day, without a steady income, regular work schedule, and virtually no job security – never knowing where or when your next jobs begins and ends. But thanks to a new ruling from the National Labor Relations Board (NLRB), the world of temp labor may soon provide one benefit that could transform a paycheck-to-paycheck gig into a job worth holding on to: a union card… the NLRB overturned a Bush-era precedent by ruling that temporary workers, hired through a subcontracted staffing agency, may seek to unionize under the parent company that the subcontractor serves… thenation.com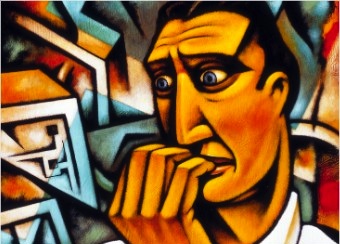 July 26, 2016 |

WORKERS' RIGHTS

| …Party platforms are often filed and forgotten, and this platform may be no exception. But they do lay down the principles the party expects its candidates, from the presidency on down, to adhere to. With GOP platform writers coming from the business-oriented establishment wing, those principles are anti-union, anti-worker or both. Key passages include… usw.org

Related:

It's the same 'ol, same 'ol in new GOP platform… teamster.org
July 25, 2016 |

LABOR MOVEMENT

| …The last four decades have been characterized by unrelenting attacks on the working class, the weakening of unions and the financialization of capitalism. The fiscal crisis of 2007-2008, the burgeoning wealth gap, and the flood of money from corporations and the rich drowning our democracy have exposed the nation's political, moral, and economic decay, creating conditions that beg for an alternative to a system that increasingly only works for the super-rich… In this environment, anything that unions can do alone, with dwindling power, will be insufficient. The challenge for labor, at a moment of historic weakness, is to figure out how unions can support and be involved in movements and campaigns that expand, rather than narrow, the scope and scale of what we are organizing and bargaining for. It may seem counterintuitive, but it is thinking bigger and broadening our vision, goals, and demands—even at a moment of weakness—that offers a path to resurgent unions and a more equal and just country and world… inthesetimes.com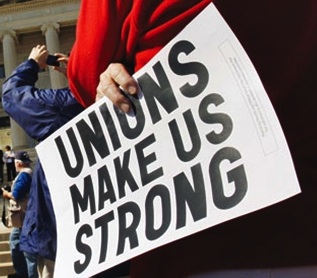 July 21, 2016 |

U.S. LABOR |

Democratic presidential candidate Hillary Clinton advocated for expanding unions, Social Security and employee rights as she spoke to nearly 4,000 union workers at two Las Vegas rallies Tuesday… Clinton also pledged to make the largest federal investment in stimulating jobs since World War II, to reduce residents' college debt and to "rewrite the rules" to force companies to share more of their profits with employees… lasvegas.sun
July 20, 2016 |

WORKERS' RIGHTS

| The Republican National Committee July 18 adopted a "pro-growth" platform that calls for national right-to-work legislation and the easing of regulatory and tax burdens on employers. It urges the passage of a national right-to-work law, which would ban "union security" clauses in collective bargaining agreements, and urges that minimum wage laws should be left to the states… bloomberg.org