Click here to learn how you can support our striking brothers and sisters
on the picket line (scroll to bottom).
Local and National Union News
Trucker driver job-related injuries in overdrive
Aug. 18, 2016 | When you think of dangerous jobs, what comes to your mind? Police officers, firefighters and construction workers might top the list for most people. Tractor-trailer truck drivers probably don't come to mind, but Bureau of Labor Statistics data show that driving a truck is risky in ways you might not expect… blog.dol.gov
Baltimore's Democratic City Council kills $15 minimum wage bill, for now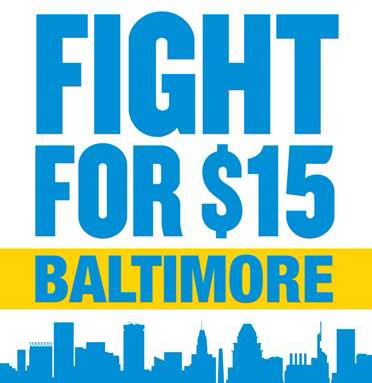 Aug. 17, 2016 | The Baltimore City Council derailed a proposed increase in the minimum wage to $15 an hour Monday, highlighting the ambivalence among many Democratic Party leaders over whether to support the national Fight for $15 movement. Pro-business members on the all-Democrat 15-member council were able to hold together an alliance against the higher minimum wage and voted 8-6 to return the proposed legislation to committee for revision. The maneuver appears to have effectively killed the bill, at least for this year. inthesetimes.com
Combating 'drowsy driving' requires keeping trucker standards
Aug. 12, 2016 | The Teamsters have been leaders in standing up for proper rest breaks for truck drivers. After all, union drivers know all-to-well what can happen when forced to work too many hours on the road. But now a new report shows the true dangers that come from "drowsy driving." teamster.org
National Dems back $15 min. wage. Baltimore Dems, not so much
Aug. 12, 2016 | The bill is in real danger of failing, Councilman Robert Curran told In These Times, as advocates for the legislation have been unable so far to line up the required eight votes for final passage.
Leaders of carhaul local unions overwhelmingly endorse tentative agreement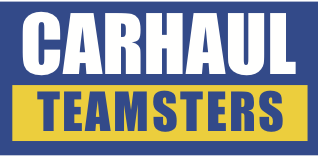 Aug. 5, 2016 | The tentative agreement has been unanimously endorsed by the Teamsters National Automobile Transporters Industry Negotiating Committee (TNATINC). It is retroactive to September 1, 2015 and runs 60 months, until August 31, 2020. Ballots are scheduled to be mailed out to members on or about August 22 and tentatively scheduled to be counted on September 15. This schedule will allow local unions enough time to conduct informational meetings. Details here.
Members are still standing strong as strike nears its fourth month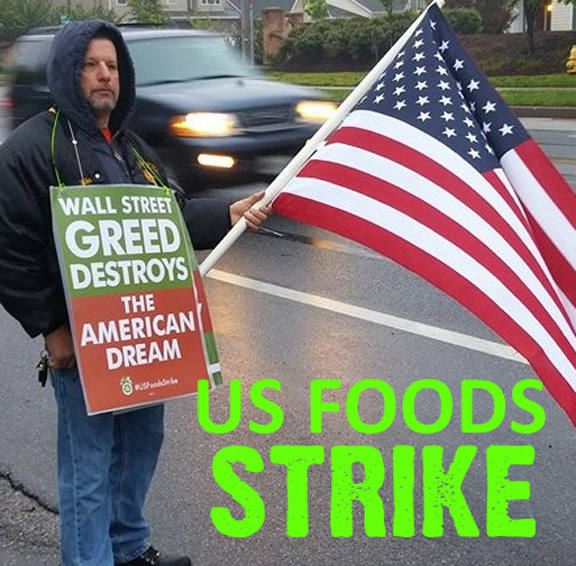 Aug. 4, 2016 | Today marks the 100th day that our brothers and sisters have been out on an unfair labor practices strike that began at 2 pm on April 27, 2016. Local 355 charged the company with bad-faith bargaining over its decision to close its only Maryland distribution center and move operations to non-union centers in Virginia. (Recap here.) Members employed as drivers, loaders and mechanics have manned the picket lines at the facility in Severn day and night since. They've distributed informational fliers to US Foods customers, moved the strike line to other US Foods facilities across the country, and supported each other in any way they could. Many have had to move on to other jobs, but they faithfully return to the picket line as often as they can in support of the cause. "Come back next month too. We'll still be here if we have to be here," Dave Moore said. Charlie Grams suggested with a chuckle that we get winter clothes ready. "We thought we might be ready to close this up two weeks ago, but nothing came of it," said Jay Treuth. "If we have to be here 'til Christmas, we'll be here 'til Christmas." President Denis Taylor said he hopes to reach an agreement that will provide appropriate compensation to our US Foods members for the loss of their jobs when the food distributor moved their work to an out-of-state, non-union facility. The company closed the center June 10, 2016.
| | | |
| --- | --- | --- |
| | | |
| | | |
| | | |
Aug. 18, 2016 | OPINION | One of the many questions to be decided in this election is the future of U.S. labor policy. Unions entered the race with high hopes, having recently made big gains. They had won rising support for the $15 minimum wage, reformed overtime rules and dodged a potentially devastating blow from the Supreme Court, which, had it not been for the death of Justice Antonin Scalia, undoubtedly would have crippled Labor's ability to collect fees from millions of public sector workers who benefit from union contracts. But any hope of translating such victories into a broad union revival hinges on the outcome of the election… washingtonpost.com
Aug. 17, 2016 |

WORKING FAMILIES

| …It is in unions that a communal spirit wins out over a narrow self-interest. In unions, working people hone a sense of obligation to one another. In unions, working people build a fierce loyalty to a vision of a shared economy that honors and respects them, and where labor it treated with dignity. It is in the experience of union democracy that men and women shape their political visions. Unions are the place where the fundamentally conservative beliefs and the fundamentally radical orientations of working-class Americans can be integrated into a true and coherent populist politics that is neither conventionally left nor right… alternet.org
Aug. 16, 2016 |

WAGES

| In dollar terms, what group of Americans steals the most from their fellow citizens each year? The answer might surprise you: It's employers, many of whom are committing what's known as wage theft. It's not just about underpaying workers. They're not paying workers what they're legally owned for the labor they put in. It takes different forms: not paying workers the federal, state, or local minimum wage; not paying them overtime; or just monkeying around with job titles to avoid regulations. … Research suggests American workers are getting screwed out of $20 billion to $50 billion annually… theweek.com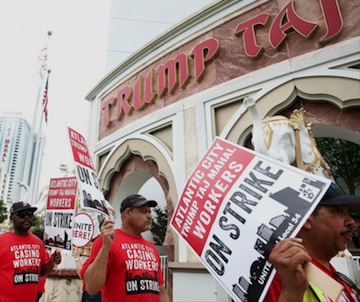 Aug. 11, 2016 |

WORKERS' RIGHTS

| … The [ongoing] Trump Taj Mahal strike is an important moment for us all because these workers are on the frontline against forces that threaten us all and that lay bare what a Donald Trump presidency would have in store for millions of American workers. Both Trump, who built the Taj Mahal, and [Carl] Icahn, who is the current owner, have taken millions from the property, driven it into bankruptcy, and left workers holding the bag… this struggle in Atlantic City sheds light on some important mystifications that need to be clarified if we hope to turn the tide against intensifying predatory assaults on American workers' standard of living… commondreams.org
Aug. 10, 2016

|

OPINION

| .. In times like these, it is more important than ever that we in the labor movement stand in solidarity with the entire community and do our part to advance the changes necessary to stop the senseless violence. We knew all too well that union members are not immune to these inequalities. We cannot continue to simply grapple with how to respond to tragic events; we need to put forth a bold agenda for justice for all workers… peoplesworld.org